There are more and more pickleball courts being built outdoors in cities and towns across the country, but there are also new indoor pickleball courts appearing. YMCAs and Community Centers that offer pickleball with mobile nets and improvised lines can certainly be great pickleball venues, but nothing beats a dedicated indoor venue when it's rainy or when you simply want to be active.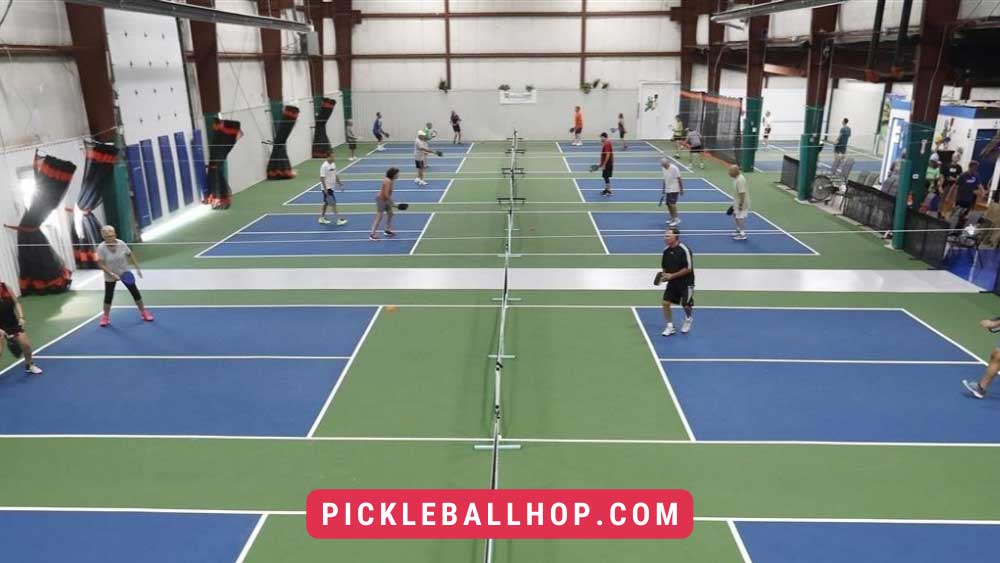 Anyhow, here is a list of indoor pickleball facilities that may make you envious if you don't already play at them regularly.
The House of Pickleball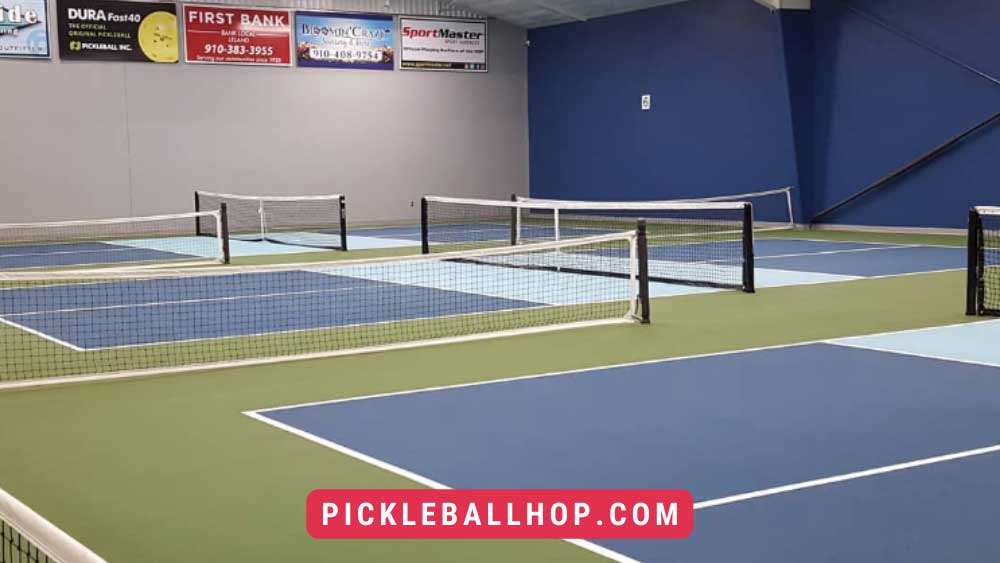 In Leland, North Carolina, there is a facility dedicated exclusively to pickleball, the House of Pickleball. These courts are all climate-controlled and indoors.  You can also play drop-in, play rounds robins, take part in social events, enter tournaments, and get instruction. There is a viewing area, a pro shop, ball machines to rent, and beer, wine, cider, and snacks are available to purchase.
Pickleball is now available in the greater Leland area at this state-of-the-art facility.
Pickleball Zone
Pickleball Zone opened its doors in October 2018 in Bend, Oregon. A 35,000-square-foot facility housing a Trampoline Zone & Adventure Park and eight pickleball courts can be found on the 3rd floor. Observation balconies and the Head Players Lounge are located on the fourth floor, providing great views of the game. In addition to memberships and single-court rentals, the Pickleball Zone also offers lessons, clinics, camps, rounds-robins and challenge matches.
Iowa West Field House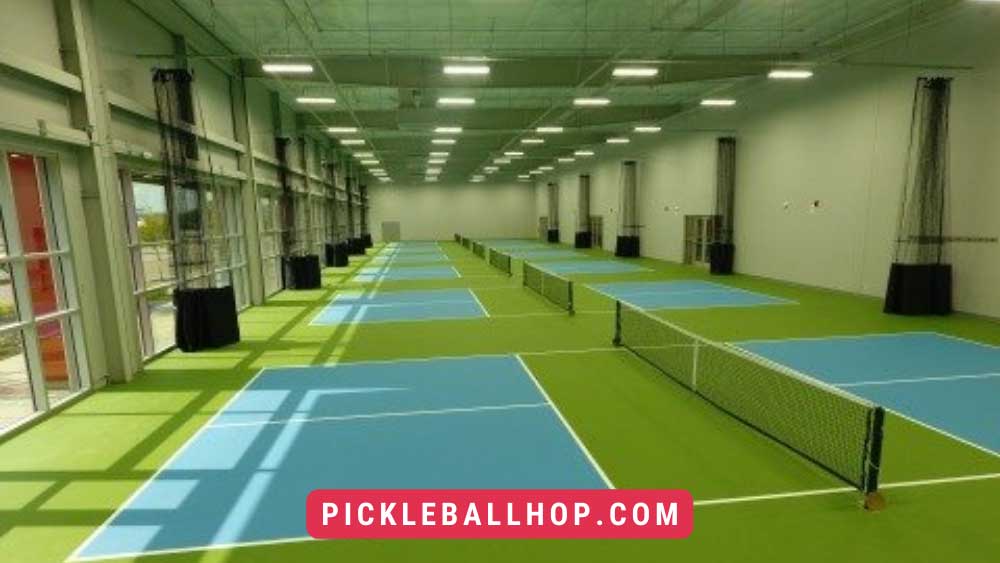 Iowa West Field House, which was opened in September 2019, is the home of Council Bluffs Area Pickleball Club. The facility has six indoor courts that feature the latest technologies.  The court area is 16,000 sq. feet for the Iowa West Foundation tenant improvement project at the Iowa West Fieldhouse facility located. On the premises are already basketball and volleyball courts. During this project, unused area was converted into a Pickleball facility, consisting of six courts along with a sports floor and nets dividing them.
Pickleplex of Punta Gorda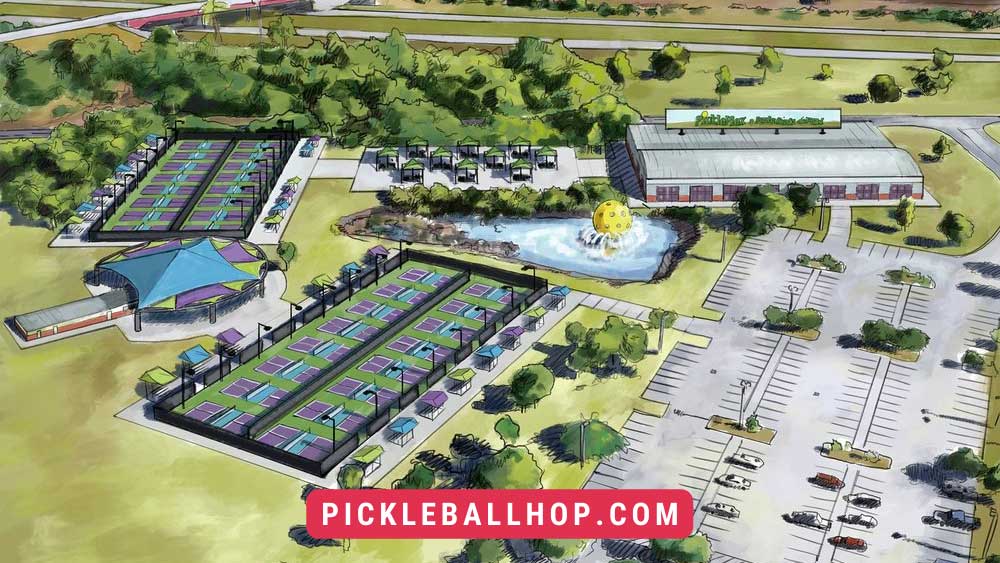 Phase one of Punta Gorda's Pickleplex, which features 16 outdoor courts, was completed in June 2019. A total of 16 new courts will be constructed in phase 2 of the project.  It was originally planned that PicklePlex would eventually have 32 outdoor courts, eight indoor courts, a fitness center, a pro shop, a restaurant and bar, and a conference center, so we're looking forward to watching how the project develops.
Pickleball & Tennis US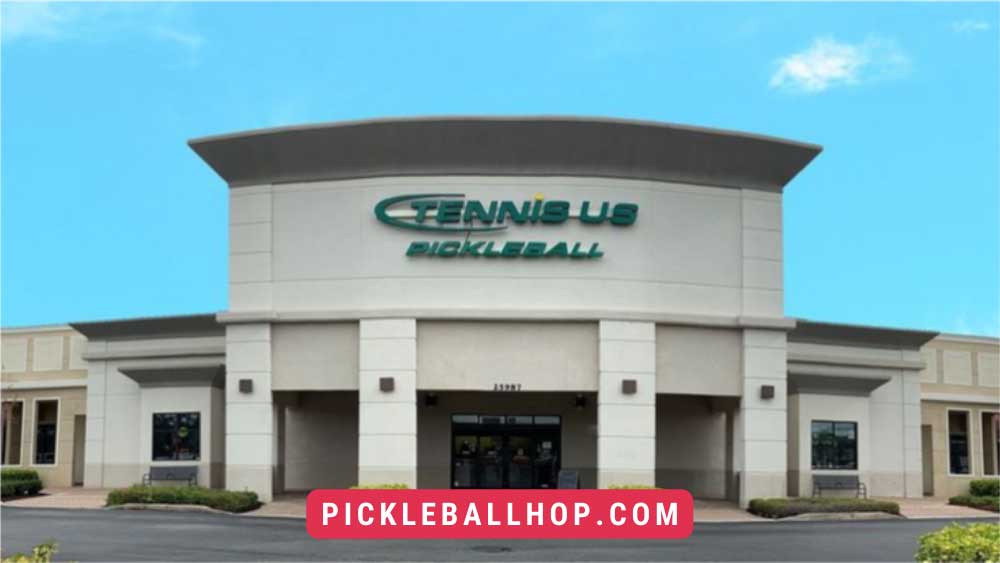 Pickleball paddles, accessories, and other wearable accessories are available at this store located in Bonita Springs, FL.  Pickleball Grip 'N Rip, hosted by Barry Waddell and Pickleball Global, takes place every Friday from 5 PM – 7 PM at Pickleball & Tennis US.
Pickleball Island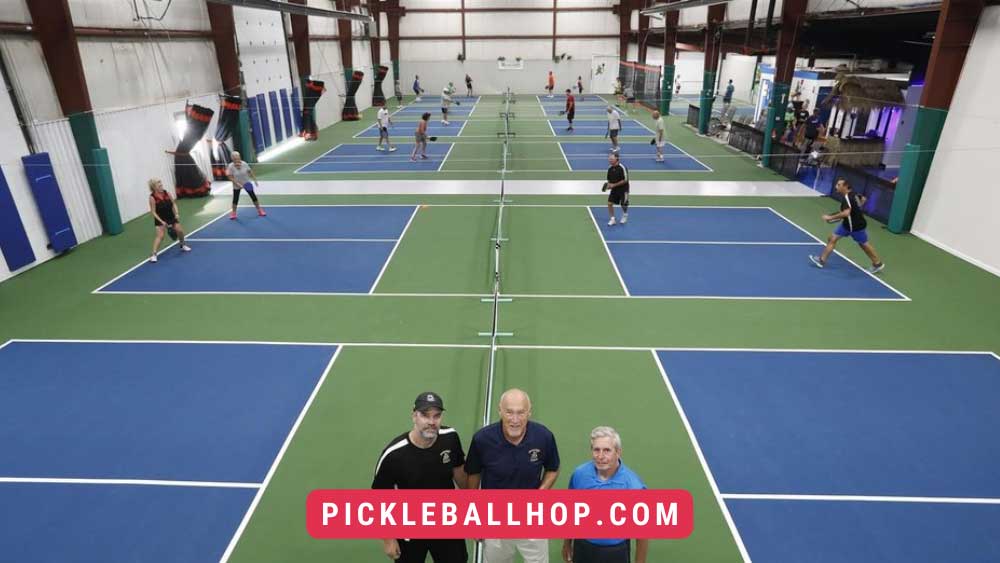 It has seven courts, a pro shop, and a lounge, and is the largest indoor pickleball facility in New York.  In addition to the Speedy Singles Tournament each year, there are three other tournaments on Pickleball Island: Dinking for Dollars, Dilly Dilly, and Fiddlesticks. There are leagues, court rentals, lessons, and clinics available at the facility in addition to open play.
Oxford Pickleball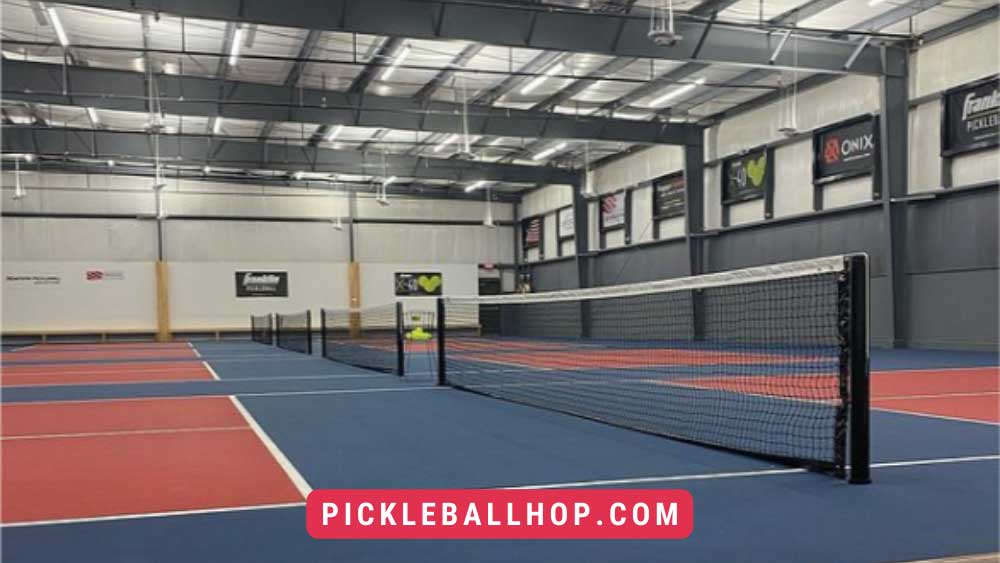 This 16,500-square-foot facility in Oxford, Connecticut, features four courts with permanent nets and LED lighting, along with men's and women's locker rooms.  In addition to its daily open play and clinics, the club offers lessons and other activities.
Smash Park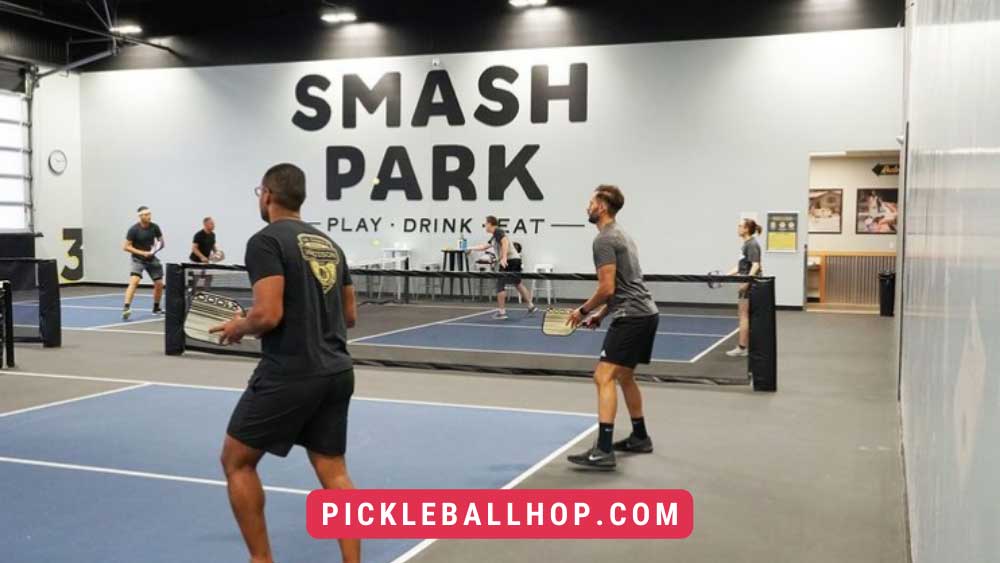 Chicken N Pickle (next) is another restaurant with a similar concept located in Des Moines, Iowa.  Besides outdoor fire pits and shaded beer gardens, Smash Park also features 6 indoor and 2 outdoor pickleball courts. Now, that is one way to play! Smash Park has a variety of yard games to offer, including shuffleboard, bocce ball, ping pong, cornhole, and more.
Chicken n Pickle
A successful example of such a
business model is probably pickleball
and casual dining. You can watch your favorite game with friends while eating chicken and pickleball at Chicken N Pickle, which also offers a bar, outdoor lawn games, food trucks, a fire pit, and TVs.
North Kansas City, Missouri opened its first Chicken n Pickle in July 2016.   Additionally, three more locations have opened since then, including ones in San Antonio, Texas, Oklahoma City, Oklahoma, and Overland Park, Kansas.
Final Thoughts
We've gathered together our 9 favorite indoor pickleball courts that you'll want to check out as soon as possible. If you live close to one of these wonderful venues, feel free to play a game for us (and maybe even have a beer)!
How did you feel about it? Have you heard of any other excellent pickleball courts near you? Comment below and tell us about them.