The definitive guide to picking out the best pickleball paddles for 2023 is the definitive resource for people looking for a new racket or upgrading their current pickleball set. Best Pickleball paddle reviews, specifications, styles, and features are included in this comprehensive buyer's guide.
Choosing the right pickleball paddle can be overwhelming, so we gathered a list of the best selling pickleball paddles currently on the market. Let's get started!
Best performance pickleball paddle
Pro Kennex Ovation Flight Pickleball Paddle (Blue)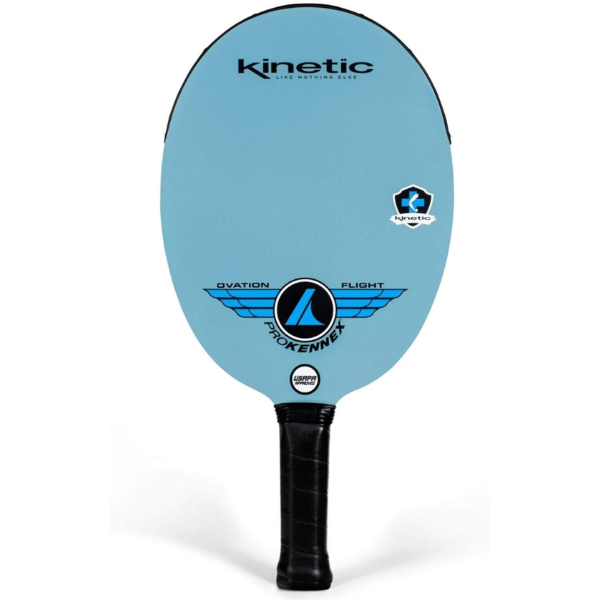 Kinetic Ovation Flight paddle has been released by ProKennex after more than two years of development and research. This is being done by Jennifer Dawson, a US OPEN and USAPA National gold medalist, and Steve Dawson, who is moving forward with the project.
As a result of its quality, durability, maximum spin, wide sweet spot, and excellent feel, this paddle is among the very best in its class.
Cloud Core technology has wider spacing between honeycombs, which allows for lighter paddles, which in turn increase you swing's strength and power.
Kinetic technology reduces the risk of injury and fatigue in wrist, elbow, and shoulder areas by removing harmful shocks and vibrations. The Ovation Flight was found to be effective in regaining muscle strength in many customer reviews.
In general, pickleball players of intermediate and advanced skill levels will find the Ovation Flight to be of great benefit. In our opinion, it is the best pickleball paddle we have ever tried.
Features to look for:
Its ability to absorb vibrations makes it ideal for those who are prone to injury

You'll get maximum spin thanks to Diamond Frost technology

With the USAPA Nationals Pickleball Champions and the US OPEN Nationals Pickleball Champions
Best value pickleball paddle
ONIX Graphite Z5 Graphite Pickleball Paddle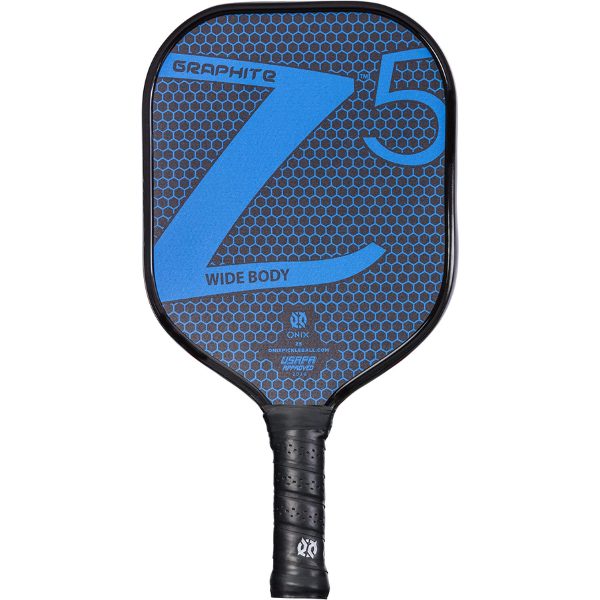 Onix Z5 Pickleball Paddle provides excellent ball control, power, and spin, as well as a large sweet spot, along with being an exceptional value for money. Having a Nomex Core and a graphite face makes it durable as well.
Due to its outstanding ball control and touch, the Onix Graphite Z5 is the top-selling paddle in the Onix line. With its widebody shape and large sweet spot, the Z5 is an excellent choice for beginners as well as advanced players.
As a graphite face ball with a Nomex core, the Z5 delivers superior feel and has a weight that strikes the perfect balance between speed and power.
As a medium-weight and graphite paddle, the Z5 provides the outstanding ball control of a Nomex paddle. Unlike traditional table tennis rackets, wooden handles have flared edges.
Features to look for:
For less than $100, it is an exceptional value

A large sweet spot is provided by an enlarged paddle

Performance is balanced between power and speed
Best pickleball paddle for beginners
Champion Eclipse Graphite Pickleball Paddle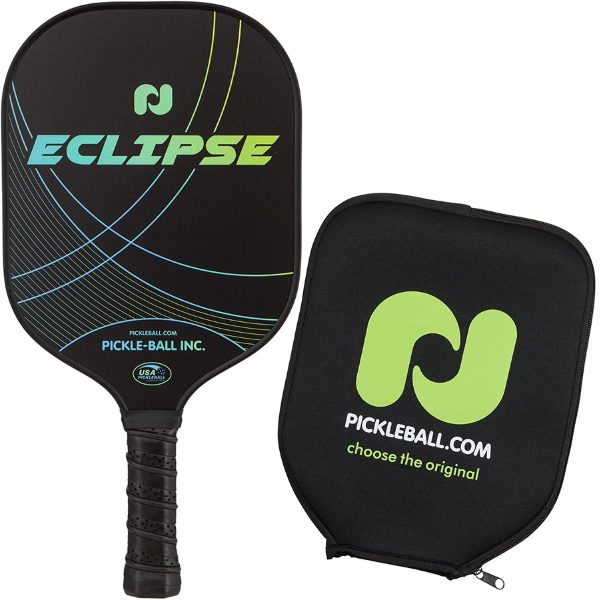 Pickleball players of all levels will enjoy Champions Eclipse Graphite Pickleball Paddle. You can use it for hours on end because it has a comfortable grip.
Despite its lightness and speed, the Champion Eclipse Graphite Paddle offers the best performance for players of all skill levels. A 7-3/4 inch wide, slim edge guard maximizes the paddle's surface area, giving players a bigger shot from its sweet spot.
Although it is maneuverable, the graphite face and polymer core give the device a responsive feel. USAPA-approved Champion Eclipse Graphite Paddle is 7.3 – 7.8 ounces in weight. Because of its small grip circumference, players of any size can comfortably use it. In addition, it has a padded grip that reduces vibrations when used. Furthermore, the paddle's handle is 5 inches long, so there is enough room to adjust your grip.
A great choice if you want a paddle that feels comfortable and is capable of making dynamic plays, the Champion Eclipse Graphite Paddle is a durable and versatile paddle.
Moreover, it's inexpensive, which is a major plus. Those looking to start their adventures with this sport would be well advised to choose this paddle.
Features to look for:
Beginners will enjoy playing it because it's easy to learn and forgiving

Slim edge guards for maximum hitting surface

Thanks to its cushioned grip, it reduces vibrations and injuries
Best pickleball paddle for intermediate Players
Selkirk SLK Evo Hybrid Max Pickleball Paddle

The SLK Evo Hybrid paddles are popular among intermediate and advanced players for the combination of power and control they offer on court. Due to its large sweet spot, comfortable grip, and low price, Evo Hybrid offers unparalleled performance value.
Designed by Selkirk For pickleball players who are intermediate level and want to advance their game to the next level, the SLK Evo Hybrid is a perfect choice.
Thanks to its C6-Flex Power Fibreglass Face, you'll have the power and control you need for every play you make with this paddle. In addition to providing a comfortable and nonslip grip, the cushioned SLK grip also provides a stable, secure grip.
In terms of performance, the Rev-Core Power Polymer Core paddle features an interior with a powerful interior and an ample sweet spot. Approximately 7.8 – 8.2 ounces and 4.25-inches in circumference are the weight and size of the SLK Evo Hybrid.
Take a look at the Evo Hybrid if you are searching for a paddle that will help you win more games.
Features to look for:
All-around strong player

The ultra-comfortable grip that absorbs sweat and impacts

Playing with it is forgiving due to its large sweet spot
Best pickleball paddles for advanced players
Paddletek Tempest Wave Pro Pickleball Paddle

If you're an experienced pickleball player, PaddleTek's Tempest Wave Pro paddle would make an excellent choice. You can achieve the best performance levels with its exceptional accuracy, power, and forgiveness.
Touch and control are never sacrificed for power in the Storm Wave Pro. As a result of Smart Response Technology and a large, consistent sweet spot, every shot is full of finesse, and the balanced weight enables you to play at a higher level too.
It is possible to place the ball accurately and controllably. Pickleball paddles from the Tempest series are ideal for strategic players due to their precision and speed.
The grip measures 4 3/8″ in circumference, and the weight ranges between 7.6 and 8.0 oz. The Thin Grip measures 4 1/8″ in circumference.
Whether you are a beginner or an advanced player, this professional pickleball paddle is designed to help you win more games.
Features to look for:
The perfect paddle for playing with precision and control

Polymer honeycomb with high-tech properties for increased power

There is a large and consistent sweet spot for added finesse
Best pickleball paddle for control
Selkirk Amped Pickleball Paddle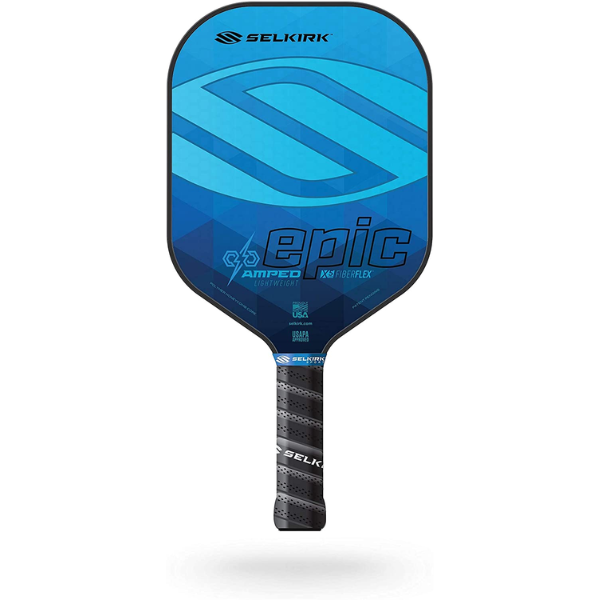 Selkirk Amped pickleball paddles offer control and precision for players who want control. The length of the handle and the large area of the paddle make the Amped extremely versatile, while keeping with the traditional paddle shape.
Amped paddles boast the finest materials and proprietary technology that are typical of Selkirk paddles.
With the Selkirk Amped paddle, Selkirk's FiberFlex fiberglass face is paired with a thicker Polypropylene X5 core to ensure you have the best ball cushioning possible. For consistent speed, polypropylene honeycomb technology is used. Reducing the amplitude and frequency of vibrations reduces the risk of injury and results in a smoother experience.
United States of America Pickleball Association approved pickleball paddles made by Amped Pickleball for tournament play.
Features to look for:
Play pickleball at any skill level with this versatile paddle

Optimal ball cushioning is provided by a fibreglass face and thicker core

There is a large and consistent sweet spot for added finesse
Best pickleball paddle for power
HEAD Gravity Graphite pickleball paddle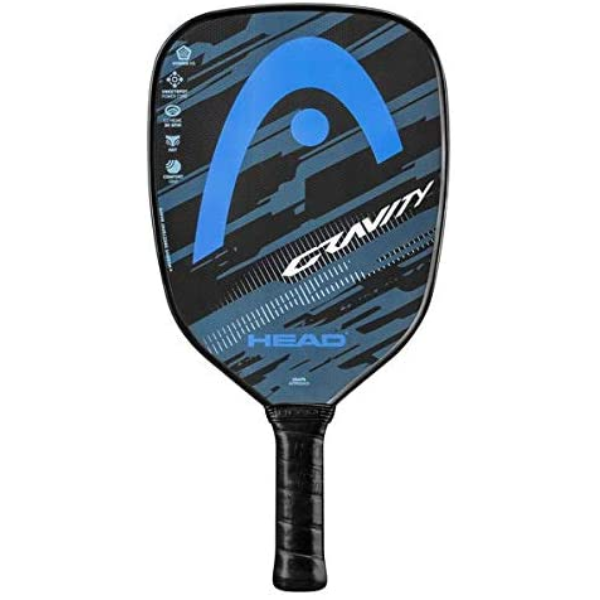 Looking for power to dominate your games as an intermediate or advanced player? Look no further. Combined with a soft impact feel, the HEAD Gravity provides great power.
We are proud to offer the best pickleball paddles with decades of experience and modern technology from HEAD. Lightweight and strong, HEAD pickleball paddles are constructed of carbon fiber with a graphite hitting surface that provides superior feel and enhanced control.
Hybrid Hitting Surfaces offer a superior blend of power, comfort, and control, as well as the HEAD Gravity's handle stabilizer technology for enhanced dampening of hard shots.
Extreme 3D Spin and Handle Stabilizer technology are featured on the premium Gravity model.
Features to look for:
Paddle made of lightweight carbon

Providing power without sacrificing comfort

Technology for Handle Stabilizers
Best pickleball paddle under $100
Niupipo Pickleball Paddle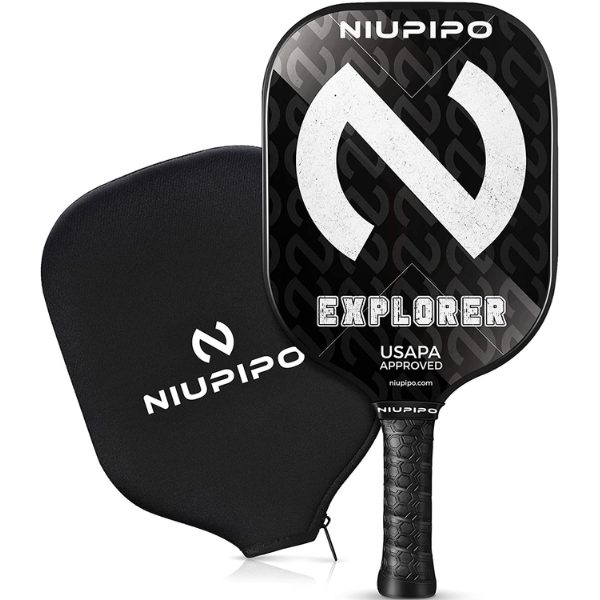 The Pickleball paddle Niupipo is USAPA-approved, as it was developed by professional player Frank Anthony Davis.
Niupipo paddles are made of upgraded material. Polypropylene Honeycomb Core material is dense and hard, so it will last for a long time.
Compared to other pickleball rackets, this paddle is made from composite materials that have a fiberglass surface, making it more durable and reducing ball deflection. Moreover, the paddle is made of moisture-wicking, anti-skid fabric as well as a premium grip.
Its length is 4-1/2 inches (4.5) and its grip circumference is 4.4 inches, making it ideal for quick hand switching. A wider sweet spot and wider hitting surface are provided by its wide body shape.
Features to look for:
The price-quality ratio should be good

It was developed in collaboration with Frank Anthony Davis

Long-lasting materials
Best Pickleball Paddle Under $50
Gamma Quest Pickleball Paddle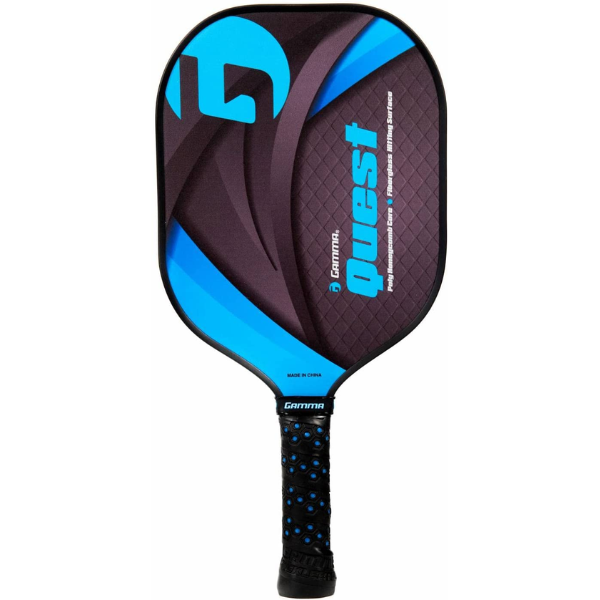 The pickleball paddle market has many options under $50, but which is the best cheap pickleball paddle? There are many low-cost paddles that are not USAPA-certified. However, the Gamma Quest paddle is an excellent mid-weight pickleball paddle that can be used by any level of player.
The fiberglass composite material used in the Quest pickleball paddles makes them extremely comfortable and controllable. The Gamma honeycomb grip on this device, in addition to providing long-lasting comfort, also makes it ideal for gaming.
Pickleball paddles by Quest have a polypropylene honeycomb core and a fiberglass composite hitting surface for improved control and placement, resulting in a better game.
For beginners and intermediate players on a tight budget, the Gamma Quest is one of the best pickleball paddles for beginners.
Features to look for:
This paddle has an excellent price-to-quality ratio despite its medium weight

Fiberglass-based composites for comfort

Easy to learn and play for beginners
Pickleball Paddles Buying Guide
Over the past few years, pickleball has become increasingly popular. As a consequence, more people are playing the sport. No matter if you are a beginner or a seasoned player, the sheer number of pickleball paddle brands and types can be overwhelming. 
In our Best pickleball paddles review, we have shown you some of the top paddles available. In this buying guide, you'll learn everything you need to know about pickleball paddles so you can choose the one that's perfect for you. Pickleball paddles and pickleball as a whole are discussed in a section that addresses frequently asked questions.
How Does a Tennis Racket Differ From a Pickleball Paddle?
Pickleball is a sport that borrows elements from table tennis (ping pong), badminton, and tennis, in which opposing players hit the ball over a net using a small piece of equipment. Pickleball players use paddles, while tennis players use rackets. you may enjoy reading Pickleball vs. Paddle Tennis vs. Padel
In both cases, the hitting surface is attached to a handle. Hitting surfaces, however, differ in size and design. There is a difference in size between the two paddles – a pickleball paddle is smaller than a ping pong paddle. 
Tennis rackets have larger hitting surfaces than pickleball paddles. The hitting surface of a pickleball paddle is made of wood or graphite, whereas the hitting surface of a racket is made of catgut or strings.
You may enjoy reading How to Play Pickleball
When Buying a Pickleball Paddle, What Do You Need to Consider?
Pickleball paddles come in various sizes and styles, so choosing the right paddle for your needs might be challenging. Each player has different needs. Check out the points below before you buy a pickleball paddle. 
Weight
Pickleball paddles should be chosen based on their weight. A paddle typically weighs 4 to 14 ounces. Lighter paddles will not drive the ball as well as heavy paddles. The player can control the ball better with a light paddle, however. It is important to be aware that heavy paddles can aggravate elbow or arm injuries, so players with a prior history of injury should not use them.
Paddle material
Wood, graphite, and composite materials are the most common materials found in pickleball pads. The most traditional pickleball pad is made of wood. Wooden pickleball pads are also the least expensive. Nevertheless, they may be difficult to use for prolonged periods of time due to their heavy weight.
The graphite pickleball paddle is the most expensive of the three types. Graphite paddles are lightweight and can be used for a long time. There are many benefits to using composite pickleball paddles over wood or graphite paddles. A wooden paddle can be purchased for less than a graphite paddle, but they're still more expensive than wooden paddles.
You may enjoy reading Why Is It Called Pickleball?
Wide-body vs. elongated paddle
The size of the paddle's hitting surface determines whether you choose an elongated or wide-body paddle. Paddles with longer hitting surfaces sacrifice width.
Paddles with wide bodies have a bigger hitting surface than those with narrow bodies. They're by far the most popular kind of paddle. Beginners may benefit from wide-body paddles, while experienced players may benefit from elongated paddles for improving their reach.
Grip size 
It is just as important to have the correct grip size on a pickleball paddle as it is to have the correct shoe size on your feet.  You will feel more stable and less pressure on your arm when you hold a paddle with a larger grip.
It is possible for you to lose control of the paddle when playing with one that has a large grip. You can add spin to your shots with pads with smaller grip sizes that allow you to have more control over the ball. With a paddle that has a small grip size, you can also switch hands more easily.
You should pick the smaller pickleball paddle when you are faced with a choice between two paddles with different grip sizes. A paddle can be enlarged because an over-grip enables you to increase the grip size. It can not be downsized if it has a large grip.
Color
You should consider the color of your paddle when entering the court. In addition to the aesthetic significance of your paddle's color, choosing a distinctive color could make your paddle easier to recognize at a tournament.
You might also be able to gain an edge by using a paddle with colored faces. Your opponents will have difficulty reading your shots. You may be able to catch your opponent off guard by using a paddle surface that blends with the ball's color, for example.
You may enjoy our guide on choosing a pickleball paddle.
What are the prices of pickleball paddles?
Paddles for pickleball vary in price depending on the brand.  A paddle's price is determined largely by the material it is made of. You can buy pickleball paddles between $15 and $35 made of wood. You can expect to pay between $40 and $100 for composite pickleball paddles. In the range of $90 to $200 you can get a graphite pickleball paddle.
Final Thoughts
As a beginner, choosing the best pickleball paddle for your game can elicit some stress, but it can also be exhilarating. You have only just begun your journey. Take a deep breath and enjoy the game.
Frequently Asked Questions
What pickleball paddle do I need?
At the end of the day, the paddle that feels good in your hands is the one you should buy. Depending on the type of player, the paddle weight should be selected. Some players prefer heavier paddles, while others prefer lighter paddles.
A paddle with too little power will have a limited range of motion. In contrast, it will be uncomfortable to hold a too heavy paddle, and it will tire your arm more quickly.
What is the best pickleball paddle?
Pickleball paddles are available in a wide variety nowadays. They all have unique characteristics, making them stand out from one another. You should select the paddle based on your age, experience, playing style, and stroke type.
Pickleball paddles are great for both players and players of all levels, and this article lists the best pickleball paddles.
How do fiberglass paddles differ from graphite paddles?
There are pros and cons to both fiberglass and graphite paddles. Both types of pickleball paddles come in light and medium weights.
Pickleball paddles made of fiberglass, also known as composite pickleball paddles, are known to be more precise than powerful. Pickleball players benefit from this material's light flex for pinpoint accuracy.
With graphite being such a strong material, a thin layer can generate a lot of power. This makes graphite paddles lightweight yet offer the power of heavier paddles.
What are the best paddles with power?
Powerful pickleball paddles are heavier than their less powerful counterparts and weigh around 8 ounces or more. It matters not if the player likes to shoot strong shots or if he prefers to play at the baseline with a well-balanced game.