A pickleball bag is an essential part of the player's sports kit, even though pickleball is a hassle-free game with minimal gear. In order to be the best pickleball bag, it needs to be lightweight, adjustable, and comfortable. There are a variety of designs, fabrics, and styles available for Pickleball bags. It is possible to easily find one that fits you best and is sold at a reasonable price if you choose carefully.
As an editor's choice pickleball bag, we have chosen the Franklin Sports Pickleball Bag after reviewing the 10 best pickleball bags extensively. Despite its small size, it has room for six pickleball paddles and 40 pickleball, leaving some room to spare. Water can be easily taken every now and then because it includes a side pocket for bottles. All things considered, the bag's price seems like a good deal when compared to all its benefits. Our table below provides a list of our other favorites, which are all worth taking a look at. You can also read the guide about pickleball shirts by clicking here.
Keeping in mind the importance of comfort, affordability, and trendiness in a sportsman's life, we have organized this chart, reviewed descriptions of every product included, and created a detailed buying guide. To help you decide conveniently, we have compiled a list of the top 10 pickleball bags after 3 days of researching and reviewing.
Top 10 Best Pickleball Bags Review 2023
1. Franklin Sports Pickleball Bag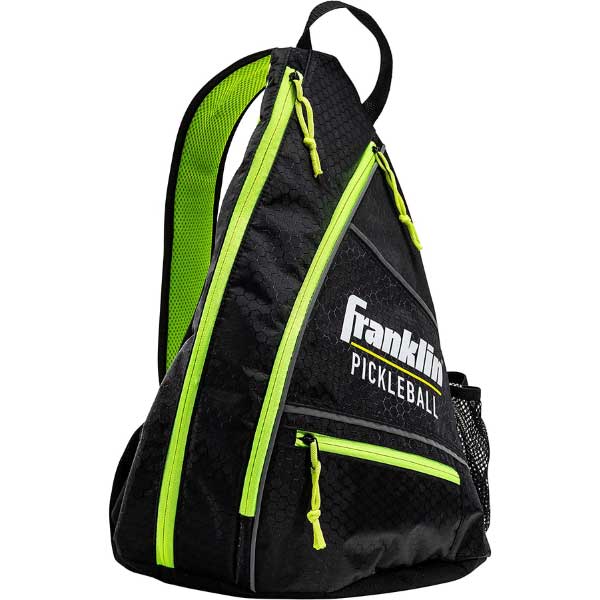 FEATURES
Size:

18.5 x 13 x 8 inches

Bottle holder:

yes

Dedicated shoe compartment:

no

More features:

can hold up to six paddles and forty pickleball; has a fence hook; cell phone pocket; key storage; triple pocket design.
Hot pink, green, blue, charcoal, and grey are among the five vibrant colors available with black. Adjustable and lightweight, this sling bag is stylish and comfortable. In addition to its extra large storage, it comes with weather-resistant zipper chains to prevent corrosion or breakage. As an official US Open championship bag, the Franklin Sports Pickleball backpack is suitable for both men and women. This is a good bag in all aspects and can be used by any player.
There is also a protective felt-covered, secluded pocket inside for safely storing electronic devices. Additionally, it comes with a built-in hanger so the bag can be hung on the court fence at any time. Additionally, the bag has a dedicated compartment for holding your keys, wallet, water bottle, etc. Convenient and sturdy, the strap makes it easy to use. For players who prefer a single-shoulder bag, the sling design makes it a more comfortable choice. Additionally, the canvas material is durable and of pro-quality. It also seems reasonable enough to buy this bag for its price with all of its benefits.
2. Athletico Sling Bag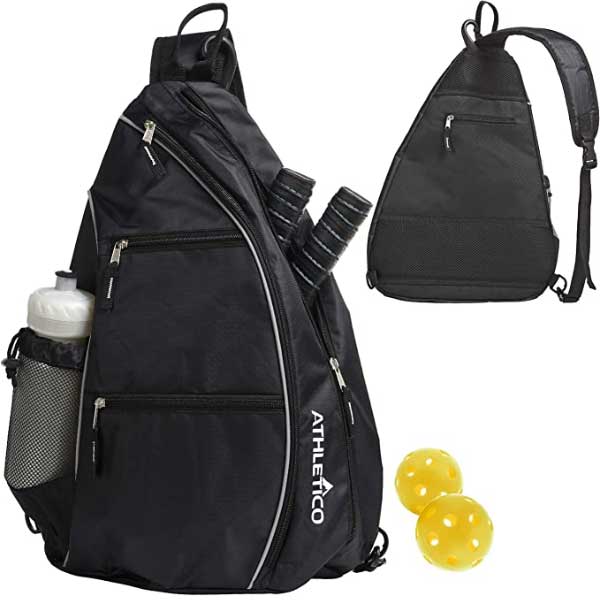 FEATURES
Size:

20 x 14 x 6 inches

Bottle holder:

yes

Dedicated shoe compartment:

no

More features:

Holds up to six pickleball paddles; two XL compartments; three exterior pockets; fence hook that hides away
An excellent cross-body backpack with multiple compartments, the Athletico Sling Bag is a padded, multi-compartment bag. It has a tech pocket for personal electronic devices and a mesh pocket on the side for carrying your water bottle. Available in multiple colors, this runner-up in our rating list can be found in multiple colors. A cord-security lock can be used along with a drawstring to secure the pocket.
The cross-body bag can be carried on either shoulder using the adjustable buckle on the strap, and the reversible feature can be considered a useful addition. The backside of the bag has a hidden pocket that can serve as a safe pouch for valuables.
Featuring a unisex design to suit all players, the Athletico Sling Bag provides extra support to the lumbar area all day long. A stylish everyday sling bag with ample space for all your equipment, the Everyday Sling Bag is marketed on its official site as an easy choice. If you receive an unsatisfactory product, the company offers a 100% money back guarantee.
3. LISH Game Point Backpack w/ Shoe Compartment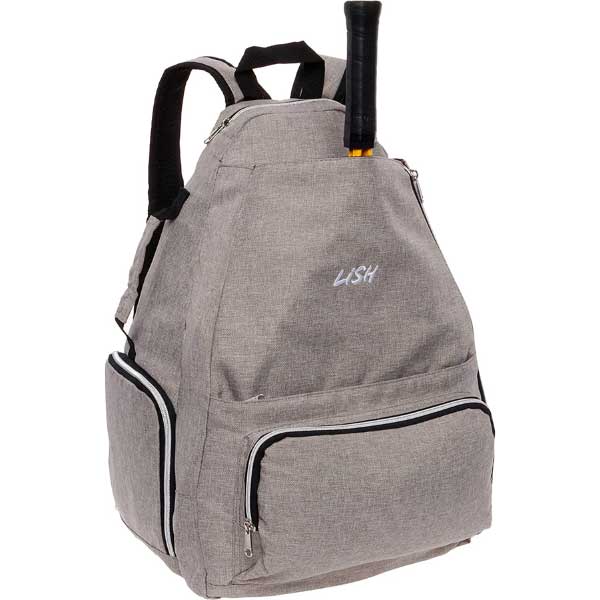 FEATURES
Size:

19.5 x 15.5 x 9.5 inches

Bottle holder:

yes

Dedicated shoe compartment:

yes

More features:

holds two rackets; front zip pocket; side handle; 600 denier polyester
The racket Holder bag is the name of this product, according to the brand. In addition to serving as a pickleball bag and racket holder bag for tennis, racquetball, and squash, LISH Game Point Backpack is also a racket holder bag for squash. Your pickleball paddles will be tucked away in a dedicated compartment in this bag. It is, however, only possible to hold a couple of rackets, their width being approximately 11.5 inches. Nevertheless, that should be sufficient for a regular pickleball game. In addition to providing secure holding while traveling, the zipper is of good quality. Dedicated shoe compartments make this an ideal choice for players who like to organize their belongings. Even so, it would have been better if it hadn't taken up some space inside the main compartment.
A cushioning comfort and support are provided by the internal padding of the adjustable shoulder straps. The back can be grabbed and carried quickly using a small side handle. A bottle can be held in the elastically flexible side pocket and is easily accessible. The company claims that LISH bags are generally made of durable, luxuriously textured polyester. In addition to multiple external pockets, the bag features vibration dampeners, gloves, keys, and mobiles.
4. Franklin Sports Pickleball Premier Competition Backpack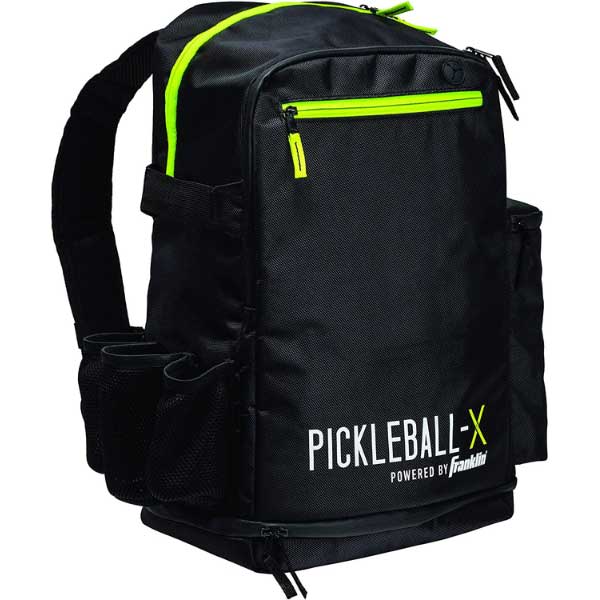 FEATURES
Size:

16 x 10 x 20 inches

Bottle holder:

yes

Dedicated shoe compartment:

yes

More features:

Two paddles, two water bottles, and six pickleball can be stored externally; fence hook; sternum strap; fleece-lined pocket.
It features a rectangular shape and is made of a durable, comfortable backpack style. In addition to the durability of the material, the design is also impressive. In order to hold the paddle conveniently, however, the dimensions of the paddle pocket should be a bit larger. However, the other pockets can be useful as well. Pickleballs and bottles fit into tubes-shaped sleeves on the external side pockets. Separate compartments with zipper closures have been added for clothes, snack boxes, sunglasses, etc. Separate areas inside the bag can be separated or combined using the adjustable drawstring strapping in the main compartment. In addition to the removable compartment, the shoes have a secluded compartment as well.
An adjustable sternum-shoulder strap prevents shoulder pain by preventing pressure and burden that can cause shoulder pain otherwise. Additionally, the bag comes with a portable hook that can be attached to court fences or poles for hanging. Despite its heavy padding, Franklin Sports Pickleball Premier Competition Backpack is extremely comfortable for frequent use, and it is well suited to occasional users.
5. Pickleball Fanatic Duffel Bag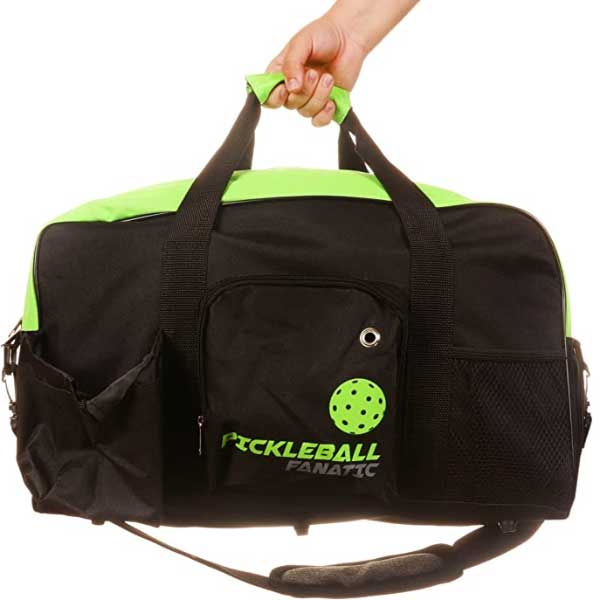 FEATURES
Size:

18 x 9 x 10.5 inches

Bottle holder:

yes

Dedicated shoe compartment:

yes

More features:

Three side pockets, one large main compartment, and one shoe compartment at the bottom
An excellent duffel bag with a roomy single compartment, the Pickleball Fanatic bag is a standard duffel bag of high quality. The zipper pocket provides secure storage for valuable sensitive items. Outside open mesh pockets function as water bottle holders and towel holders as they are breathable. Objects and accessories can also be stored in another mesh pocket. You can organize your equipment in an orderly and clean manner by keeping your shoes in the bag's lower pocket. This bag comes with a 6-month warranty against defects covering material damage and workmanship apart from any unusual wear and tear.
The regular manual handles are also complemented by a comfortable shoulder strap for alternative carrying options. During movement, the hand straps are held together by a Velcro belt. This duffel measures 18 inches in length, 9 inches in width, and 10.5 inches in height. Despite its affordable price, it boasts spaciousness and maximum functionality.
6. Pickleball Fanatic Sling Bag with Pockets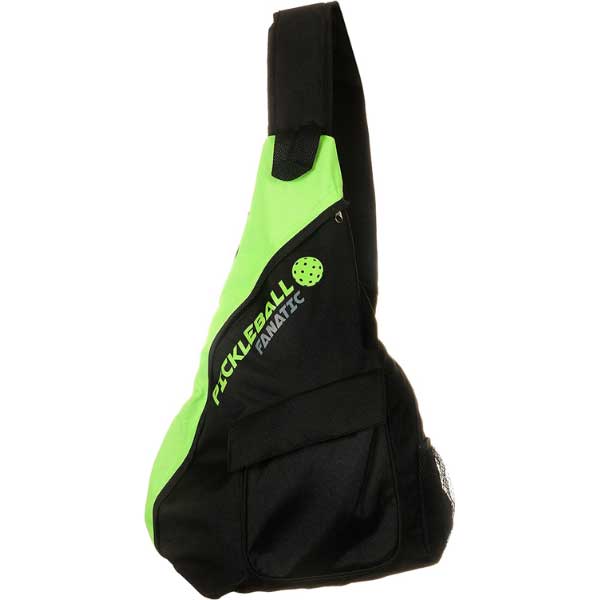 FEATURES
Size:

18 x 13 x 3 inches

Bottle holder:

yes

Dedicated shoe compartment:

no

More features:

Contains around 4 paddles and 3+ balls; smaller front pocket
A perfect choice for those who wish to travel light and carry less, this Pickleball Fanatic Sling Bag with Pockets is a perfect compact sling bag. The minimalist design could have been better with a divider, but still, most average players will benefit from the minimalist design. With a pyramid-shaped structure and approximately 20 inches in length and 14 inches in width, this bag is sleek and easy to carry on your shoulder.
On the front side, there is a Velcro flap pocket and a loop for hanging the bag from the court fence. Furthermore, an external zipper compartment can be used to store spare accessories, such as clothes and towels. Water bottles can be readily accessed from the side pocket and hold snugly when not in use thanks to the elastic opening and mesh pocket.
A lightweight bag like this is a fantastic purchase because it can hold four oars and three balls. In addition, you can choose between blue, dark green, or a combination of all three shades. If you want a compact sling bag, this is a great choice.
7. Onix Pickleball Durable Backpack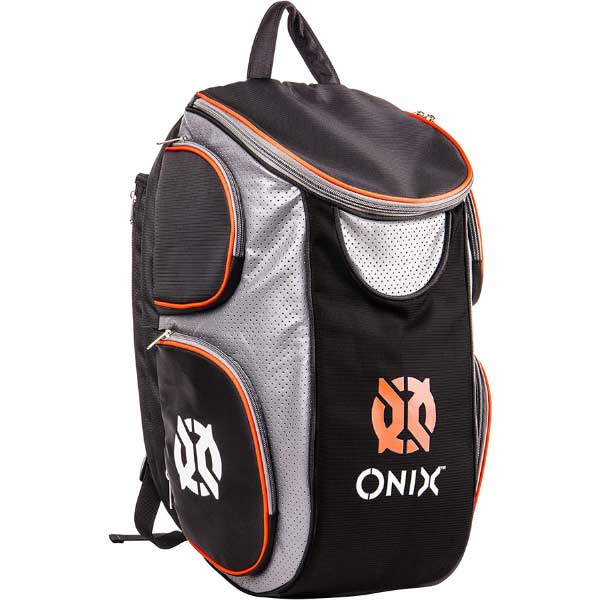 FEATURES
Size:

19 x 12 x 13 inches

Bottle holder:

no

Dedicated shoe compartment:

yes

More features:

5 pockets with zips, breathable mesh panels, and one insulated pocket
Onix Pickleball Backpacks have multiple spacious side pockets with zipper closures to ensure that each of your accessories is kept safe and organized despite having multiple pockets. Most multi-pocket pickleball bags don't offer enough space for everything. This backpack offers considerable lumbar support and prevents back and shoulder pain, thanks to its cool and trendy design.
In addition, there are mesh layers on the front and back of the bag to facilitate breathable storage in the outer panels and prevent damp interior odors. There would have been an advantage if there were separate compartments for balls and bottles.
It's easy to hang the bag upright while playing due to its rectangular, sturdy structure. Straps made of this material are quite strong and durable. In almost every dimension of the bag, ONIX logos can be seen, indicating the brand's publicity factor.
8. Game On Pickleball Duffle Bag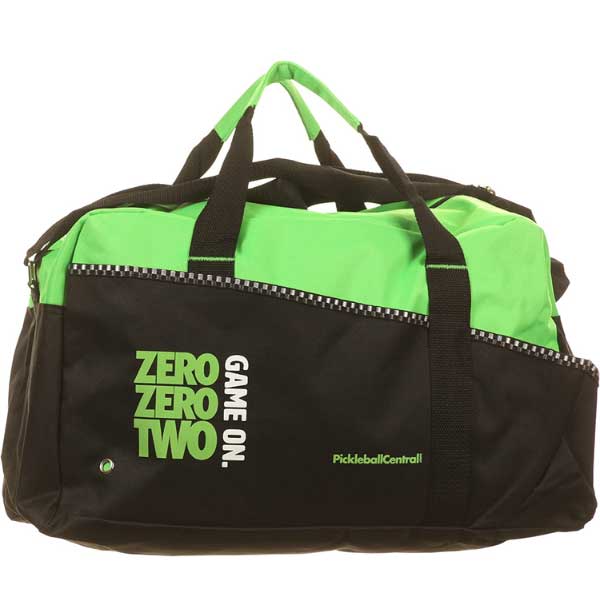 FEATURES
Size:

18 x 9 x 10.5 inches

Bottle holder:

yes

Dedicated shoe compartment:

no

More features:

Holds 2-4 paddles and a dozen balls; one large interior pocket and one slip pocket outside
The Game On Duffel Pickleball Bag is our budget pick for this list, which is a good option for regular pickleball games. With both style and space in mind, this bag is designed to serve as an all-purpose tote for your pickleball equipment and personal accessory needs and comes at an affordable price. There is a generous main compartment that measures 18 inches long by 10.5 inches wide, making it an effortlessly spacious tote. Additionally, a slip pouch on the outside can be used to store trinkets or casual items that need to be accessed often.
Due to the additional durable shoulder strap, you can wear the Game On Duffle Bag either by hand or over your shoulder. The bag comes in vibrant colors, such as red, blue, and lime green, and is made of lightweight fabric. Checkered embroidery lines the black area from the colored areas on the front face of the bag, adding an interesting detail to the overall exterior.
9. HEAD Racquetball & Pickleball Backpack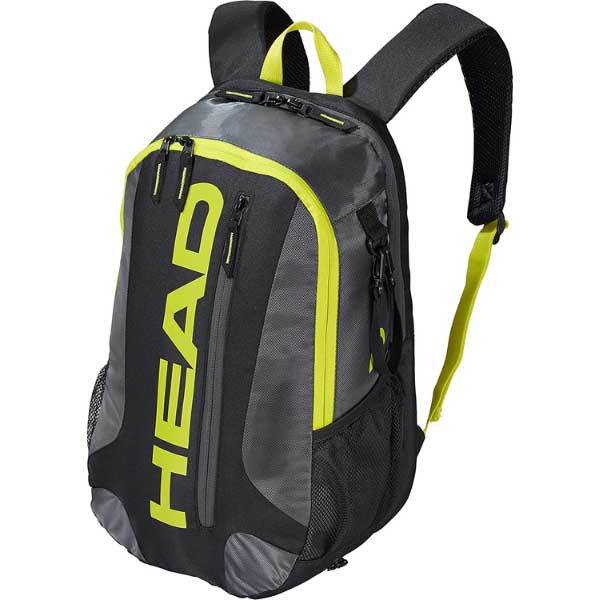 FEATURES
Size:

19 x 12 x 8 inches

Bottle holder:

yes

Dedicated shoe compartment:

yes

More features:

A dedicated compartment holds up to two rackets; a zipper pocket on the front; a fence hook; a glove cord;
With multiple compartments and sufficient room for accessories, the HEAD Racquetball & Pickleball Backpack does contain a separate space for each item. While the paddle compartment can hold a pair of paddles, the padding inside and its cover are too bulky to make the most of the available space. In addition, the manufacturer recommends that rackets stick out of the backpack, but the auto-stop, sturdy zippers can keep the compartment from falling out.
Additionally, a glove cord is included, which can be thought of as a positive addition. There is an additional zipper pocket on the front side as well as a fence loop at the top of the bag. The mesh pocket on the side can be used as a bottle holder and is ventilated.
Many will find this bag useful for storing dirty shoes because of the underside pocket. The dedicated compartments make this bag stand out, and it would make a decent purchase for a beginner.
10. DashSport Pickleball Sling Bag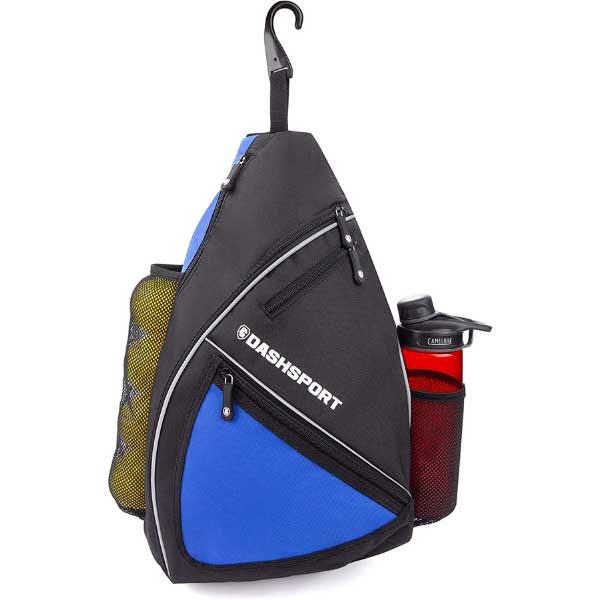 FEATURES
Size:

18 x 13 x 8 inches

Bottle holder:

yes

Dedicated shoe compartment:

no

More features:

Features 4 pockets, fits paddles up to 6 inches, fence hook, mesh pocket for balls on the side
You can carry all of your sports gear and everyday items in the DashSport Pickleball Sling Bag. The backpack design of this pickleball bag gives the bag a sling-style look, like all sling-style pickleball bags. 
The sleeves are made of mesh material on both sides. In addition to serving as ball pockets, they are also useful for holding bottles. It would have been more convenient if the latter had been larger. Multiple triangular zipper pockets are located on the front of the sling bag for holding a variety of accessories and items.
The padded sling bag comes with a fence hook that allows the bag to be hung discreetly in lockers, courts, or in closets at home. A big main compartment in this bag, as specified by the manufacturer, can accommodate up to six paddles in general. In case of any concerns or issues, the company claims to offer a full-time guarantee.
As a whole, this is a well-made bag that is reasonably priced. You'll love the extra pockets on this best pickleball bag, and there's plenty of space for all your needs.
Features to Consider When Choosing a Best Pickleball Bag:
As previously mentioned, several features are crucial to making a good pickleball bag choice. A bag may have different features such as its style, its size, its space, its compartments, its material, its weight, or its cinch or straps.
Backpacks, duffle bags, or sling bags
Depending on the buyer's convenience of usage specifications, the style of the intended bag is important. Pickleball bags should be compact, lightweight, and offer maximum shoulder support for casual players who are not used to carrying heavy equipment. This can be accomplished with a sling bag because it is easy to carry and has enough space; however, each object may not have its own pocket.
It may be more convenient to tuck clothes, snacks, gear, etc. in a duffle bag with plenty of storage space if you are a more professional regular player, apart from sports gear.
An experienced player may find it fine, but a beginner may not find it lightweight and supportive. As for the backpack, it may not be the most spacious option, but it is an option that offers good back and shoulder support and enables players to organize their items in a systematic manner.
Size
Based on the pros and cons listed above, we can analyze which type and size of bag may be more convenient for storing all your pickleball gear. You can ensure maximum spaciousness by having different compartments and pockets available.
Pockets and compartments
People who prefer to carry minimal, the everyday gear may find a pickleball bag with a single compartment convenient. In spite of this, multiple compartments make it easier for you to organize your belongings. A pickleball bag, such as one made by Onix, may have separate compartments for shoes, mesh pockets for water bottles, zipper pockets for phones, earphones, earplugs, snack boxes, clothes, a diary, cards, a wallet, medicine bottles, smart watches, tablets, etc.
Spare pickle balls can be stored in small compartments on some pickleball racks. All your gear will be organized and fit in these types of bags.
Bottle holder
There should also be a bottle holder pocket on pickleball bags, just as in other sports or gym bags. In our editor's choice Franklin Sports Pickleball Bag, the bottle is housed in a separate outer holder.
Materials
Pickleball bags are made of lightweight materials such as padded parachutes, fleece, or felt. For long-term durability, polyester material with anticorrosive zippers is recommended.
Weight
Plastic holders with leathered or extra-padded sides are generally heavier, harder to touch, and less spacious. The quality bags should be made of soft, lightweight polyester, and airy foam pads so that they are easier to carry, yet have plenty of pockets for the gear you need. Pickleball Fanatic Sling Bag, for example, is lightweight and has ample pockets.
Shoulder strap feature
A duffle bag with enough space for everything is preferred by seasoned players, but a backpack with a shoulder strap is preferred by casual players since they compromise on space for a shoulder strap. Adding a shoulder strap, however, may be more convenient if you want both support and space. There is an adjustable shoulder strap on the Game On Pickleball Duffle Bag, for example.
Tips
You should always consider the available options based on your style preference and usage type.
You should never base your choice on the habits of other players. You may have to get used to carrying a conventional duffel bag whereas the other may be fine with a bag without straps.
Before using a product, it is always recommended that you read the instructions carefully provided by the manufacturer. When extreme weather conditions or careless handling are present, some bags can be easily damaged.
FAQ
Can the bag be made more protective with a paddle cover or carry case?
Paddles should always be placed in separate, protective compartments in your bag since they are your main piece of gear. You can carry a paddle or racket case in the bag if the bag does not have a padded paddle compartment.
If the bag does not have a dedicated shoe compartment, can I keep my shoes in the large compartments?
In spite of the convenience of having dedicated pockets for each object, some players prefer to carry all the equipment, clothing, shoes, etc. in a large, multi-compartment duffle or gym bag.
Can you tell me if the bag is large enough for all my pickleball equipment before I buy it?
A pickleball gear set usually comes with four or six paddles and four or six balls, as well as some spares. In addition, you should have enough room for your regular items like your phone, water bottle, towel, shoes, etc. Consider your options carefully.
Final Thoughts
A pickleball bag that is lightweight, durable, and offers sufficient space is generally considered the best pickleball bag. It is important to keep in mind that what works for you might not work for someone else. In order to cater to all sorts of players' needs, we have included multiple options in this review guide.
This guide should assist you in choosing the best pickleball bag based on your needs and preferences. From the list above, here are our top three hand-picked options.
As our Editor's choice, Franklin Sports Pickleball Bag is the first of the top three. This bag is in a league of its own, with a hook to hang, padded storage, and the ability to hold up to 6 paddles and 40 balls.
Athletico Sling Bag ranks second in our top three because of its compact design and ease of carrying. Those who would like an occasional, fun game can enjoy this casual, light option.
This is our budget pick of the list, the Game On Pickleball Duffle Bag. Gear, shoes, and other items can be stored in this spacious bag. Furthermore, it has a shoulder strap and an outer slide pocket, which we think are very useful, and it is an overall affordable option. Want to buy the complete equipment of pickleball, click here to read about, pickleball sets, pickleball nets, pickleball gloves, pickleball paddles, and pickleball shirts. You can also check our pickleball blog here.