Over a million people participate in pickleball annually in the US, making it one of the fastest-growing sports. As the demand for pickleball paddles continues to grow, there is considerable competition between manufacturers to provide the best paddles.
When a beginner is faced with so many options in the market, it can be overwhelming. Paddles all have some unique characteristics, but the challenge is choosing the one that suits you best.
There are many types, sizes, and prices of pickleball paddles. You will be able to make the best choice for your paddle if you understand its different characteristics.
Here are some of the best pickleball paddles for beginners on the market.
When Buying a Pickleball Paddle, what should you consider?
Beginners should focus on developing their skills. Choosing a paddle that is comfortable enough to introduce you to the game and strong enough to take your gameplay to the next level is therefore important.
Best Pickleball Paddles for Beginners should consider the following aspects: 
Pickleball paddle weight
The weight of the paddle determines your speed and swing, as well as your gameplay. Generally, paddles fall into one of two categories:;
Light-weight: 6.7 to 7 ounces
Paddles with lighter weights are better suited to beginners, those with wrist or arm problems, and those with medical issues. These are easier to maneuver and provide more control.
Mid-weight: about 7.5 ounces
Because they offer balanced power and control, mid-weight paddles are preferred by most players.
Heavy-weight: 8.3 to 8.5 ounces
Strong people are best suited to paddles that weigh a lot. The power of these tools is excellent, but after prolonged use, they can cause wrist and arm pain
You may enjoy reading Pickleball Stacking
Pickleball paddle material
Various materials are used in pickleball paddles. Stability and shape are provided by the inner core, and the honeycomb pattern keeps the weight light.
Aluminum, Nomex, or polymer can be used for the outer part or facing of the ball. A Nomex paddle offers sufficient control but is noisy and has low power.  
They provide more power, but less control. Polymer paddles are softer, quieter, and offer more power but less control. Almost no power, but excellent control, is offered by aluminum paddles.
Graphite, carbon fiber, or fiberglass are the material used for the facing. Graphite, carbon fiber, and fiberglass are the most common. Carbon fiber provides medium control, but little strength.
As a strong, durable material, carbon fibers are extremely powerful and provide exceptional control.
You may enjoy reading Singles Pickleball Rules
Pickleball paddle grip
You have to consider both your hand size and the paddle's thickness and circumference when choosing a pickleball paddle. You will need a larger circumference if you have a large hand, and vice versa.
It will be difficult to control and grasp a paddle if its diameter is incorrect. The size of the grip you should choose depends on your height. For example, if you are 5ft. 2 inches, choose a small grip size (4 inches).
If you're between 5ft.2 in and 5ft. When the diameter of the handle is 8 inches, a medium grip (4 1 4 inches) is most suitable. Persons who have a height over 5 feet. 8 inches should use the large grip size (4 12.4 inches). 
Edge Guard
The edge guard is optional, so you can choose it according to your preferences. If you drop your paddle while playing, it protects it. This has the major disadvantage of occupying the area of the ball that is in contact with it.
You may enjoy reading How To Score In Pickleball?
The protective tape on edgeless paddles is less effective than the edge guard.
Top 6 Best Pickleball Paddles for Beginners
1. Baddle Pickleball Advance Paddle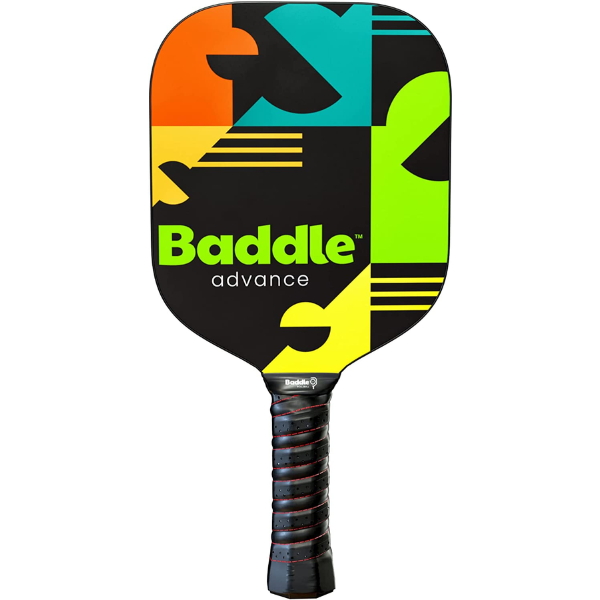 Among the best pickleball paddles for beginners, this mid-weight paddle is without a doubt the best one. In addition to providing excellent comfort, power, and control, the graphite plate surface has a polymer honeycomb core.
The grip is perforated to increase traction while minimizing vibration, and it is protected from scratches by Baddle's proprietary Edgetech Protect system.
XT versions have handle lengths of 5.25 inches instead of 5 inches.
As a beginner, you will feel comfortable using this paddle. This paddle is still advanced enough to last you well into your intermediate level. 
2. Niupipo Graphite Pickleball Paddle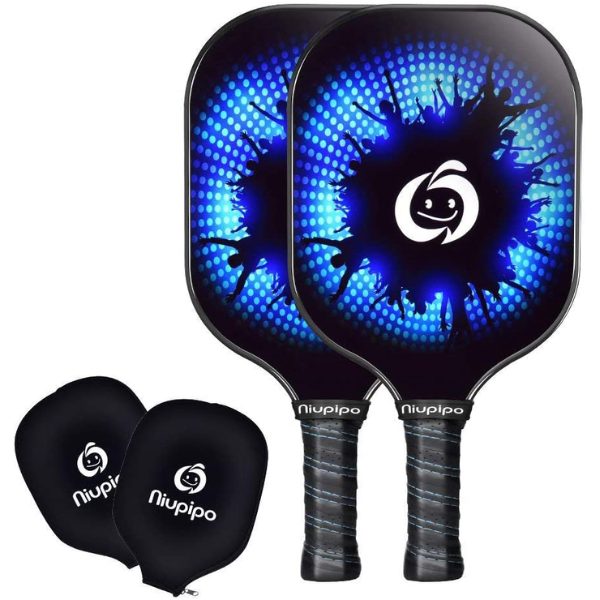 The Niupipo paddle features a 4.5-inch grip and is light-medium weight. The wide surface and honeycombed polymer core make it great for beginners and intermediate players.
Spin and control are enhanced with its smooth graphite surface and carbon fiber finish. Approximately 4.25 inches are around the circumference of the grip, and the grip size is 4.5 inches. To reduce vibration, there is a cushion beneath the grip. You may enjoy reading Pickleball vs. Paddle Tennis vs. Padel
An edge guard and a Neoprene case protect the Niupipo paddle.
3. ONIX Stryker 4 Graphite Paddle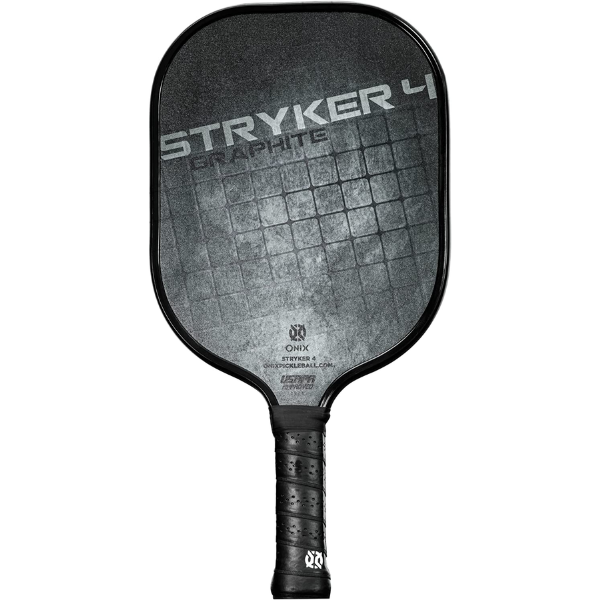 Onix Stryker 4 graphite paddles are excellent starter paddles due to their lightweight design. The weight ranges from 6.9 to 7.4 ounces, making it perfect for speed and maneuvering.
With its wide hitting surface, this paddle is perfect for beginners. The pointer's core is made of polypropylene, while its face is made of graphite.
In addition to its relatively quiet operation, the finish is smooth to provide exceptional responsiveness and performance.
4. Selkirk NEO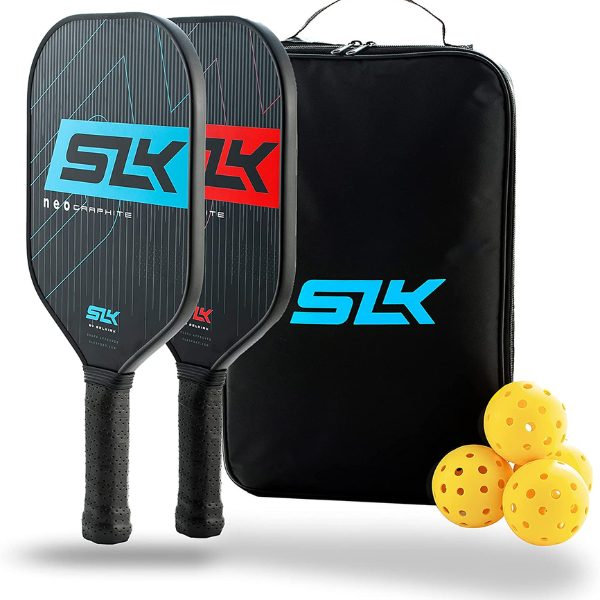 Despite its affordable price, this paddle is suited to beginners of all levels. The paddle face is made of composite material, and it weighs 7.6 to 7.9 ounces. Beginners will benefit from its light weight while a polymer core ensures better performance. You may enjoy reading What is the non volley zone in pickleball?
A wider hitting surface area is provided by the Selkirk Neo's 7.875 inch width. Featuring an EdgeSentry guard for protection and a thin, comfortable grip (4.125 inches).
5. Gamma Fusion 2.0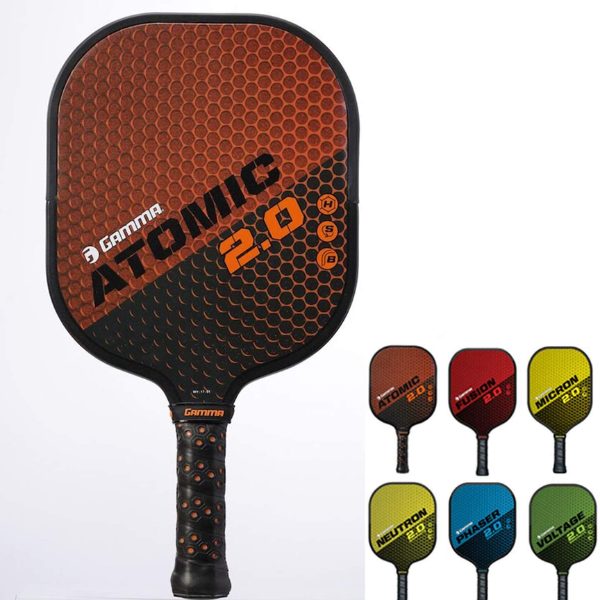 The lightweight design of the Gamma Fusion 2.0 paddle makes it an excellent choice for beginners. The weapon's speed and power make it very maneuverable and accurate.
Featuring an 8-inch broad textured fiberglass face, the Gamma Fusion 2.0 is 8 ounces in weight and 8 inches wide. A soft cushion absorbs sweat while playing on the grip, which is about 4 inches long.
Power, balance, and control are all well-balanced in this paddle.
6. Rally Tyro 2 Pro
A great paddle on the market is the Rally Tyro 2 Pro. As a beginner, you benefit from the wide hitting surface and the weight of 7.6 to 8.2 ounces.
Honeycomb polymer is used as the paddle's core to absorb shock and improve ball control. As you learn, you can use one or two hands because the grip is soft, comfortable, and 5 inches long. You may enjoy reading Pickleball Kitchen Rules
A great tool for any beginner, the Rally Tyro 2 Pro will help you improve your game quickly. 
Frequently Asked Questions About Pickleball Paddles 
Should Pickleball Paddles Last Long?
The average player should be able to play pickleball for several years before having to replace their net.
If you tend to use your paddle almost every day and are more serious about tennis, you may find that it begins to wear out after several years.
How Important Is the Type of Pickleball Paddle You Use?
Definitely. You might want to consider a lighter paddle if you're just starting out since heavier paddles may be difficult to control, while lighter paddles may not be powerful enough to produce a satisfying drive. 
We have discussed throughout this guide that other factors such as weight and grip size will also have an impact on how you play, so it definitely pays to invest in a good paddle if you are serious about improving.
What Is the Difference Between Indoor and Outdoor Pickleball Paddles?
No. No matter the weather or the environment, a pickleball paddle will work just as well. As a result, pickleball balls for indoor and outdoor play differ in size and weight. Outdoor pickleball balls tend to be heavier due to wind resistance and other factors.
What are the differences between men's and women's pickleball paddles?
Not at all. A pickleball paddle is a pickleball paddle no matter what its gender is (or vice versa). Regardless of its aesthetic appeal (or otherwise), a pickleball paddle is a pickleball paddle.
In that respect, women's hands are smaller than men's, so a smaller paddle may work better for them.
You may enjoy reading How Many Calories Do You Burn Playing Pickleball?
Final Thought: Best Pickleball Paddle for Beginners?
Our guide on Best Pickleball Paddles for Beginners in 2022 is about to end. You may well agree with us after reading our reviews and buyers guide that few pickleball paddles can match the all-round excellence of the Uteeqe Pickleball Paddles Set, which combines a mid-weight design with highly durable material, along with an edge guard that is damage-resistant into one attractive, affordable package. 
You may enjoy reading Why Is It Called Pickleball?