It is important to choose the right equipment to ensure you do not need to replace items throughout a season, rather than to continue to use them over time. Pickleball players have a lot of choices when it comes to balls, and choosing the right one can make all the difference in the world. Here are some of the best pickleball balls you can use for your next match. In addition to being a standout product on the market, this pickleball feature:
Flight and bounce characteristics that are ideal

Seams are reinforced to prevent splitting

For easy visibility, come in bright colors
Best Pickleball Balls
Onix Pickleball Ball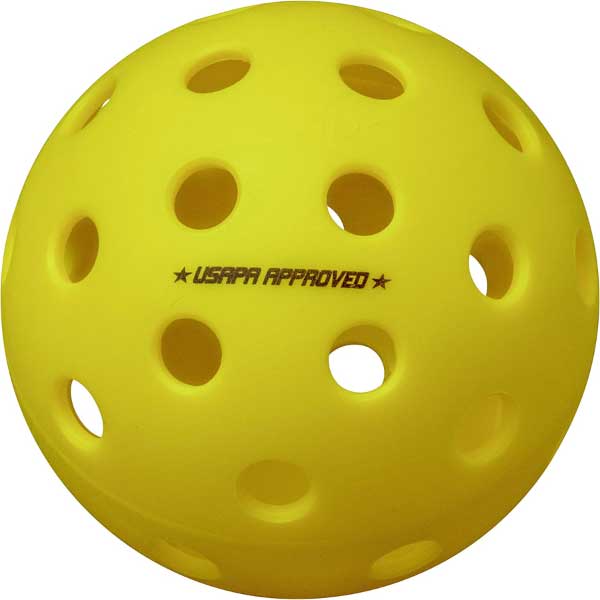 As pickle balls have holes in them, choosing a weighted ball is important to avoid pickle balls flying in unpredictable arcs.
With this three-pack set from Onix, you'll get excellent value for your money, along with improved flight, even in windy weather. In order to prevent cracks and damage after prolonged use, the ball has been welded with excellent precision.
You may enjoy reading Best Pickleball Paddles Under $50
Day 1 Sports Pickleball Ball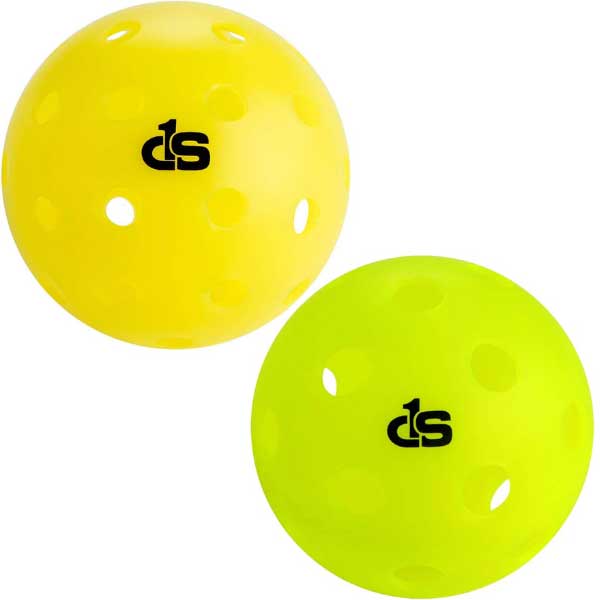 Pickleball players who want to compete in tournaments must find a ball that meets tournament specifications. Day 1 Sports pickleball balls meet those requirements and also feature 40 precision holes for consistent flight.
It will be more visible on the field thanks to the bright neon color of the balls. High-quality resin is used for the pickleball ball to prevent damage.
You may enjoy reading Best Pickleball Paddle Under $100
Franklin Sports Pickleball – Best Pick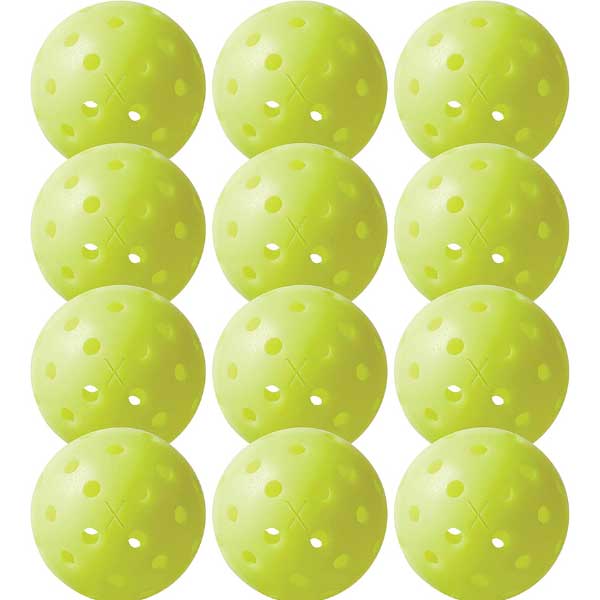 In our pickleball guide, this Franklin Sports 12-pack offers the best value for players who play pickleball frequently or are concerned about losing balls. Since other brands typically offer three or six balls per pack, you get the best unit price per ball with this model.
With rotational molding, these balls won't crack easily and are USAPA approved for professional players. Pickleball balls come in three striking colors to make them easy to spot on the court.
You may enjoy reading Best Outdoor Pickleball Paddle
EasyTime Pickleball Ball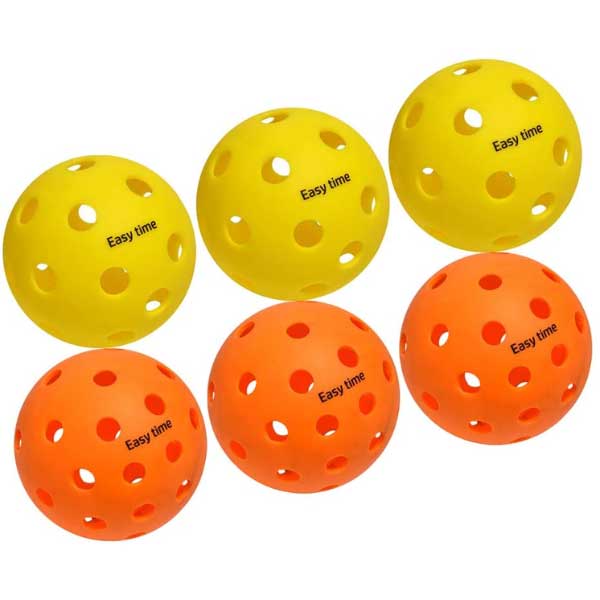 We only recommend these pickleball balls because they are USAPA approved and are available indoors and outdoors. It includes three yellow balls equipped with 26 holes and three orange ones equipped with 40 holes to counterbalance wind disturbance.
Moreover, you will appreciate the hot seam welding that makes the exterior smooth and bounces well. If you play pickleball outdoors, the vibrant color of the balls makes it easier for you to keep track of your balls, and even if you lose one, there are five more to choose from.
You may enjoy reading Best Wood Pickleball Paddle Reviews
Best Pickleball Balls Buying Guide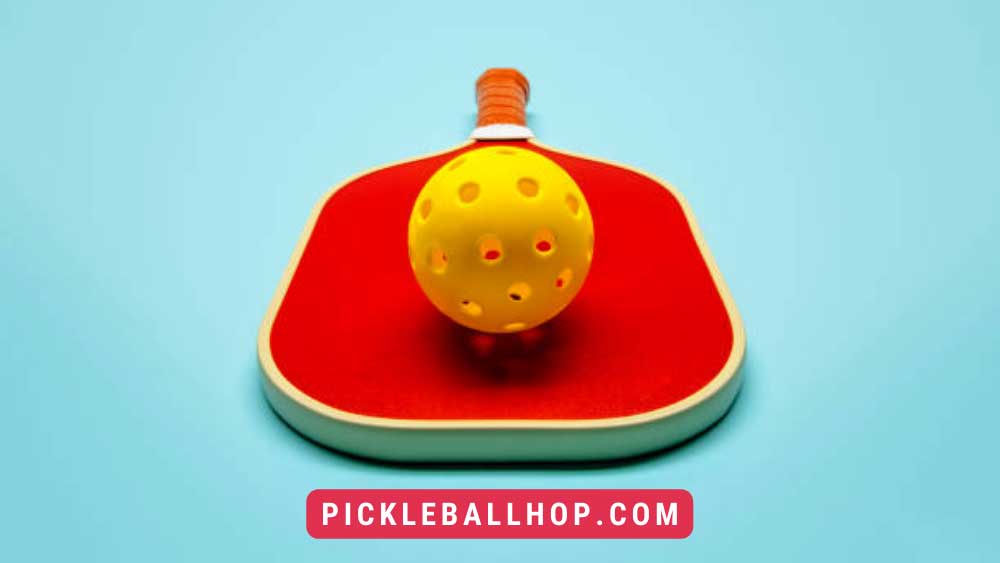 Pickleball is one of the few sports that allows you to jump right in without a lot of preparation and equipment. Pickleball paddles are easy to find, but what about pickleball balls? Whenever we are in the market for one of these perforated polymer balls, we can be overwhelmed by the many different types, makes, and sizes available.
You may enjoy reading Best Carbon Fiber Pickleball Paddle
This comprehensive pickleball ball buyer's guide is designed to help you understand and select the correct ball for you, based on your needs.
What Are the Different Types of Pickleball Balls?
There are two types of pickleball balls:
Indoor pickleball balls

Outdoor pickleball balls
In this section, we will examine the differences between the two types.
Indoor pickleball
The pickleball balls used for indoor pickleball are lighter and softer than the ones used for outdoor pickleball. For groups who prefer to play indoors where the weather is more predictable and not influenced by nature, they are designed for them.
When it comes to these whims, pickleball balls feature holes that aid them in navigating the wind more reliably. With fewer, albeit larger, holes in indoor pickleball balls, since they don't have to withstand the winds, they feature 26 holes on average.
By reducing the number of holes, indoor conditions become more controlled, consistent bounces are achieved, and precise trajectory is achieved. With one, the ball will spin more, and you will have longer rallies because of their textured surfaces. However, these types of pickleball balls have an increased drag that makes them harder to slam.
You may enjoy reading Pickleball Noise Problems
Outdoor pickleball
It's all about the elements in the outdoors. As the weather changes and wind patterns change, pickleball dynamics shift. To ensure the play of pickleball outdoors is not disrupted by these elementary pressures, outdoor pickleball balls have to be specially designed to adapt to and mitigate them.
The outdoor pickleball ball weighs more than 0.9 ounces, which is heavier than its indoor counterpart. These balls have a smooth surface and a lighter weight, making them less likely to wear and tear, although we recommend you don't use them for more than ten outdoor matches because the elements are bound to degrade their playability.
It is easier to hit power shots with outdoor pickleball balls because they bounce better. With one, however, rallies may be shorter, controls may be less precise, and spin may be less effective.
You may enjoy reading How To Build An Outdoor Pickleball Court
What do you think of the design? Let's discuss it now. In addition to being constructed to withstand the elements and terrain, outdoor pickleball balls are also made to withstand the ball's impact on the ground. There are more holes drilled into the pickleball, but they are smaller, with 40 holes drilled into the standard outdoor version. As a result of the holes, the wind is less likely to deflect the ball and the ball is less likely to deflect because of it.
Pickleball balls come in several types. Here is a table explaining them:
| | | |
| --- | --- | --- |
| Specifications | Indoor Pickleball | Outdoor Pickleball |
| Weight | 0.8 oz | 0.9 oz |
| Number of Holes | 26 | 40 |
| Power Hits | Difficult | Easier |
| Rally Length | Long | Short |
| Elemental Resistance | Low | High |
| Hardness | Soft | Hard |
| Noise | Quieter | Louder |
| Lifespan | Last longer | Shorter lifespan |
What to Consider When Buying a Best Pickleball Ball?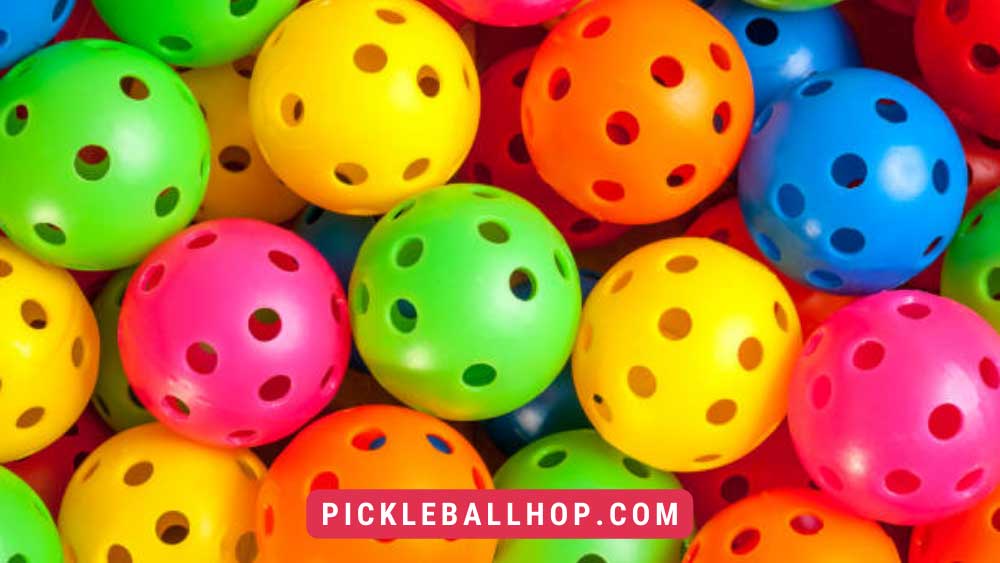 To shortlist the best pickleball balls money can buy, we looked at two main factors.
Durability and longevity
It varies from brand to brand how long pickleball balls last. It is reasonable to expect that an outdoor pickleball will last at least ten games before cracks start to appear. Due to the lack of exposure to the elements, indoor balls have a longer lifespan. In spite of the fact that they rarely crack, indoor pickleball balls develop soft spots over time.
Material
Pickleball balls are made of plastic, as everyone knows. What's the point of considering the material after all? It is important to use only the best thermoset plastics, such as acrylic, epoxies, and melamine when making pickleball balls.
Balls are formed by heating and cooling these materials. The superior quality of virgin plastic makes outdoor pickleball balls sometimes include virgin plastic in their composition.
You may enjoy reading What Is The Best Material For A Pickleball Paddle?
Tips for Choosing the Right Pickleball Ball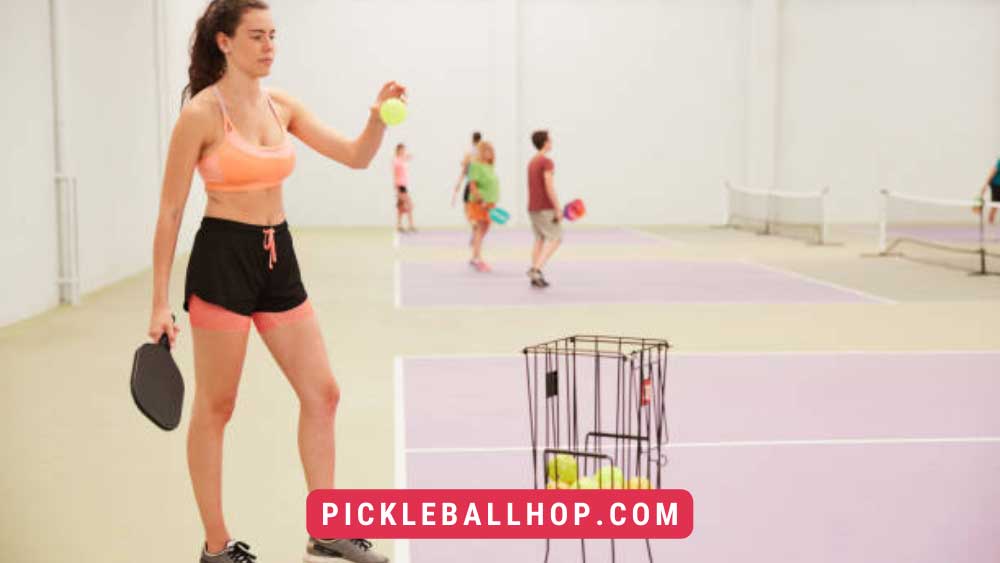 In order to help you make the right pickleball ball purchase decision, we meticulously tested dozens of pickleball balls. The results are in!
Outdoor or Indoor?
You're not sure whether to buy pickleball balls for indoors or outdoors? In case you're just looking for a game with the boys, don't worry about it.
When it comes to competitive play, though, why not try both? You should always keep both variants on hand to be prepared for any type of match that may arise.
You may enjoy reading pickleball vs paddle tennis
Color
There are many colors and shades of pickleball balls available. If you don't have natural light, we would recommend considering ones that boast one solid color, are bright, and are easy to spot.
The next time you find yourself playing pickleball in poor light conditions, you'll thank us for this tip! You can also read a guide on how much does it cost to paint a pickleball court
Diameter
It is imperative that you use the right diameter for your pickleball. It will be easier to play pickleball with an optimum-sized paddle since it will come off more efficiently.
Pickleball balls with a diameter of 2.8 inches are ideal for indoor play. Pickleball balls with a diameter of 2.9 inches are suitable for outdoor play.
You may enjoy reading Pickleball vs Wiffle Ball
How Much Do Pickleballs Cost?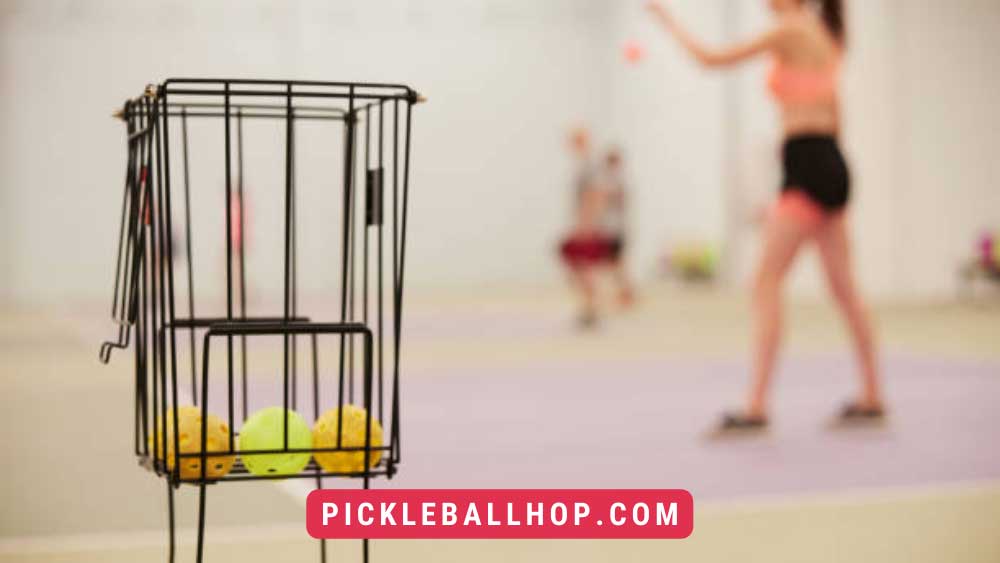 Pickleball balls from Dura, Jugs and TOP cost $30 to $150 each, and some people are willing to pay such high prices.
Is it worth it to invest in them? The outcome of one's game will be determined by luck, skill, and quality of the ball, not ball balance or quality.
For the average Joe, a 12-ball pack that costs about $15 would be sufficient. When actively played with, each ball can last for around an hour.
You may enjoy reading Racquetball Vs Pickleball
FAQs
WHAT IS THE MATERIAL OF PICKLEBALL BALLS?
In order to make best pickleball balls more maneuverable in the air, they are made from hard plastics with holes drilled into them. Injection molding is typically used to manufacture indoor pickleball balls that are welded together. Outdoor pickleball balls are constructed using rotational molding, which makes them durable and impact-resistant.
WHAT IS THE DIFFERENCE BETWEEN OUTDOOR AND INDOOR PICKLEBALL?
The indoor pickleball ball is lighter, softer, and quieter because it's designed to be played indoors. It is easier to control them since they have fewer holes drilled into them. It is usually heavier, more durable, and more powerful than their outdoor counterparts.
Is it possible to play pickleball indoors and outdoors at the same time?
Pickleball balls of different types can even be used interchangeably for the casual player who only intends to play for fun and never intends to compete. However, if you wish to play to your full potential, we recommend that you have both types on hand.
You may enjoy reading What is the Difference Between Racquetball and Squash?