This article will offer you a comprehensive guide on how to choose the best pickleball machine for your needs. In the following, we've listed our six top picks along with a comprehensive shopping guide to assist you in making your choice. you may enjoy reading Onix Z5 Graphite Pickleball Paddle Review
Introduction
All levels of players can find resources on our site, whether you're just getting started, or you're a seasoned pro. 
This post is a compilation of the six best pickleball practice machines currently available on the market in order to take a look at some of the best ones out there. You may enjoy reading Best Pickleball Paddles For Tennis Elbow
The best pickleball throwing machines we have collected have not only been divided into categories, but we have also included the best pickleball throwing machines for the money. 
You can read on to learn about the best pickleball machines available, no matter what your budget is or what you're looking for.
Top 6 Best Pickleball Machines for Practicing
The Pickleball Tutor Plus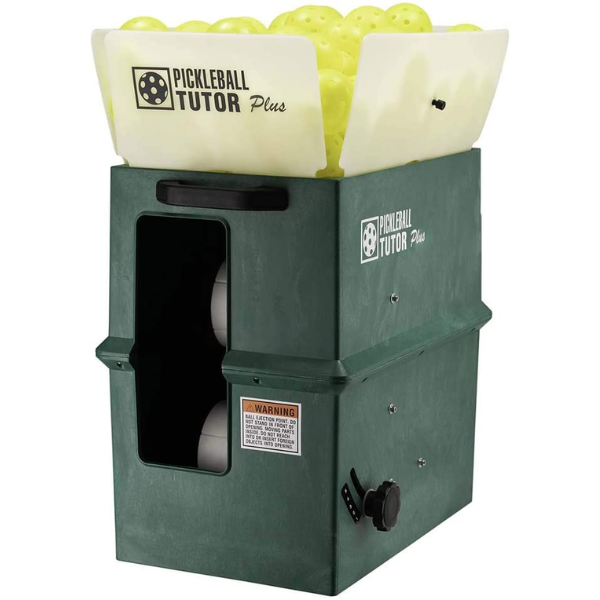 If you need to practice with your topspin or backspin shots, we recommend the Pickleball Tutor Plus. In addition to lobs, dinks, drives, serves, and even groundstrokes, Pickleball Tutor Plus can be used to train any other type of shot. 
Tutor Plus shoots pickleballs at a speed of 65 mph and feeds a shot every 5 seconds to every 10 seconds with a capacity of 110 pickleballs. 
In addition to the delay timer, one of the best features of this device is that you have plenty of time to get across the net before it starts shooting. 
You can play for up to four hours continuously with this, which has a built-in rechargeable battery for indoor or outdoor use. 
The Pickleball Tutor Plus comes with a smart battery charger that allows the device to be charged fully over night. As well, it will automatically shut off when fully charged, ensuring your battery is not overcharged and damaged. 
It also has a single dial for controlling how much backspin or topspin is applied to each shot. It has a towing wheel with a diameter of 3″ and an oscillation mode that allows for easy maneuverability.
Simon X Practice Machine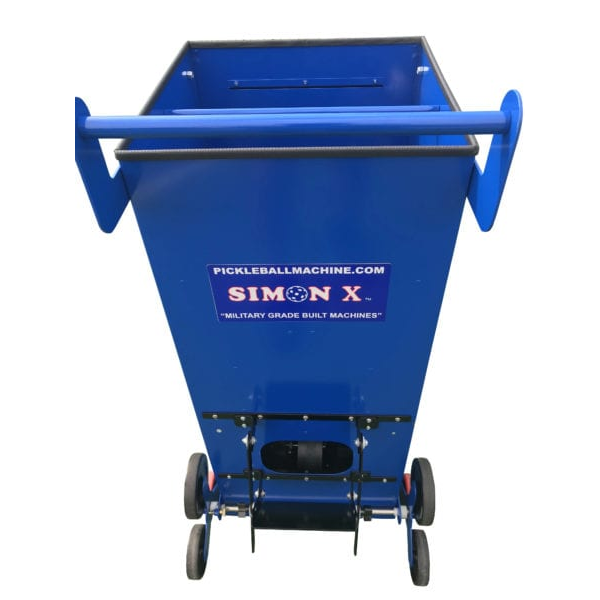 This pickleball practice machine is made by one of the most famous manufacturers in this sport, Simon X, and is among the world's most advanced and advanced pickleball practice machines. 
The Simon X is fully loaded with all the usual features, as well as equipped with materials of military-grade construction such as stainless steel and aluminum. Since the Simon X is built to last a lifetime, you will never have to worry about it breaking or being damaged. 
With Simon X, you can practice softer shots by lobbing pickleball balls at just 5 MPH. In addition, this practice machine can be cranked up to a speed of 70 MPH, making it one of the most powerful available.
You may enjoy reading Best Pickleball Paddle for Spin
It is possible to expand this capacity to 240 balls with the Simon X by adding an additional ball hopper.
Its remote control can be used 100 feet away, making it one of my favorite toys. In addition, the Simon X includes a fantastic "stealth oscillation" feature, meaning the oscillation happens inside the machine, keeping it out of sight so that it is more challenging. 
You can't predict where Simon X is going to shoot the ball, making it the most realistic ball machine out there.
Further, Simon X is able to run for more than 10 hours on a single charge, which is substantially longer than most of the other machines in our comparison.
In addition to its easy-to-maneuver wheels and towing handle, Simon X comes with an adjustable feeding interval between 1.5 and 10 seconds. 
If you want the best pickleball machine money can buy, then you should definitely check out Simon X.
Pickleball Tutor Spin
There are numerous features and add-ons available for the Pickleball Tutor Spin, making it an excellent choice for younger players and those who are just starting out. 
This small machine is also fast and easy to set up, taking less than five seconds. Pickleballs will load into the ball hopper as soon as you open the hopper, so you can practice right away. 
With the Tutor Spin, you have the option of tweaking the speed from a soft lob for practice drinks to a hard shot for tournaments and competing against professionals. 
You may enjoy reading Best Pickleball Paddle For Women
A ball can be fed in the machine once every ten seconds, so you get a chance to practice quick reactions, or once every second, so you can focus on receiving shots. 
The tutor spin can also be set up to begin sending balls to you before you reach the other side of the court, so you can set it up before you arrive. In addition to lobs, dinks, and high volleys, you can practice a variety of trajectories on this machine. 
The Tutor Spin is extremely portable and is one of the lightest practice machines on the market today.
Simon 2 Pickleball Throwing Machine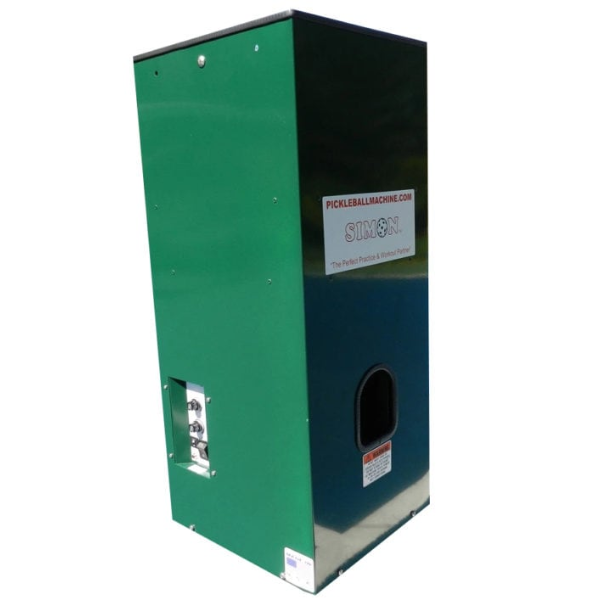 The Simon 2 is powerful and versatile, but it does not compare to the Simon X. Although this is not necessarily a bad thing, it does not mean you should disregard it when considering a pickleball practice machine. Simon 2 was one of the very first pickleball machines to hit the market, making it one of the most classic. 
Furthermore, this Best Pickleball machine has 160 balls in addition to its larger capacity. Even so, it's still relatively small, with a width of 12.5 inches and a height of 31 inches. The result is a portable and lightweight Simon 2 pickleball table that's easy to move to your court. 
It is possible to throw balls of 0 to 60 MPH using the Simon 2 with an oscillating platform. Up to 100 feet away can be controlled using a wireless remote, making it a perfect fit for indoor and outdoor courts. 
With Simon 2, you can also feed balls between 1.5 and 10 seconds apart with zero-jam technology. 
You may enjoy reading Best Cheap Pickleball Paddles
One of the few machines on the market capable of consistently throwing perfect dinks is Simon 2. Simon 2 has an adjustable ramp, making it one of the most versatile soft game machines available on the market. Furthermore, you can download an application that will allow you to adjust the ramp so you can also practice higher lobs, which are perfect for practicing overhead shots, high volleys, and returning high serves. 
Simon 2 is a great practice machine despite its inferior quality to the Simon X. For the best value in a practice machine, the Simon 2 is definitely worth a closer look.
Lobster Pickle Ball Machine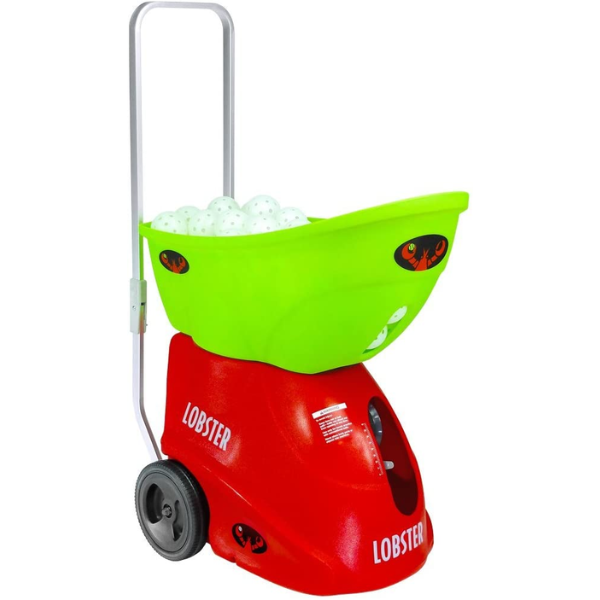 It has a random oscillation feature and adjustable speeds, making it an excellent practice partner without having to spend a significant amount of money. 
Lightweight and mobile, the Lobster Pickle Ball Machine weighs just 35 pounds and comes with 8-inch wheels for easy transportation. A 135-ball inverted ball hopper is also included in this machine, allowing for extended practice sessions. 
Random oscillations make this machine an excellent choice for anyone who wants to practice their footwork. It can also throw shorts, dinks, and lobs based on the player's skill level, so it's a great machine for beginners and experienced players alike. 
This device has a battery life of about 4 hours, and the intervals can be adjusted between 2 and 12 seconds, so you can use it either for more intense practice sessions or for more leisurely ones, depending on your needs. 
An extended warranty of two years is offered by the manufacturer of the Lobster Pickle Ball Machine.
Lobster Pickle Two Ball Machine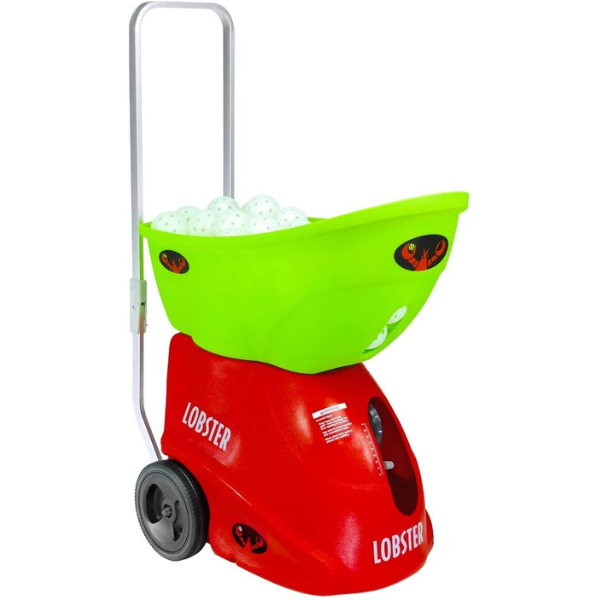 We think you're going to love this new version of the Lobster Pickle Machine if you weren't satisfied with the original. 
Although the Pickle Two Ball looks similar, the Pickle Three Ball offers some awesome upgrades, like a 2-line oscillation and an electric elevation system, which allows you to adjust your launch angles seamlessly and conveniently. 
It is also capable of lasting up to 6 hours without a charge, as its battery has also been upgraded. In addition to the battery-powered version, the Pickle Two also has a plug-in version, making it the first practice unit on the market to offer both options. 
Similar to the Lobster, the Pickle Two can store up to 135 balls. It has a maximum speed of 60 mph, just like the Lobster. Lobster's new weight of 42 lbs means it's heavier than the original, but the 8-inch wheels make it easy to move on the court. 
You may enjoy reading Best Rated Pickleball Paddles
Both the Lobster and the Lobster Pickle Two feature a full range of features and options that can be customized for a fully personalized practice experience.
Best Pickleball Machine Buying Considerations
With the growing popularity of pickleball, players and manufacturers can find more pickleball gear and practice tools. 
Pickleball is a somewhat unconventional sport with plenty to discover, from paddles designed with high-tech materials to pickleball throwing machines suitable for beginners and professionals alike. 
Despite this, it is difficult to compare newer products in a sport that has only existed since the mid-1960s. 
The purpose of this buying guide is to help you determine what to look for when purchasing a pickleball practice machine. 
Here are six important factors you should be looking for when choosing the Best Pickleball machine.
Ball Capacity
When you practice pickleball alone, you are unable to throw balls at you, which can be difficult. 
This problem can be solved with a practice machine. Practicing on machines with smaller hoppers will make it more difficult because once the hopper is empty you must stop and reload it. 
As a result, I recommend investing in a machine that offers a large hopper, such as the Simon X. This machine can hold up to 180 pickleballs, allowing you to practice without having to reload every ten minutes. 
Spin Effect
As the ball passes over the net, its direction can change as it slows down and is twisted, making pickleball challenging to play with an opponent. 
If you want an accurate simulation of pickleball services, you should use a machine that is capable of applying topspin, sidespin, or backspin to shots. 
Although some machines can't do this, there are others that can. In this case, you should choose a machine that has this feature if you want to practice effectively.
You may enjoy reading Best Pickleball Paddles for Beginners
Weight And Maneuverability
It's inconvenient to practice pickleball alone since you will likely be set up alone.
Depending on your own physical abilities and the location of the pickleball court, you will need a pickleball machine that is relatively light and maneuverable. 
Give it some thought! Having a practice machine is ineffective if you are incapable of setting it up on the court yourself. 
Speed, Oscillation, And Interval Adjustments
When you practice against a machine and not a human, you will find it more challenging, since not every machine can deliver different types of shots. The most challenging aspect of playing or practicing against human beings is trying to predict where their shots will land. 
There are a number of adjustable practice machines available, including random oscillation machines for practicing your serve and dink skills. 
While this might not be the most important consideration for younger players or those who are new to the sport, it is essential for more experienced players who wish to improve their skills. 
Construction And Warranty
No two practice machines are the same. Many of them are made from less durable materials, such as plastic, while others, such as the Simon X, utilize military-grade aluminum and stainless steel to provide a durable build. 
If you are shopping for a practice machine, think about the materials it is made from. 
There are also differences in warranties among the machines discussed here. A Simon X machine, for instance, is backed by a much larger lifetime warranty on its pitch/throw wheels – these are the most crucial components on a thrower – whereas other machines typically offer a 2- or 3-year warranty. 
You may enjoy reading Best Elongated Pickleball Paddles
Pricing And Personal Budget
When shopping, remember that price, along with your own personal budget, should always be considered.
The price of pickleball practice machines can be increased by customizing them with extra features. We have discussed many pickleball practice machines today. 
Just keep an eye on your budget when shopping. 
The point of buying a machine that's among the most expensive on the market is that you can't afford it in a month. 
Final Thoughts
Pickleball is a game that many people enjoy. No matter if you are a newbie, a teenager, or an experienced pro, this relatively new sport offers health benefits and is entertaining to play.  
If you cannot find anyone with whom to practice, then a pickleball throwing machine is the best way to hone your skills whenever you cannot find anyone with whom to practice. 
In the market for the best pickleball machine, these are some things you should keep in mind, and you'll be well on your way to becoming a professional.
You may enjoy reading Best Padel Rackets