Would you like to purchase a Champion pickleball paddle? Reading its reviews is the first thing you should do.
Pickleball paddles are all the rage these days, and Champion is one of the most popular brands on the market. So, what makes Champion paddles so great?
In the early days of pickleball, Champion paddles were some of the first paddles available. For more than 30 years, pickleball players have been using and loving Champion pickleball paddles. You can also read a guide on How to Play Pickleball
There are a lot of Champion paddle reviews online, and they all seem to agree that Champion paddles are well-made, durable, and provide good control. Many people also find that Champion paddles have a good amount of power, which can be helpful in competitive pickleball games.
Therefore, when you purchase a Champion pickleball paddle, you're not just purchasing anything. This pickleball paddle comes with a world-class reputation and a prestigious legacy, making it one of the best in the business. 
Find out how to choose the right pickleball paddle for you when buying a Champion pickleball paddle.
Champion Pickleball Paddle Reviews
A popular pickleball paddle is the Champion pickleball paddle. Designed by Pickle-ball, Inc., it has long been in use by players and comes with the stamp of approval from the sport's creators.
The Champion pickleball paddle has evolved over time, but it's still loved by beginners as well as veterans because it's fun to use and has a variation for everyone.
It is now possible to choose from several different Champion pickleball paddles, which have evolved and improved over the years.
Quality construction and unwavering support from the pickleball community are what they all have in common. 
Which Champion pickleball paddle should you choose based on the different shapes, sizes, and grips available? Click here to learn about pickleball paddle grip size.
Which Champion pickleball paddle should you buy?
With the Champion pickleball paddles, you're sure to find one that suits your style of play. The Champion paddle has a pickleball paddle for everyone, whether you're looking for a quiet paddle or a pickleball paddle that spins.
One thing that might be tricky is deciding which option to choose! 
Champion pickleball paddles have been available in several different sizes, shapes, and compositions since their first release. 
In addition to graphite Champion paddles, polypro Champion paddles are currently on sale, as well as aluminum Champion pickleball paddles that are fast selling. 
There's one thing for sure, though: quality is guaranteed. In any tournament or volley match, Champion paddles are made from high-quality materials that can withstand even the most aggressive conditions. 
Find out Is Pickleball an Olympic Sport by checking our guide here!
The Champion graphite pickleball paddle
Pickleball paddles made of graphite are generally regarded as the "standard" Champion paddles. 
Each version has a different weight and play style, so you can pick the one that fits you best.
Champion Graphite Elite pickleball paddle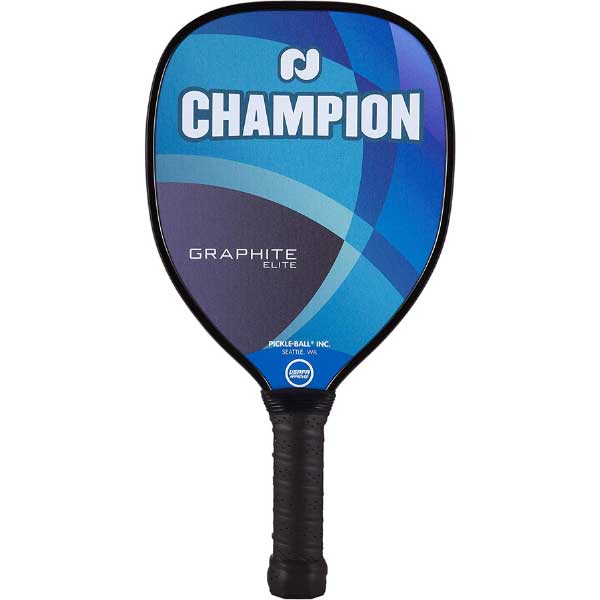 One of the lightest pickleball paddles in the Champion Graphite line is the Champion Graphite Elite. 
Suitable for new and seasoned players alike, its tapered shape and balanced feel make it a great lightweight paddle. 
Despite being a lightweight paddle, the Champion Graphite Elite will not let you down. You can practice drills or take part in advanced player tournaments with surprising precision with this powerful paddle. 
It is a sturdy pickleball paddle that has a comfortable grip that is made in the USA. This pickleball is great for players with a variety of skill levels and playing styles, so you're sure to love it. 
Champion Graphite X pickleball paddle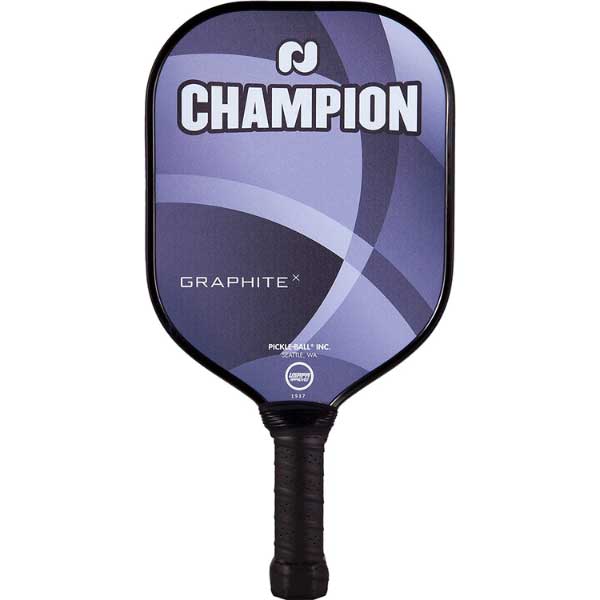 In comparison to the Elite pickleball paddle, the Champion Graphite X paddle weighs 7.9 ounces.
In addition to its dimensions, it has the same dimensions as the smaller Champion graphite paddle. Due to its larger surface area, this graphite pickleball paddle has a balanced design.
With its unique design, you won't have to worry about perfect positioning whether you're practicing drills at home or defining against a slam.
Thanks to its reactive materials, it offers a great level of control for both new and experienced pickleball players.
Champion Graphite XL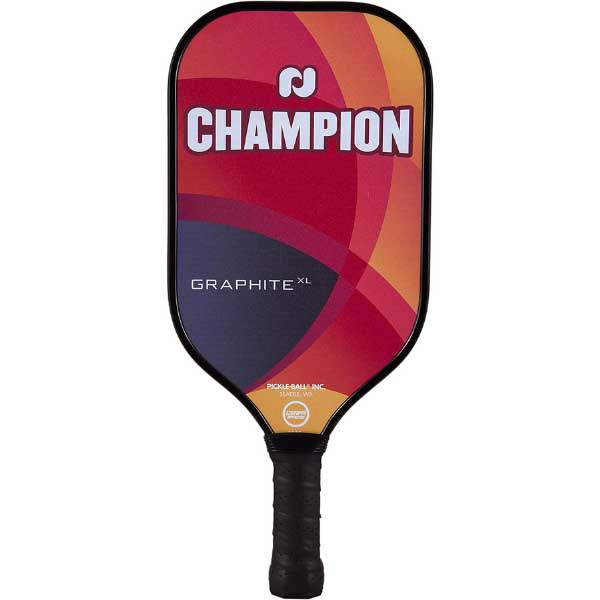 Graphite pickleball paddles from Champion are all available in different sizes.
Though larger in size, the Champion Graphite XL has exactly the same grip circumference as the other Champion Graphite paddles. Previously, the Champion Graphite pickleball paddles came in multiple grip circumferences, but now this has been standardized.
In spite of that, the Champion Graphite XL pickleball paddle is one of the best out there if you need an elongated paddle. Due to the extra long body, trickier shots can be returned with more ease and pop without compromising touch.
Champion Eclipse pickleball paddle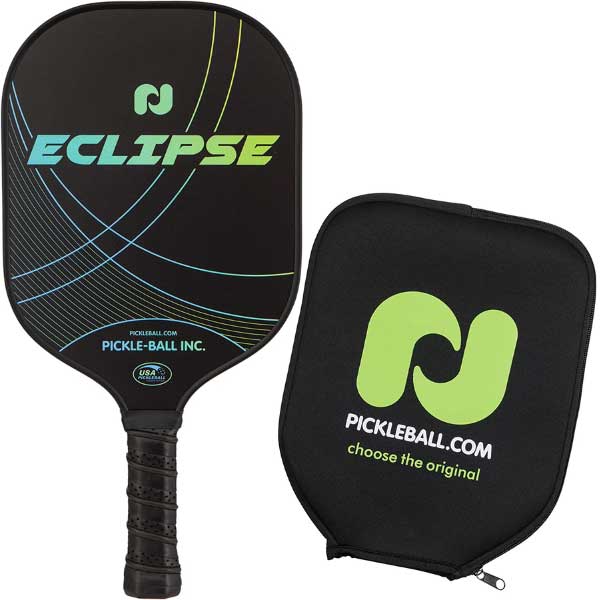 An always-in-demand pickleball paddle, the Champion Eclipse is made from graphite. Nevertheless, if you can obtain it, you're sure to enjoy it.
There is a good reason why this graphite pickleball is one of the best-selling items: it feels sturdy in your hand and provides a smooth swing with no vibration after hitting the ball. It features a polypropylene honeycomb core and a graphite face, making it as durable as the other Champion graphite pickleball paddles on this list.
No matter how close to the kitchen you are, the Champion Eclipse pickleball paddle is perfect for improving your defensive skills.
You may enjoy reading Pickleball Kitchen Rules
You can also find a fit that's right for your style and strength thanks to a range of sizes to choose from. Beginners and intermediate players alike will benefit from the paddle's 5-inch handle.
Champion aluminum pickleball paddle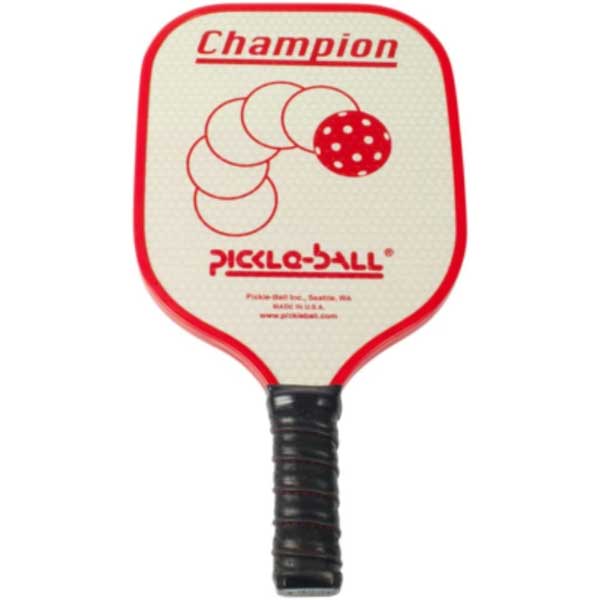 You can also choose the Champion Aluminium pickleball paddle if graphite isn't your thing or you want to expand your pickleball kit.
Don't let its popularity put you off, though. This is a very popular paddle that is often sold out. Soft-feeling and punchy, this paddle is beloved by many top pickleball players, especially if you're used to beginner's paddles.
You can respond to fast-paced games with ease thanks to the aluminum base's fantastic control. This also produces a more satisfying "pop" in our opinion!
For more experienced players who prefer a lightweight paddle, the Champion Aluminium pickleball paddle is hard to beat. You'll need a paddle to give you the power if you bring a lot of power.
Champion Polypro pickleball paddles
Polypropylene pickleball paddles are also available from Pickle-ball, Inc. alongside graphite and aluminum paddles.
Champion Spark pickleball paddle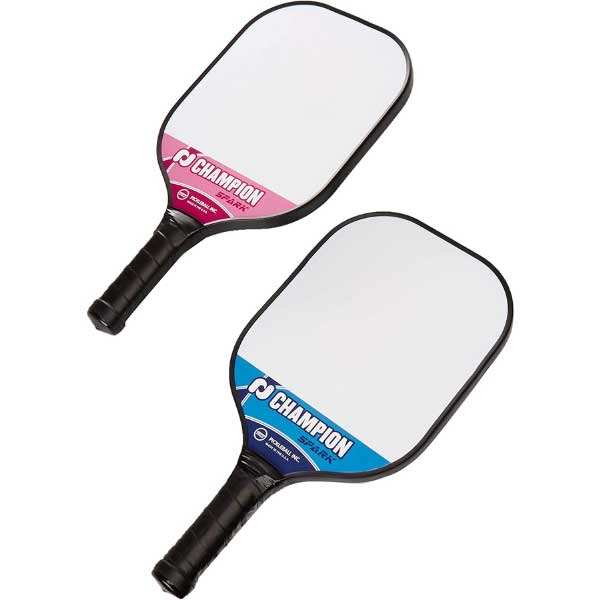 For players who want a responsive and well-balanced polypropylene paddle at an affordable price, the Champion Spark pickleball paddle is an excellent choice.
Additionally, it's a relatively quiet pickleball paddle, so you can practice pickleball drills at home without disturbing your neighbors. This grip circumference makes it ideal for dainty hands that need a firm grip.
You may enjoy reading Pickleball Court Dimensions
Despite its lack of style on the court, the spark still provides good value for money despite its lack of style. Compared to many comparable paddles, the Champion Spark costs half as much.
Champion PolyPro pickleball paddle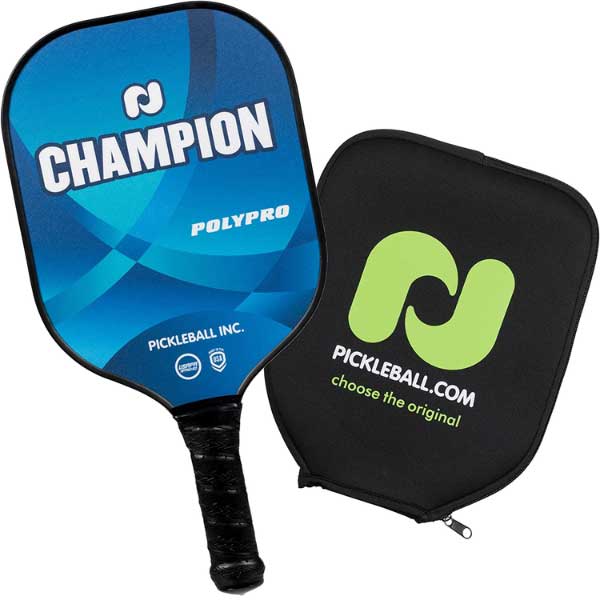 Pickleball players who want to level up should consider the Champion PolyPro pickleball paddle. This dual-layer face offers maximum performance thanks to its powerful design.
Aside from being durable, this pickleball paddle is also lightweight. Whether your volleys are fast-paced or slow-paced, the Champion PolyPro can keep up.
Champion PolyPro pickleball paddles are light and comfortable enough to last you throughout an entire day of play! Moisture-wicking handles, ergonomic design, and cushioned grips make this a great pickleball paddle!
Its size and design are similar to that of the Champion Spark, but it promises a more stable experience for experienced players. As a bonus, it's a great size, so most people should be able to hold it comfortably.
Why buy a Champion pickleball paddle?
Have trouble deciding which pickleball paddle is right for you?
That's fine with me. It's all about personal preference and Champion Pickleball Paddle Reviews when it comes to pickleball paddles. If you aren't sure which one is right for you, you might need to try several before you find one that feels right.
If you're looking for a quality pickleball paddle that will last you for years, Champion is definitely a brand worth considering. It's a good idea to start with a Champion pickleball paddle, though. 
With the seal of approval of one of the pickleball's co-founders, Champion pickleball paddles have the advantage of being manufactured by Pickleball Inc. The endorsement is pretty solid and should give you a good reason to try these paddles.
It's easy to find the perfect pickleball paddle for you with so many options!
Final Thoughts
If you're in the market for a new pickleball paddle, be sure to check out our Champion Pickleball Paddle reviews.
We've gathered feedback from some of the top pickleball players in the country to help you make an informed decision about which paddle is right for you.
So whether you're just starting out or you're looking for an upgrade, be sure to read our reviews before making your next purchase.
Champion Eclipse pickleball paddles are great for beginners, yet they won't disappoint once your skill level increases.
A better-value pickleball paddle can't be found than the Champion Spark pickleball paddle. There is no difference in quality between this low-cost paddle and paddles that cost twice as much.
With one of the longest bodies available, you'll be able to reach even tricky shots with the Champion Graphite XL paddle.
When it comes to Champion Pickleball Paddle Reviews, the Champion Graphite Elite is the best money can buy. Developed over many years, this long-time favorite is an outstanding all-rounder.
You may enjoy reading Best Outdoor Pickleball Paddle Reviews