Do you want to listen to some of the best pickleball podcasts? From around the world, we have selected the best in the business.
You can improve your pickleball skills by practicing more on the court, doing drills, taking lessons, or using a ball-throwing machine. While pickleball has captured our hearts (obsession even), we don't have the time to play every day.
As with reading pickleball books, podcasts are another great resource for picking up pickleball knowledge in the car (for example, on the journey to or from courts). As pickleball becomes more popular, coaches and pros are producing more and more quality podcasts.
What Makes for a Great Pickleball Podcast?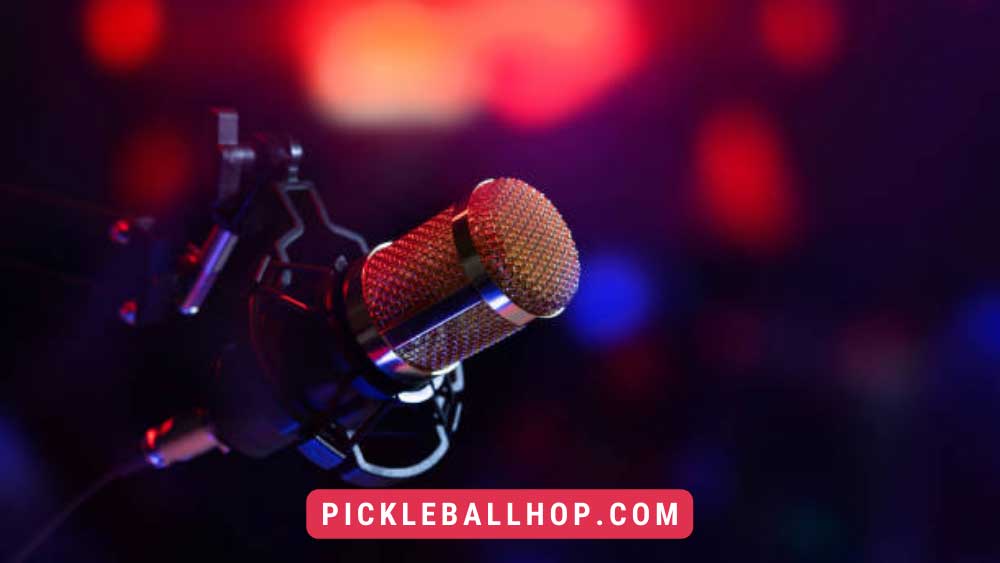 Technological advances have made it easier than ever to create and host a podcast.  Pickleball podcasts require a number of elements to be successful.  In the first place, the production value should be high, but not overdone. There should be a good rapport between the host(s) and the guests as well as a good sense of authenticity and credibility.  All levels of pickleball players should be able to benefit from the content.  Lastly, there must be a high level of entertainment.
With that in mind, I have compiled a list of the best pickleball podcasts, or rather, my favorite pickleball podcasts.  The majority of podcasts listed are audio podcasts. Some of the events mentioned, however, are simply streamed live on Facebook and/or YouTube.
Listed below are a few popular pickleball podcasts. Our list will be updated as more information becomes available. There is no particular order. Leave a comment below if you know of any good podcasts we missed.
Pickleball Podcasts
Pickleball Problems
Introducing the podcast by Mark Renneson, a pickleball coach.
The Third Shot Sports website and YouTube channel are well-known and respected by coaches and athletes alike. The Pickleball Lab , an online training tool with written guides and videos, is also run by him, as well as Pickleball Coaching International. Clearly, he takes knowledge from a wide variety of sources, and his podcast is full of useful information.
Morgan Evans More or Less Pickleball Podcast
Currently, Morgan Evans is hosting this podcast (which launched in 2020). The instruction of tennis and pickleball is offered at Shadow Mountain Resort in Palm Desert, California, by Evans. His skills as a player and coach have made him a well-known member of Selkirk Pickleball's Advisory Staff.
Pickleball-related tips and trivia are featured in this podcast, as well as some unexpected guests such as Super Bowl champ Shae McClellin who plays pickleball to stay fit physically and mentally.
Pickleball Kitchen Podcast
Besides running a website and YouTube channel filled with instructional videos for beginners to advanced players, Barrett Kincheloe is also a PPR and IPTPA-certified instructor.  There are now over 100 episodes of the podcast.
The Eddie and Webby Podcast
There is something unique and entertaining about Eddie and Webby. Pickleball, beer, and tech!
Podcasts cover a wide range of topics, including beer reviews, technology reviews, and pickleball discussions. Additionally, they have had a wide range of professionals play pickleball on their show, including some great pickleball personalities.
The Pickleball Guru's Podcast
In this podcast, Prem Carnot, the "Pickleball Guru", discusses his book and audiobook Smart Pickleball.
A new episode of this podcast is released roughly once a month since it started in June 2018. Podbean, Stitcher, or Apple Podcasts are all places you can listen to episodes.
Pickleball Talks with Steve Paranto
Steve Paranto presents this podcast.
Considering pickleball was invented in 1974, he has been playing it for fewer than 10 years! Originally known as Ultra Lite Paddle Co, Arlen Paranto founded Pro-Lite paddles in 1984. His current paddles are Onix, despite his past.
Pickleball personalities have appeared on the podcast.
The Pickleball 5.0 Podcast
There have been about a dozen episodes of this podcast, but I haven't seen any updates for several months, so it's not clear if the podcaster has stopped producing episodes.
"Receiving Votes" from other pickleball podcasts
The following pickleball podcasts are worth a listen (in no particular order):
Around the Post Show
A roundtable discussion between Jonny Pickleball and Kyle Yates is the focus of the Around the Post Show.  A live stream of the show can be viewed on Facebook and/or YouTube.  Episode 1 of 12 is here.
Pickleball Fire Podcast
Lynn Cherry hosts the Pickleball Fire Podcast, which was launched on October 20, 2020. The length of each episode is approximately 20-30 minutes. There are a lot of informative interviews on this podcast.
Pickleball After Dark
APP Tour commentator Lauren McLaughlin hosts this brand-new podcast. On January 31, 2022, this podcast was launched. You should listen to the series despite only being four episodes in.
Golden Boy Pickleball
A YouTube channel hosted by Scott Golden called Golden Boy Pickleball (not quite a podcast).  While The Golden Boy Pickleball Channel is well known for live-streaming as many pickleball matches as possible, it also regularly updates viewers on the latest happenings in the pickleball world.  Here is an interview with Bright conducted by Golden after the APP Tournament in Punta Gorda, Florida (2022) following Bright's breakout performance.
Final Thoughts
In addition to these, there are several other pickleball podcasts that I've found to be both entertaining and helpful.  I'd love if you'd give any of this a listen and tell me what you think.
Looking forward to seeing you on the courts… and wearing headphones!
You may enjoy reading How To Get Better at Pickleball