As a result of our extensive testing, we have found the following to be the Best Pickleball Shoes For Flat Feet for both women and men who have flat feet (fallen arches). 
Here are amazing options we compiled based on consultations with friends and experts who understand your struggles. It takes a lot of research and effort to go through this process. Get it broken down by our experts to make it enjoyable and useful for you. You can also read a guide on Best Shoes For Pickleball
Shoes with flat soles aren't recommended for pickleball players with flat feet. 
Knees and hips can take a beating during a game, which makes it much less enjoyable.
Best Pickleball Shoes For Flat Feet
Getting the right pickleball paddle is not as important as getting the right shoes, especially for someone with flat feet. 
Would you like us to promise you that the perfect pair of shoes will help you win games more often? Shoes are a great place to start, but that takes practice and strategy. 
When soreness prevents you from playing a lot and getting the chance to use the paddle to its full potential, what's the point of having the most expensive paddle? 
You may enjoy reading Best pickleball Shoes For Plantar Fasciitis
 In order to enjoy pickleball and improve your game, it's so important to find the best pickleball shoes for your flat feet. 
Ladies, let's jump right in!
Best Women's Pickleball Shoes For Flat Feet
1. New Balance Women's 796 V2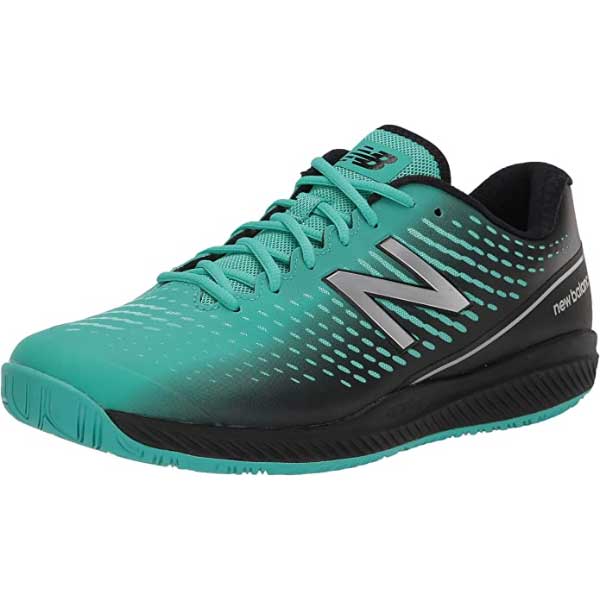 There are just so many things to love about this shoe. All these colors are so cool, and it's a great price. It's comfortable for wide feet or flat feet, and it's just a great price.
The shoe looks fantastic, and the support is unimaginable. My feet just felt right, so I did not need to put a custom orthotic on them. 
You may enjoy reading How to Choose The Best Padel Shoes
Putting on the slipper would feel like this to me if I were Cinderella and put on the slipper. 
Since this is one of the Best Pickleball Shoes For Flat Feet that is so durable, I don't see myself changing my pickleball shoe anytime soon. Walking, running, and playing pickleball and tennis are all activities I do almost every day with it. 
2. ASICS Women's Gel-Challenger 12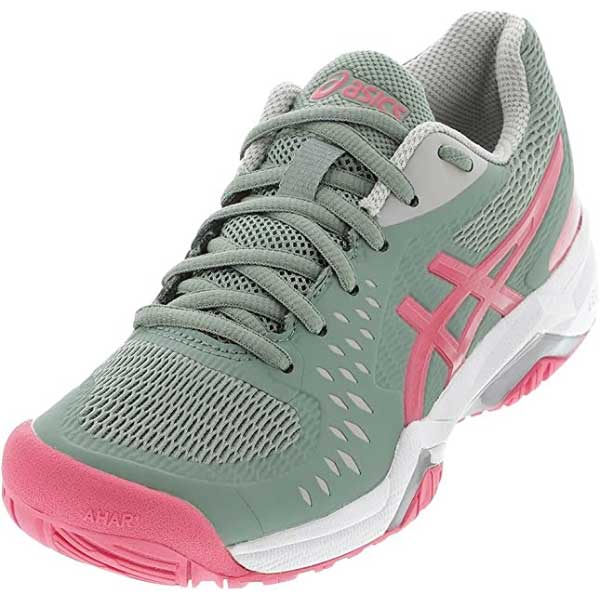 Asics Gel-Challenger 12 pickleball shoes have a great look. The design is very plain and minimalistic, so it can go with anything. 
This shoe provides incredible support due to its amazing structure. From the moment I opened the box, I noticed how light and flexible they were. 
Those who prefer stiff shoes might not enjoy this, but those who prefer lightweight, flexible shoes will love them.  
You may enjoy reading Pickleball Shoes Vs Tennis Shoes
Toe guards help you slide your feet and aid in lateral movement, which makes pickleball more enjoyable. Both indoor and outdoor courts can be used with this shoe. 
In this specific shoe, I didn't need an orthotic, so you might want to size up if you're planning on putting inserts in it. 
3. Adidas Unisex-Adult Adizero Ubersonic 3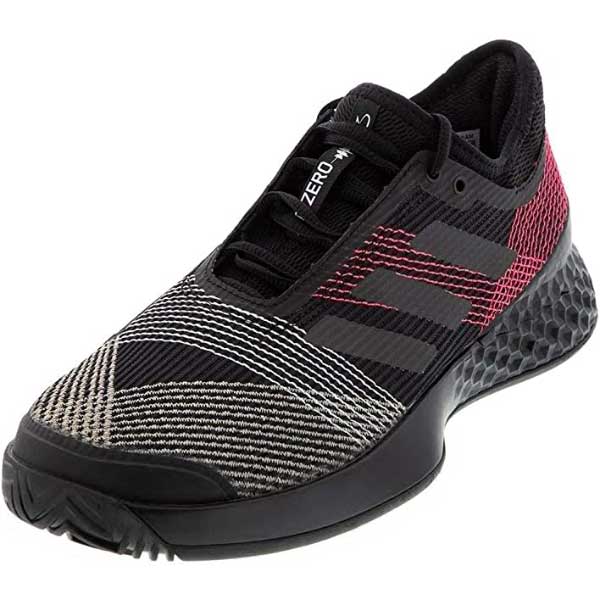 With these shoes, Adidas really hit the mark. The arch support is very high and the ankle support is also very high. 
I found them comfortable on the first day I wore them. Although the foot moved a little, it was not enough to cause blisters or irritation. It only took one day for them to fit perfectly.
In addition to the arch support, these are very stable and have good airflow. Their higher fit on my ankle is very comfortable for me. Wearing this shoe gives me a lot more confidence when I'm going after shots than I normally would. 
You may enjoy reading Best Pickleball Shoes for Women
In addition to feeling great, I am able to play longer, which is an important factor for me. 
Outdoor pickleball courts have a shorter grip on the bottom than indoor pickleball courts. The number one shoe for flat feet may be this shoe if you play indoors, but I recommend number 3 if you play outdoors. 
4. ASICS Women's Gel-Dedicate 6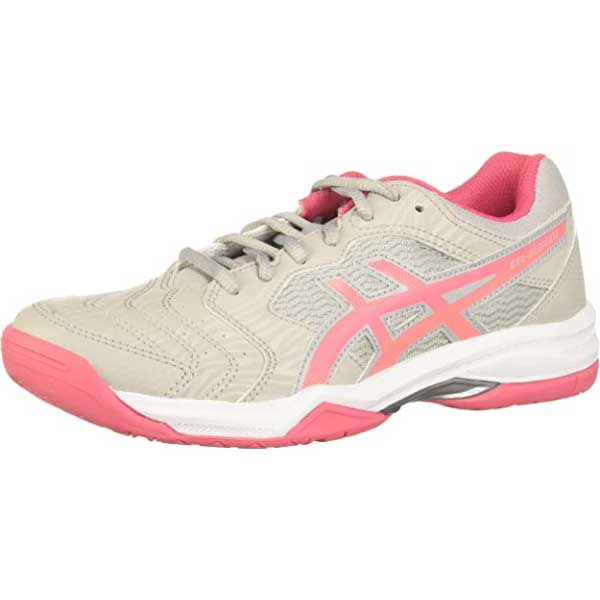 There is so much support in these shoes. Best Pickleball Shoes For Flat Feet were the first pair that I invested in that made a real difference in relieving pain. 
The support they provide is outstanding, and they are able to perform in almost any climate. You can wear them in wet conditions and they'll keep your feet dry, but in hotter climates, they'll keep your feet dry and will breathe well. 
You may enjoy reading Can You Wear Tennis Shoes For Pickleball?
As a new pickleball player, I played five to seven times a week in these shoes without any soreness or irritation. Their reliability is unmatched.
It was necessary for me to size up half a size, but everyone's body is different.
5. Adidas Women's Asmc Barricade Boost 2017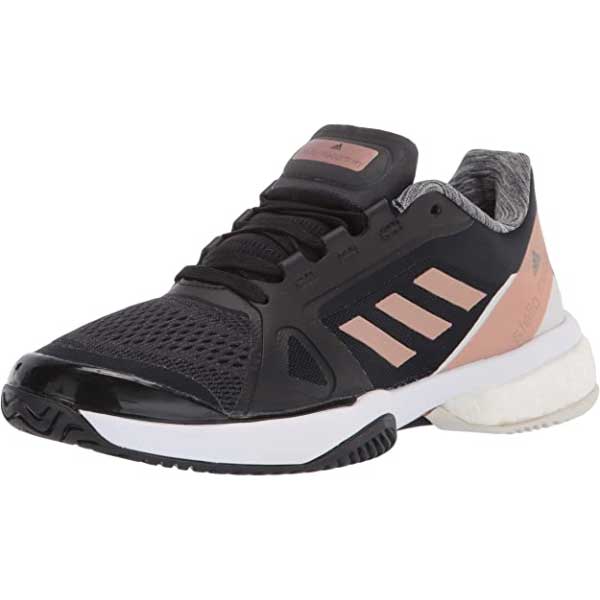 There has been a big improvement in Adidas' ability to accommodate flat feet. 
Pickleball players who move laterally a lot will find this shoe useful. When you make sudden shifts in momentum, the wide bottom provides support. 
These are a little wide, so they needed a break-in period of about 3-5 days for me, so if you have a tournament I'd definitely order these ahead of time. 
You may enjoy reading Racquetball Vs Pickleball
Upon breaking these shoes in, you'll be amazed at how much support they provide and how well they grip. 
They are a little pricey, and I found the size a bit off. This brings them down to number 5. The size I normally wear had to be increased by half. 
Best Men's Pickleball Shoes For Flat Feet
1. Nike Men's Air Monarch IV Cross Trainer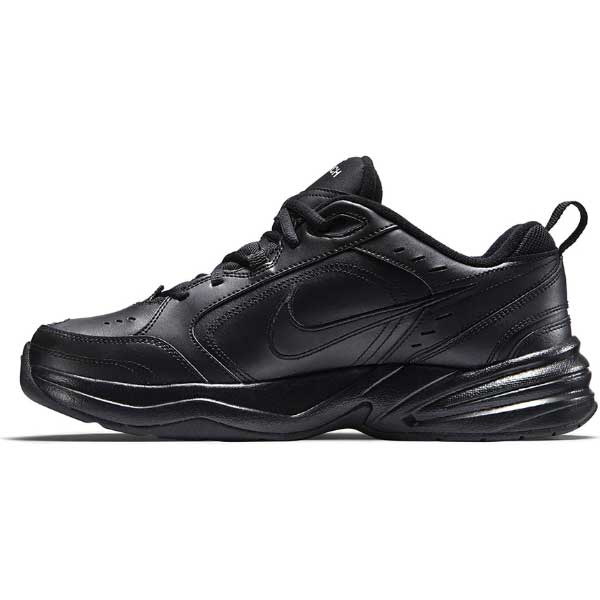 It's not surprising that this shoe has remained very popular since it was launched in the 1990s. 
You should get this shoe if you have flat feet. Although it doesn't look great, it offers excellent functionality and arch support. 
If you have struggled to find the right shoe in the past, this is the shoe for you. A firm leather material and 6 eyelets make it very supportive and flexible. 
Best Pickleball Shoes For Flat Feet have perfect padding, there's no annoying rubbing, and there's the right amount of support without being uncomfortable.
My posture immediately improved, and my joints felt much less stressed
You may enjoy reading Can You Play Tennis With Tennis Elbow?
Regardless of the court location, pickleball players play very well indoors and outdoors. In fact, the shoe offers quite a bit of space, which allows you to move freely without feeling unstable. Because of this, they are perfect for people with flat or wide feet. 
I used them only for pickleball, but they are ideal for pretty much any racquet sport. Despite not being too grippy, the surface allows easy lateral movements and changes in momentum. It's not so grippy that you can slide your toe to hit shots, but it's grippy enough that you can change momentum easily.
3. New Balance Men's 806 V1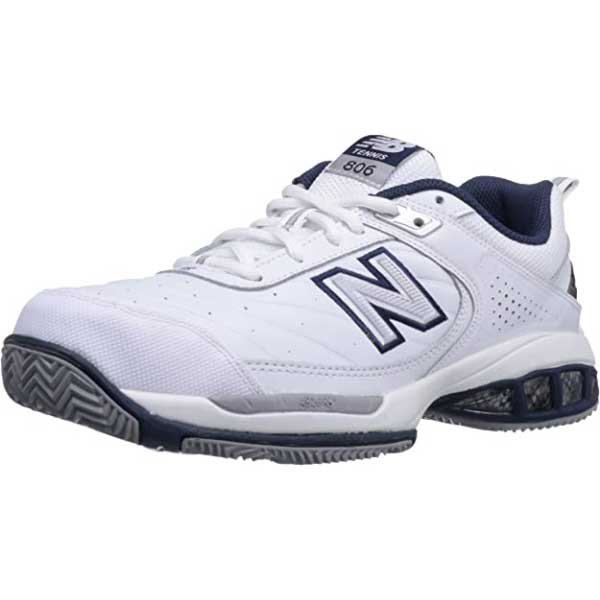 A shoe like this is another excellent option for flat-footed people who cannot find one that fits comfortably. 
It's amazing how well these shoe support and the soles are so soft, and just like the Air Monarchs, they fit wide for arch support. 
The weight of these shoes gives you complete stability without sacrificing agility or performance. My pes planus was forgotten the entire rally as soon as I put them on. 
You may enjoy reading Common Pickleball Injuries
It doesn't take any break-in time for the 806 V1 to start performing right out of the box. The shoes are comfortable and stable.
Despite its durability, this shoe wears out after about five to six months of consistent use. 
The material is leather, but it is still very breathable, even though it is leather. It took about 6 months for them to wear out. They smelled after playing about 4 times per week for 6 months. 
This is a shoe that will provide a lot of stability and durability for pickleball players. You can wear these without worrying about your ankles.
3. ASICS Men's Gel-Resolution 8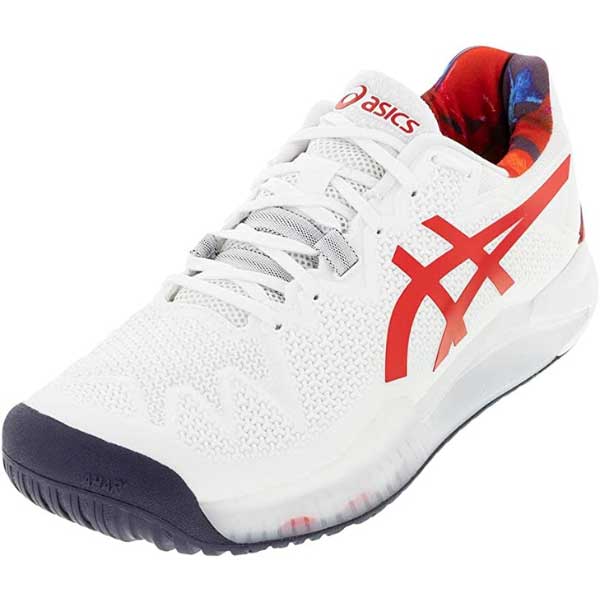 With this shoe, Asics really outdid themselves. The Gel Resolution is somewhat narrow and flat, unlike most Asics shoes. 
You almost feel like your foot is wrapped into place as a result of this arch wrapping feature. This is a really secure and comfortable shoe, especially for flat-feet people. 
In theory, the gel can better absorb impact than foam, which is why it is used as a cushion in sports. When I started wearing these shoes, I noticed some short-term differences but my back gave me fewer problems in the long run. 
You may enjoy reading Best Carbon Fiber Pickleball Paddle
There is nothing more sporty looking or feeling than this shoe. There's a mesh top that's highly breathable and extremely lightweight. Although the ankle padding is breathable, you sacrifice the comfort provided by other shoes that are less breathable.
It is, however, an excellent pickleball shoe because of its support, comfort, lightness, and stability. 
4. ASICS Men's Gel-Challenger 12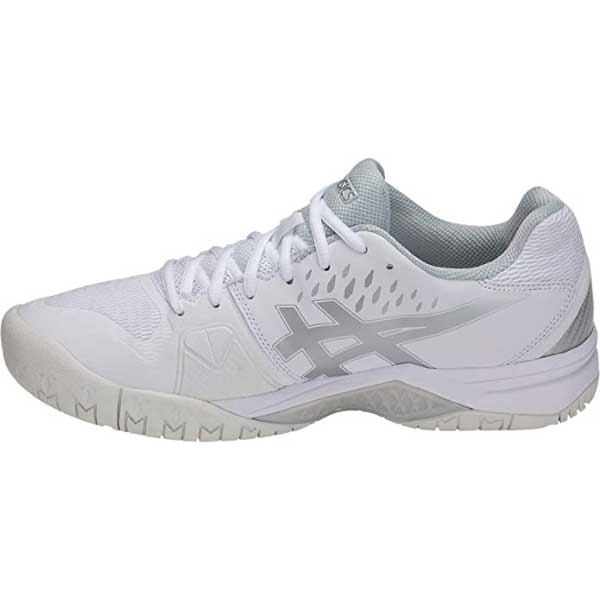 Asics Gel's focus on arch support has never been a secret. If you have wide feet, these may not be the right shoes for you, but if you have flat feet, these are great. 
Their light and flexible design make them better than the 806 V1 or the Air Monarch because they allow you to move freely on the court. Incredibly breathable and easy to clean, they are perfect for hot weather.
Its tongue and heel cushion made these Best Pickleball Shoes For Flat Feet very comfortable for me. As I reached for a shot or quickly shifted directions, it felt like my ankle was embracing me. 
You may enjoy reading Best Pickleball Bags
They offer louder colors as well if you are into them, but I personally like this minimal design since I wear bright jackets a lot, so they go well with the shoes. 
Considering how much I run in pickleball, I would recommend going a half size larger if you want to put custom inserts in this shoe. Toes are prone to jamming the toe guard, which can be a nuisance.
I had a couple of complaints about the shoes, specifically that they have medium width and aren't as flexible as I would have liked. Also, they haven't lasted as long as I would have liked them to, however, I play pickleball at least four times a week on rough outdoor courts so five months is a long time for shoes.
5 New Balance Men's 696 V4
For people with flat feet, this pickleball shoe is interesting. This shoe is on my list due to the fact that, although it does not come with incredible arch support (it's okay), its shape and size allow it to accommodate almost any custom insert. 
Custom inserts are nothing new to you if you're like me. To account for the extra space for the insert, it is so irritating to find the right shoe and size. Moreover, the insert adapted perfectly to the shoe once it had been installed. This shoe really gives you a lot of control.
You may enjoy reading ​Why Are Pickleball Paddles So Expensive?
There are easy-to-remove pads that can be replaced with inserts, and the vertical support is excellent on the 696 V4. 
The shoe was great once I put in my insert. Stylish, lightweight, durable, and very stable. All boxes have been marked. Pickleball can be played indoors and outdoors in this shoe, and running in it is effortless.
Final Thoughts
The size of your orthotics may need to be adjusted depending on the brand you are using. There are a lot of these shoes 
When it comes to flat feet, what makes a shoe good?
There is no doubt about the arch support. The sweet spot is, however, somewhere in the middle. My arches should not feel like they are digging into it. It is also important to me that the arch of my foot is supported throughout, so all the way to the top of my foot should feel tight. 
Whenever possible, I try to choose shoes that don't have too much length, especially if you want to use custom orthotics. My Best Pickleball Shoes For Flat Feet have a higher heel and front so that they provide more ankle support.
A slightly wider shoe is also something I look for. As a result, I am able to take advantage of stability when moving laterally.
You may enjoy reading Best Pickleball Gloves