Pickleball paddles that offer the perfect balance of power and control are what you need. An effective diamond-shaped construction makes this paddle a popular choice among pickleball enthusiasts because it allows the player to control the paddle differently than ever before.
Aiming to minimize vibrations during shots, this device allows users to calculate their ball's trajectory accurately. For pickleball players looking for a paddle that can be used for practice or tournaments, this is an excellent choice.
For whom is it intended?
Pickleball paddles like this are perfect for hobbyists who play regularly. If you like to unwind with a fun game at the end of the day or play pickleball weekly as a fun workout, then this paddle is right for you.
You can improve your concentration, control, and power by using the HEAD Extreme Pro pickleball paddle without difficulty. In addition to being a versatile paddle for tournaments and fun, it wasn't developed only for professional pickleball players.
Hobbyists also love this paddle because it's reasonably priced. It makes investing in this paddle feel like a fun investment since it is cheaper than the industry standard.
This paddle is also a good choice if you suffer from wrist discomfort when playing pickleball. If you choose this racket over another without Comfort Grip technology, you will feel less discomfort or pain while hitting the ball.
Head Extreme Pro Pickleball Paddle: What We Like
Its ease of movement and mobility make it a great paddle for moving around and playing without feeling weighed down. The paddle doesn't interfere with quick movements during pickleball games, which is wonderful.
The durability of this paddle is another thing I like about it. For a good game of pickleball, your paddles must be replaced quite frequently because they take a beating. Despite training two or three times per week, this paddle holds up well.
With the HEAD Extreme Pro Pickleball paddle, you can control the amount of power you put into your swing. Getting to know the paddle will take a little practice, but once you learn how to move with it, you will have a better idea of where the ball will land.
You may enjoy reading Best Carbon Fiber Pickleball Paddle
Head Extreme Pro Pickleball Paddle: What We Don't Like
Although the paddle is still usable even without a comfortable grip for a while, the handle is the first thing to deteriorate. Rather than a design defect, users have discovered that it's usually down to how they hold the paddle.
If you're just starting out, it's not a good paddle to choose as it does require a certain level of skill and precision to get your control just right during a game. People considering purchasing this paddle should consider investing in a different paddle for more serious games, as it is not the best paddle for tournaments.
What's Included?
HEAD's years of experience in manufacturing and designing sports equipment are evident in this pickleball paddle. This paddle was made using a variety of technologies and materials that have undergone extensive testing before making it to you.
Features Overview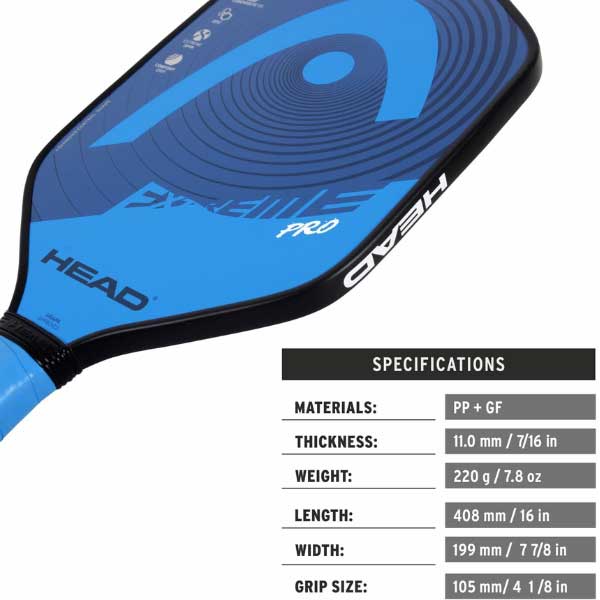 Paddles with fiberglass surfaces, polymer core materials, and diamond shapes are so unique. This paddle has some great features, which are explained below:
Comfort Grip
In our opinion, the most important feature on this list is the Comfort Grip handle. When a player hits the ball, there is less vibration, and this reduces distraction and discomfort during games. It also reduces pain for players suffering from more serious conditions and joint issues.
Shape
There is no doubt that the diamond-shaped paddle is very user-friendly. As a result, the player does not feel weighed down by a heavy paddle as they move around. you can also read a guide on Padel Racket Shapes
Fiberglass Surface
This paddle's fiberglass surface makes it so precise and precise with great ball control. In most pickleball courts, the surfaces are made from graphite, which gives you a lot of power but is very difficult to control. If you aren't skilled enough to control the graphite paddle, you will lose interest quickly.
We would appreciate it if the paddle came with some sort of carrying case or bag. Although it is a bit of a pain to store with all your other workout and gym equipment, it is a good paddle with modern high-tech features.
Review Summary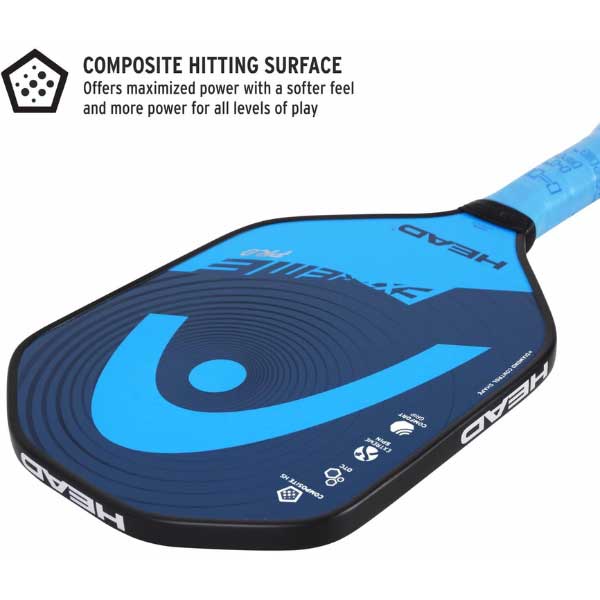 You should choose something more professional if you want a pickleball racket for competitions, but if you just want one for training and playing with friends, this is fine. If you are a regular pickleball player who enjoys the game more than the score, then this is the paddle for you.
A hobbyist pickleball paddle should have all the desired features. Your paddle will last you a very long time if you choose this one.
FAQs
Are you interested in learning more about pickleball paddles? Interested in learning more about pickleball? Check out this frequently asked questions section, which is filled with answers to the most common questions. Enjoy!
Where can I find a pickleball paddle that suits my needs?
When choosing a pickleball paddle, it is crucial to choose the right grip size. Grip sizes range from 4-inch grips to 4-and-a-half-inch grips, depending on your height.
When should I replace my pickleball paddle?
Pickleball paddles should be replaced every two to three years if they are used regularly. The paddle of a professional pickleball player should be replaced every 12 to 18 months or so to keep it in good condition.
Is it true that pickleball paddles wear out over time?
The answer is yes. The old paddle might have had some hits that were spot on but others that were flat and hard to control. Having only a few 'sweet spots' left on an old paddle is a sign that it's worn out and worn out.
How do I choose between graphite and composite pickleball paddles?
Due to their association with more experienced players and games, graphite paddles are usually more expensive than composite paddles. An array of sizes and weights are available with composite paddles, making them an excellent mid-level option. Pickleball can be played with either one.
How much does an average pickleball paddle weigh?
There is a wide range of weights in pickleball paddles, ranging from six to 14 ounces. When it comes to picking up a paddle during a game, it is very important to choose a weight that suits you and makes it easier.
What are the signs that my pickleball paddle is damaged?
With practice, you'll learn to identify the 'sweet spot' of your paddle and where the duller hits lie. If you have a hard time finding the sweet spot, and you are having trouble controlling more and more hits, then you probably need a new paddle.
Can I wear tennis shoes for playing pickleball?
There is no doubt that tennis shoes and court shoes are both excellent shoes for playing pickleball. You will do the same types of movements while playing tennis and pickleball so tennis shoes will support you. Wear your tennis clothes and shoes while you test out pickleball if you are new to the sport and don't want to invest in new clothing and shoes.
Following our review of the HEAD Extreme Pro pickleball paddle and our frequently asked questions section, what do you think of the paddle? Do you think this paddle is right for you? Comment below and let us know what you think!
You may enjoy reading Best Outdoor Pickleball Paddle