It took me a year to replace my paddle after I broke it last year. The indoor facility near me has several paddles for you to try out, but I didn't enjoy any of them. I decided to purchase the Onix Z5 paddle again since I had used it since I started playing pickleball. I became a dealer for Engage pickleball a few months later. Several demo paddles were ordered and I played with them all repeatedly.  Because of this, the Engage Encore Pro is now my preferred paddle.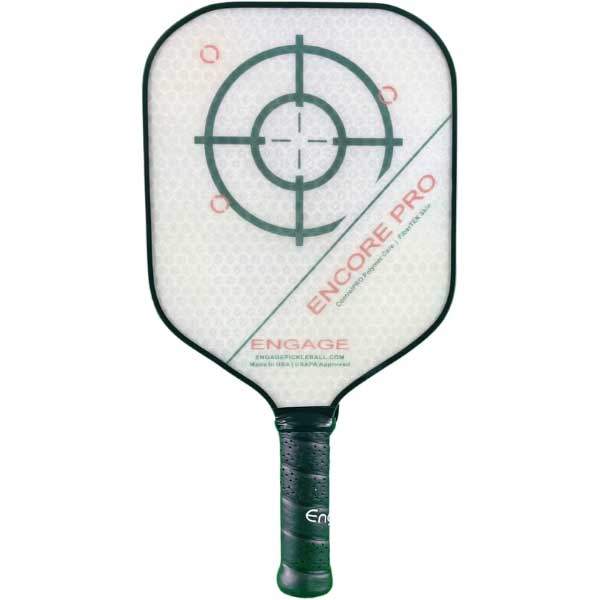 How does the 

encore pro pickleball paddle

differ from others?
Engage Encore Pro paddles to provide the best balance of power and control. This means that it is the perfect combination of power and control. Despite many paddle manufacturers making this claim, the Engage Encore Pro actually maintains a better balance between these two features than any other paddle in the Engage line. As a result, you can easily put plenty of spin on the ball because of the gritty surface. Additionally, it has excellent touch, so the ball can be placed wherever you want it to be. As the paddle weighs 7.8-8.3 ounces, it provides some power without requiring the player to exert too much effort. 
You may enjoy reading Head Extreme Pro Pickleball Paddle Review
The Engage Encore Pro paddle felt and performed better than the Onix Z5.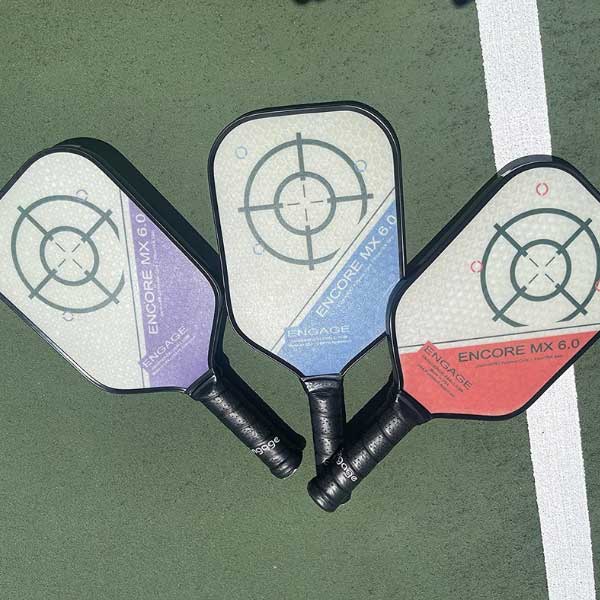 A wide body shape is characteristic of the Engage Encore Pro, measuring 15.5″ by 8.125″. As I have pretty good quickness, I do not necessarily need a paddle that has lots of reaches. One-handed backhands are easy with the grip's length. Those who use a two-handed backhand might find it uncomfortable, however. Furthermore, I noticed another thing about the paddle which is that it is thicker than the Onix Z5 but not as thick as the newer Engage paddles that were released in the 6.0 series such as the EX and MX which are the thickest paddles I've seen.  However, the Encore Pro is very vibration-free and it offers a very solid feeling when you strike the ball.
Another great thing about the paddle is that it is quite affordable for the quality it offers. The Encore Pro paddle retails for $109.99, while many others sell for $200. Among the colors of the paddle are red, purple, green, and blue. The target graphics or color scheme don't appeal to me much. Despite its looks, it remains my preferred paddle.
You may enjoy reading Selkirk Invikta Pickleball Paddle Review