There is a nude pickleball boom going on all over the world.
The majority of people who dink in the raw want more naked pickleball at nudist resorts from coast to coast.
The game of nude pickleball is destroying its competition.
In order to meet the demand for pickleball courts, clothing-optional resorts are holding tournaments and advertising their pickleball facilities.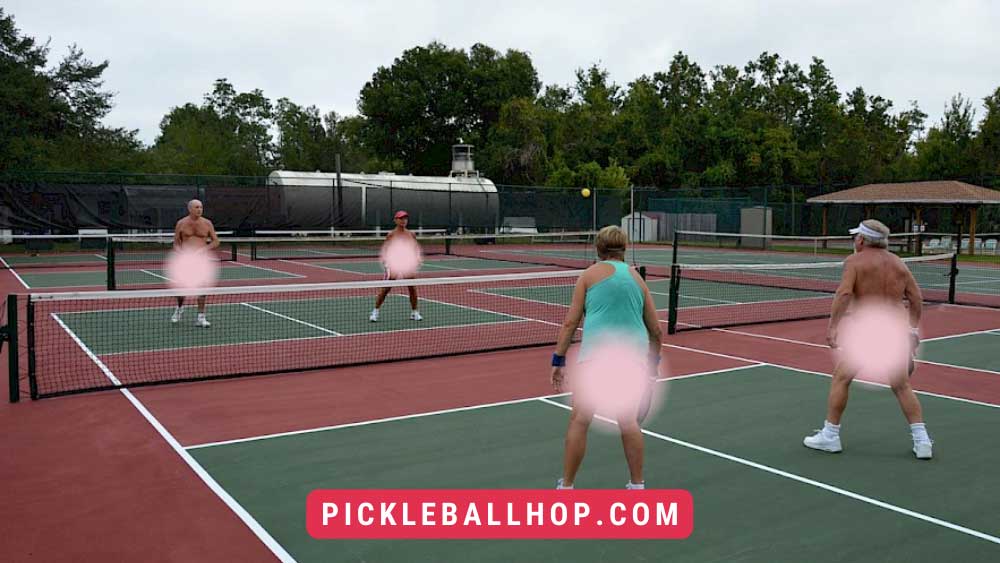 Cypress Cove Nudist Resort in Kissimmee, Florida, is home to USA Pickleball ambassador Mike Sullivan.
Sullivan said pickleball is the biggest sport here by five times.
In the early days of pickleball at Cypress Cove, a couple visiting from England marked chalk lines on the two tennis courts.
There were two pickleball courts at the resort five years later. The two courts at Cypress Cove have now grown into six, and 172 dues-paying nudists play pickleball on a daily basis.
It is impossible to compare with anything else," Sullivan said. The sport of tennis is dying. Their knees have been injured or they have died. It looks like they only have eight people left."
A similar game to horseshoes, cornhole is the only recreational pursuit at Cypress Cove besides pickleball.
Sullivan dismissed the drinking game as nothing more than a drinking game. The games are scheduled around happy hour and last four hours each week. Pickleball is something we play all the time."
There is a "Clothing Independence Day Tournament" planned by Sullivan's community on July 4th, which is a home-and-away pickleball clash with other Florida nudist resorts.
Ball machines are used to practice drills and lessons, and encourage new players at the nudist resort.
It's just a matter of bringing your tennis shoes. Paddles and balls are provided by us," Sullivan said.
In contrast to playing pickleball clothed, people who play pickleball naked say it provides much better comfort. After playing a few games, you won't have to deal with sweaty, clingy clothing.
According to Larry Ford, owner of Clothing Optional Home Network and nudist bed and breakfast resort Alpenglow Ranch, it's the feeling of the sun and the wind on your body, which gives you a sense of freedom.
A pickleball court was built five years ago in the middle of Alpenglow Ranch's 50 acres of secluded land. Nude pickle ballers enjoy extra privacy at the resort with its gated entrance and quarter-mile driveway.
Ford described the game as very recreational. There is no competitive play between the host couple and their guests at their 4.0 pickleball tournament, however. Playing naked is a big hit with our guests.
Nude pickleball is one of the most popular activities here.
At Eden RV Resort in Hudson, Florida, where clothing-optional pickleball is played every day, general manager Tracy Pangburn says there are about 30 players.
In Pangburn's opinion, the resort does not have enough pickleball courts.
She announced that a second court would be built. Shuffleboard had to go to make way for pickleball.
Nude Pickleball Is Now Becoming Popular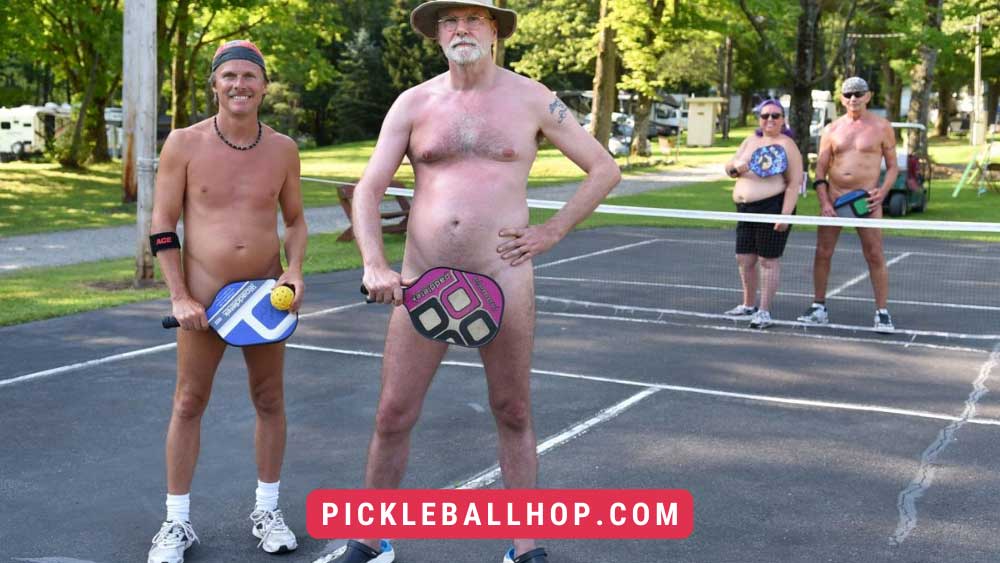 The pickleballhop just published an article on how NUDE pickleball is gaining popularity among seniors… which is why this is so disturbing.
It has become increasingly common for "clothing-optional" resorts to install courts and hold tournaments.  There are 170 dues-paying members at Cypress Cove in Kissimmee, Florida, who wear bare arms seven days a week.
In addition to nude cornhole, they offer a variety of other activities.  The most popular sport now is nude pickleball.  There's nothing better than playing naked, but make sure you reapply your sunblock!
Why do People Love playing pickleball naked?!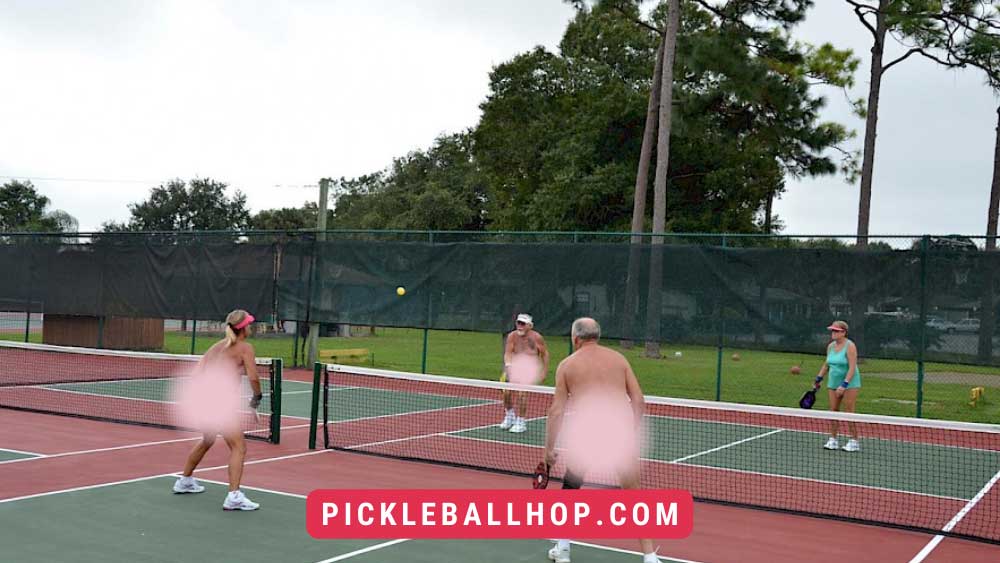 It's fun to play pickleball naked and let loose.  Without clothes, most people feel more relaxed and comfortable. It becomes more and more appealing to shed our clothes as the weather gets warmer and feel the sun and breeze on our skin. Having naked skin allows your body to regulate its temperature better and allows your skin to breathe. A person's clothes trap heat and cause them to sweat, but when they are naked, their bodies stay cooler. Staying cool can help enhance athletic performance, according to research.
In addition to feeling more connected to nature, people like being naked. A breeze blows through your hair while the sun warms your body as you stand naked in the grass, sand, and wind without any clothes. Your sense of grounding and presence can be enhanced by this. Furthermore, many people enjoy being naked because it gives them a sense of freedom and empowerment. You can boost your confidence and body image by not wearing clothes, and it's liberating. 
Those who have tried pickleball without clothing say it's a liberating experience. Some may find the idea strange or even scary. A nude pickleball player said it's not a big deal once you get over the initial shock.
You may enjoy reading Where to Play Pickleball NYC?
Humans are more natural when naked and clothing can be viewed as a barrier to their natural state. In particular, this holds true for those who practice nudism or naturism. People should be free to be themselves, without clothes creating artificial barriers between them. Many people enjoy being naked, regardless of their reasons, and that is perfectly fine. This is a perfectly healthy and natural thing to do.
Playing nude pickleball equals everyone, which is one of the reasons people like it. There is no way to tell someone's socioeconomic or social status when they are wearing their birthday suits. The level playing field can be liberating for some people. The important thing to remember is that nude pickleball should only be played where it is allowed, regardless of whether you like it or not. If you intend to strip down before playing pickleball, check to make sure that the court allows nudity.
What is Naturism?
Naturists cite freedom and relaxation as two of the most important reasons for their choice. One of the main reasons why some people find the opportunity to get away from the stresses of everyday life is the opportunity to de-stress and connect with the natural world. Naturism, on the other hand, is also appealing to many people because of the sense of community and acceptance of one's own body which is central to a naturist lifestyle. The concept of naturism has nothing to do with sexuality. Naturist settings are not necessarily forbidden from allowing sexual activity, but this is certainly not the primary focus of the setting. The first and foremost objective of naturism is to have fun in the nude without having to be sexualized in any way.
The practice of naturism can be accessed in a variety of ways. Some people begin their journeys into social nudity by sunbathing or hiking naked in their backyard or nearby forest. A clothing-optional beach or a nudist resort may be a good choice for some people once they are comfortable being naked in private. Those who want to experience social nudity in a supportive community can find these types of venues to be safe and welcoming.
It is important to do what you feel is right for yourself, regardless of whether you become a solo naturist or a member of a social group. Naturalism is about respect for others and personal choice. No one should be forced to do anything they are uncomfortable with. Give naturism a try if you are interested – you may just fall in love with it!
What are Nudist Resorts?!
At nudist resorts, people can enjoy being naked while interacting with others. Despite their popularity in Europe and North America, these resorts can be found anywhere in the world. Depending on the resort's size and amenities, camping spots, RV parks, pools, hot tubs, restaurants, and even pickleball can be found. Yoga, hiking, and volleyball are also offered at some resorts.
Nudist resorts require guests to behave in a non-sexual and respectful manner, and sexual behavior is strictly prohibited. You can enjoy the outdoors without worrying about clothes at nudist resorts and meet like-minded people. Make sure you do your research before visiting a nudist resort if you're considering it.
What is World Naked Day?!
On March 20, the northern hemisphere's World Naked Day, and on September 23, the southern hemisphere's World Naked Day is celebrated. The purpose of this day is to promote body acceptance and body positivity and to celebrate humanity and the human body. A variety of Naked Days celebrations have taken place since the early 2000s. In 2000, Kevin Campbell organized the first World Naked Day. A time of balance and new beginnings, the spring equinox was chosen by Campbell for the event.
Over 80 countries around the world celebrate World Naked Day every year. Nude bike rides and nude beaches are held in some countries, including Australia and the United States. Germans and Dutch people spend the day naked in their gardens or at home, which is a more low-key celebration. The goal of World Naked Day is to promote body positivity and to celebrate everyone's bodies.
Nude Olympics?!
It has been a tradition for athletes to compete in the nude since the very beginning of the Olympics. For centuries, competitors in the nude have competed in Olympia, Greece, where the first recorded Olympics occurred in 776 BC. 
However, athletes began competing in modest clothing after the establishment of the modern Olympic Games in the late 19th century. Even so, some sports continued to allow nude competitors until the early 20th century. In both Summer and Winter games, athletes competed nude during this tradition for centuries.
As the modern Olympic Games became established in the late nineteenth century, athletes began competing in modest outfits. In spite of this, some sports continued to allow nude competitors until the early 20th century. The 1904 Summer Olympics in St. Louis, Missouri, United States, had one of the most famous instances of nude athletes in the games. He was suffering from severe dehydration and exhaustion as he led the marathon event. Strychnine, a toxic poison, was mixed with brandy and given to him by his handlers. Consequently, Hicks finished first but was disqualified after reaching the finish line.
It was South Africa's Charles Hefferon who finished second. There were no rules regarding drugs in sports in 1904, but they are now strictly regulated. Thus, strychnine use did not constitute cheating or a reason to disqualify a competitor. It wasn't until the 1960s that strychnine was banned in sports. 
More and more athletes began wearing modest clothing in the early 20th century, decreasing the practice of competing naked. In Paris, France, nudity had been outlawed by the time of the 1924 Summer Olympics.
During the 1928 Summer Olympics, which were held in Amsterdam, Netherlands, there was the last recorded instance of nudity in the Olympics. Andrew "Boy" Charlton earned the gold medal in the 1500-meter freestyle event while swimming naked. Despite the fact that nudity is no longer a part of the Olympic Games, some athletes still compete naked. The nude movement is on the rise nowadays, as athletes believe it's more natural and liberating to compete in this way. World Naked Bike Ride and the Nude Olympics are two competitions that take place outside of the Olympic Games. 
Is it a good idea to play pickleball naked?
The popularity of playing pickleball naked is sure to grow. Nude pickleball is a great sport for many reasons. You get a lot of exercise from it, for one thing. You can keep cool and comfortable playing pickleball nude while working out your cardiovascular system. The sport of naked pickleball also provides an excellent opportunity to meet new people. Taking part in a nude pickleball game is a great way to meet people and socialize. 
It's also a lot of fun to play nude pickleball as well! I can't tell you how exciting it is! Is there anything holding you back from getting started?! Truth be told, I have not tried it myself, so I cannot comment on how it works
Demand for Nude Pickleball in Florida Increases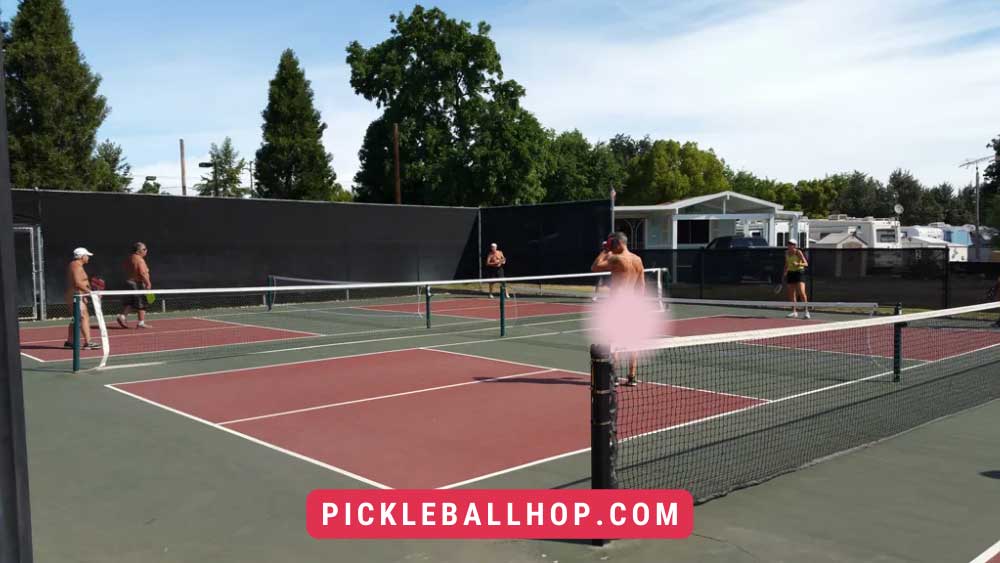 In Florida, nude pickleball is taking off. The number of pickleball courts at clothing-optional resorts is growing as more tournaments are held and more courts are constructed to meet demand. There has been an increase in demand for nude pickleball in recent months.
Cypress Cove Nudist Resort, located in Kissimmee, was one resort.
According to the article, according to the pickleball ambassador, efforts are being made to arrange inter-nudist resort pickleball tournaments to be played at both resorts. Additionally, they are preparing for the "Clothing Independence Day Tournament," which takes place on July 4th.
An Eden RV Resort in Pasco County, Florida, where 30 people play clothing-optional pickleball every day, was mentioned as another Florida nudist camping spot.
Tourists and travelers who wish to take their Orlando vacation to a new level of competition might also become interested in nude pickleball if and/or when it takes off in Florida. In a state like Florida, you never know when this might become an official sport. There have been conversations about Central Florida becoming a sports destination – was this part of their vision? I am not sure how Visit Florida or Visit Orlando feels about this new sporting trend.
You may enjoy reading Can you play pickleball with 2 players?