Pickleball vs Tennis popularity: In recent years, pickleball has become increasingly popular. As a sport that's easy to play and not as demanding as tennis, it's attracted people from all walks of life.
Despite the fact that most pickleball players are over 50 years old, there are still some young players. Young people have also been attracted to pickleball because of its simplicity.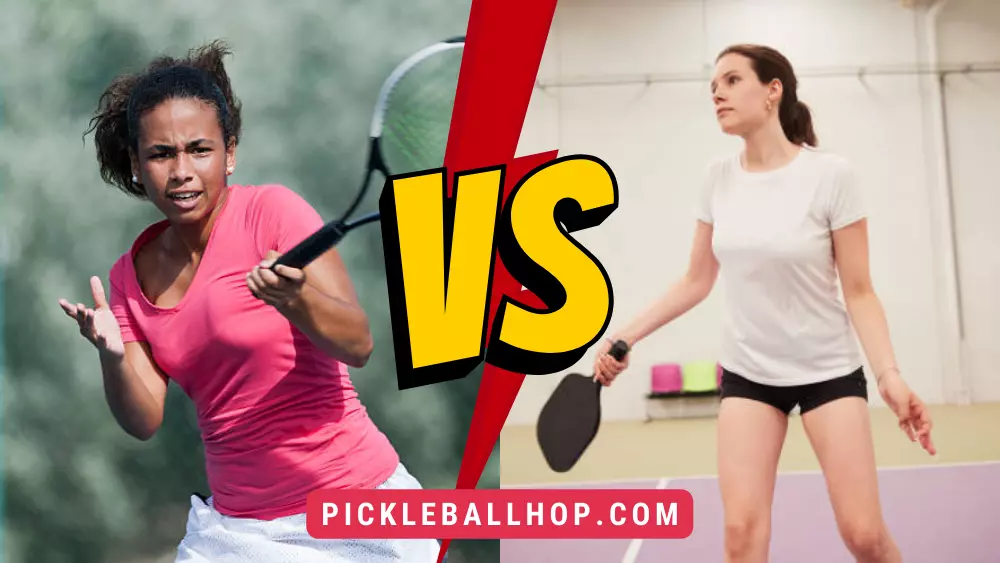 As tennis players, badminton players, and other players seeking to stay fit and make it big are increasingly choosing pickleball.
The purpose of this Pickleball vs Tennis guide is to answer some of the most frequently asked questions. The following are among them:
Pickleball is a good progression for tennis, right?
Tennis vs. pickleball – which is easier?
Is playing pickleball going to hurt my tennis game?
Are there any ex-tennis players who play pickleball?
Pickleball – Is it a good progression for tennis?
There is no doubt in my mind that the answer is yes.
Several intermediate and advanced tennis players who are nearing the end of their careers have found pickleball much more enjoyable than tennis due to its less demanding nature. As a result, pickleball and tennis are far easier to transition from one to the other.
You may enjoy reading Is Pickleball Good Exercise Or Good Workout?
There are differences in paddles, balls, and court size, but the principles of movement in pickleball are similar to tennis.
The shots you take in tennis improve a lot when you play pickleball first. In addition to being easy to pick up, pickleball is also easy on your joints. Introducing yourself to tennis couldn't be easier.
Strokes: Pickleball is similar to tennis in terms of strokes. Placement is more important than power, however. When it comes to pickleball, placement can get the job done nine times out of ten. In tennis, you need the right balance between power and control. This is the perfect option for pickleball players who want to move on to tennis! In order to win match after match, you'll have full control over shot placement.
Volleys: In growth of pickleball vs tennis, volleying is one of the most popular shots. Serving and rushing to the net is one of the most popular ways for players to attempt volleying. Tennis and pickleball have remarkably similar techniques for hitting volleys. Click here to read our another guide about pickleball volley.
Dropshots: Drop shots are pickleball's most popular shot. The game is both aesthetically pleasing and capable of helping you earn some points. Playing pickleball will substantially improve your tennis dropshots, especially when playing singles games.
Angled shots: Because pickleball's court surface is shorter, the shots must be more precise and well-timed. 
When playing pickleball on a court, you can hit angled shots with accuracy. As pickleball is more challenging than tennis, you'll enjoy executing angled shots if you loved them in tennis.
Lob shots: Pickleball will certainly give you a chance to practice hitting lob shots, if you're used to hitting them while playing tennis. In pickleball, you need to be precise and cheeky at the same time, since the court is smaller. In contrast to tennis, mistimed lobs are more likely to lead to points being lost in pickleball. Also read: How To Score In Pickleball?
Low shots: Hitting low shots is another aspect where you'll face a significant challenge. It is easier to get under a tennis ball and execute a shot since tennis balls bounce higher than pickleball balls. Nevertheless, if you become proficient at pickleball, you'll have no problem progressing towards tennis.
Is pickleball a competitive sport?
Many people who are considering switching from tennis to pickleball think that pickleball does not have the competitive atmosphere that tennis has. There are television contracts, international tournaments, and professional endorsements behind this sport, but they don't realize how big it is. The number of athletes participating in a single event is over 2000 and the number of athletes competing in a seven-day National Tournament in the US alone is rising by 40% every year.
In the US alone, there are six major tournaments that players can compete in during the year, such as the Olympic Games, the World Pickleball Open, the Midwest/Southern Series, the Minto US Open Pickleball Championship, the Hawaii Open, the California Indoor Championships, and the Margaritaville USA Pickleball National Championships.
It is no doubt the most popular competition among these competitions, and in addition to the World Pickleball Open, the Minto US Open Pickleball Championship also has live coverage.
My purpose in sharing these details with you is to put your mind at ease that no matter how old you are, you will be able to kickstart your dream to become a professional pickleball player, regardless of your age.
If we add sponsorship bonuses to the prize money, a national tournament winner can earn over $100,000 if they win $50,000-75,000. Any tennis player who is considering retiring or just playing tennis for fun should rethink their decision after seeing the prize purses offered by these tournaments. There has never been a better time to switch to pickleball.
Pickleball Vs Tennis: Is pickleball easier than tennis?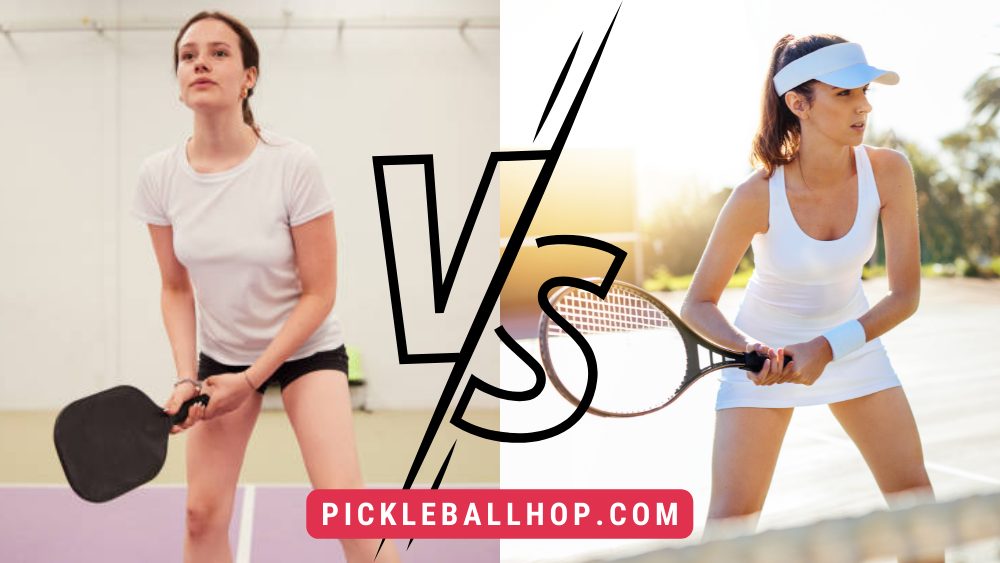 pickleball or tennis? It's all about judging them based on different aspects of each sport since they are all different. Rather than answering this question directly, I chose to divide it into several criteria and then ask: is pickleball easier than tennis (in these categories)?
Movement: For me, pickleball is easier than tennis if you mean less movement. Tennis requires the same promptness and agility as soccer when it comes to promptness and agility.
Pickleball has a smaller court, whereas tennis has a larger one. In addition, tennis rallies last between five and six shots, whereas pickleball rallies last no more than five.
Power: Pickleball is sometimes misunderstood as only a power sport. I don't believe that. In pickleball, shot placement matters much more than in tennis because of the smaller court. 
As compared to tennis, there is less back and forth, but well-placed shots can beat unforced errors and win points.
Physical Fitness: Pickleball courts are smaller than tennis courts, so you will save a lot of energy playing pickleball. However, it's not as simple when it comes to serving, shooting, and overall technique. It's especially important to stay on top of your game when you're playing a singles match. Your net game should also be strong if you participate in doubles.
The physical demands of tennis matches are certainly greater than those of most pickleball matches, however.
Complexity Level: Unforced errors are often the cause of games being lost in pickleball. In my opinion, mental frustration is much greater than physical frustration. The no-volley zone in pickleball requires you to maintain a certain distance from the net when hitting a volley. In tennis, you need to avoid double faults, but in pickleball, you have to deal with double faults as well.
Pickleball has a slight edge over tennis in complexity, but both are almost as complex as each other.
Intensity and Injuries: That's easy. There are generally fewer injuries associated with pickleball because it's not as physically demanding as tennis. There is less movement in pickleball, and it is often played at the same pace as racquetball, except for the forward movement. Tennis players, however, run in all directions to hit a distant shot and often end up outstretching themselves. Consistency is evident across the board. Tennis is definitely more injury-prone than pickleball.
Is playing pickleball going to hurt my tennis game?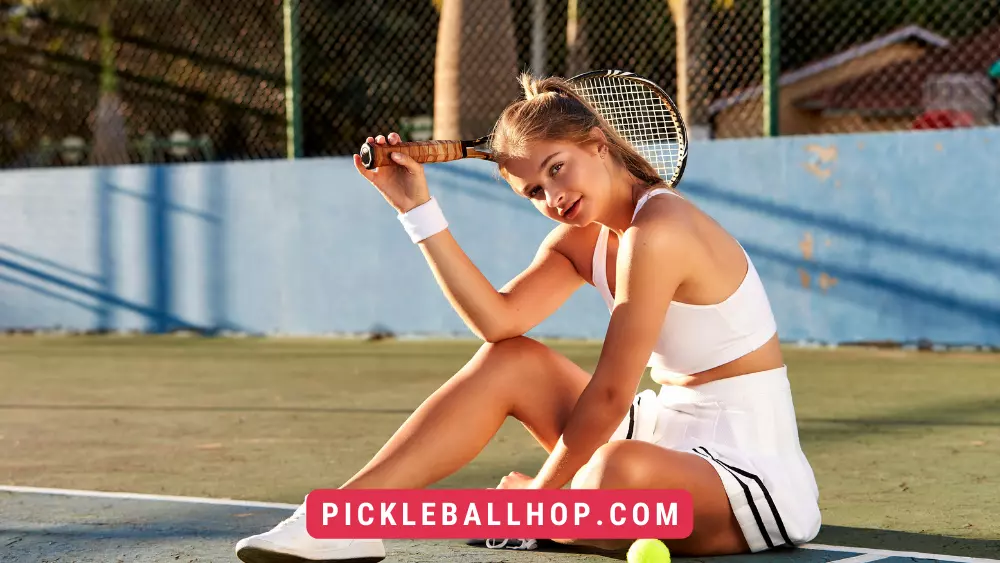 Having been through this process myself, I can definitively answer this question with a no. There are certain aspects of your pickleball game that will improve while others will be affected. There are a lot of similarities between the basic movements and shots.
It is simply a matter of changing your power output from pickleball to tennis and back again. Due to the smaller court size, pickleball requires lighter hits. POWER is the key to smashing tennis balls and driving your opponent away when you grab your tennis racquet.
Pickleball can hurt your tennis game in the following areas
Stamina: Tennis requires you to cover a lot of ground during each point. Additionally, the larger court size builds stamina considerably. If you're returning to tennis after a hiatus from pickleball for the first time, you'll initially feel out of stamina since pickleball doesn't require as much ground coverage. Within a few weeks, you'll be back to your regular routine, so that's not a major concern.
Positioning: Most pickleball games are played at the net, especially doubles games. You can attempt half volleys and command the proceedings by moving closer to the net in pickleball. The court size is larger in tennis, however, so this practice doesn't work. Players such as Federer, Djokovic, and Nadal have chipped balls over their opponents' heads and won points this way.
Power: Power is less important in pickleball than shot placement. Professional tennis players often serve between 80 and 110 mph, but pickleball players don't. Pickleball requires adjustment, so when you return to tennis after playing pickleball for a while, you may need more time. Pickleball places a lot of emphasis on serving in order to prevent unforced errors.
Pickleball can strengthen your tennis game in the following areas
Precision: Tennis paddles are significantly smaller than tennis racquets. There is even a smaller and lighter pickleball ball. It is therefore somewhat more difficult to hit a shot in pickleball and score a point than it is in tennis. In tennis, you can improve your overall precision when you learn how to place shots and execute shots like dinks.
Balance: Adhering to the kitchen is inarguably one of the pickleball's toughest challenges. You need to understand the No Volley Zone and stay out of it. When trying to hit half volley shots in tennis, I have improved my overall balance by following the Kitchen Rule. My tennis game became much more comfortable when I used this technique. It has greatly benefited my tennis game to become proficient at dinking shots in pickleball. You can read a guide on what is a dink in pickleball here.
Shot Selection: I learned to distinguish between angled, finessed, dropped, and soft shots while playing pickleball. Besides learning these shots, I also became proficient at placing them effectively on either side of the net.
You may enjoy reading What is the non volley zone in pickleball?
Are there any ex-tennis players who play pickleball?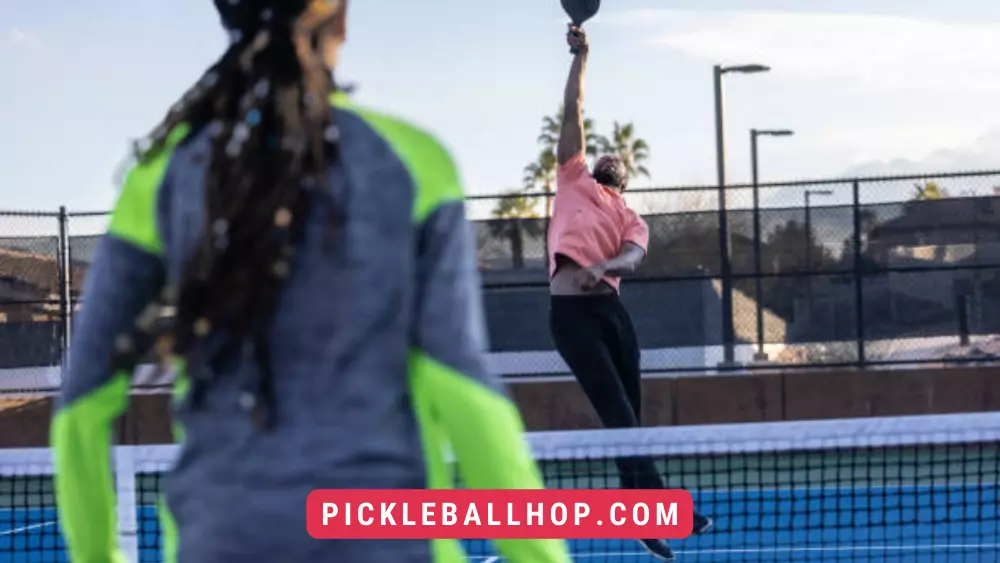 In terms of the number of professional tennis players who have switched from tennis to pickleball, Wimbledon Doubles Champion JoAnne Russell and Cammy MacGregor are two names well known for their involvement in pickleball alongside Enrique Ruiz and Kaitlyn Christian are just a few. The 1978 Australian Open was won by Dan Curry, in addition to these players.
Differences between Pickleball and Tennis
The following table summarizes the points:
| | | |
| --- | --- | --- |
| Element | Pickleball | Tennis |
| Double Fault | No | Yes |
| Serves | During the game, each player gets to serve at least once | A particular game is served by each player |
| Scoreboard | There are three numbers: your team's score, the opposing team's score, and whether you are serving or returning. | There are three numbers: Sets, Games, and Points |
| Court Dimension | Both singles and doubles competitions are similar | Both singles and doubles competitions are different |
| Serve | It is not allowed to serve overhand | It is only permitted to serve overhand |
| Atmosphere | A loud game cheers accompanied by music | Focused, silent, and clapping when points are scored |
| Playing Area | Playable indoors and outdoors | It is generally played outside |
| Shots | Body shots are intended | In general, shots are aimed away from the player |
| Intensity | Tennis is more intense than pickleball | The game of tennis requires a great deal of conditioning |
Other than these general differences, the pickleball paddles and tennis racquets, the pickleball balls and the court size and net size, as well as the shot execution and overall speed, differ significantly. Moreover, check out How to Serve in Pickleball?
Pickleball vs Tennis Ball: Dimensions
The diameter of the tennis ball must be between 2.57 and 2.70 inches, and the weight should be between 1.98 and 2.10 ounces. Official tennis balls are "optic yellow," whereas pickleball balls come in a variety of colors, are perforated, and weigh between 0.78 and 0.935 ounces.
Final Thoughts on Pickleball vs Tennis
I hope this blog clarified the main differences between pickleball and tennis, regardless of which sport you decide to play. Our website is a great place to learn more about pickleball if you are new to the sport and want to learn more in-depth.