Do you want to find a place to play pickleball in NYC? Here is where you need to be. The following guide provides you with a list of the best places to play pickleball in NYC. A number of places are available for you to play, but you may prefer one over another based on your skill level. In some courts, you must apply for an invite to play competitively, while in others, the system works on a first-come, first-served basis. Pickleball nets are a little bit lower than tennis nets, so you should avoid tennis courts. Tennis nets can be used for games, but they can slow games down. 
Where to Play Pickleball NYC – Places to play pickleball in Manhattan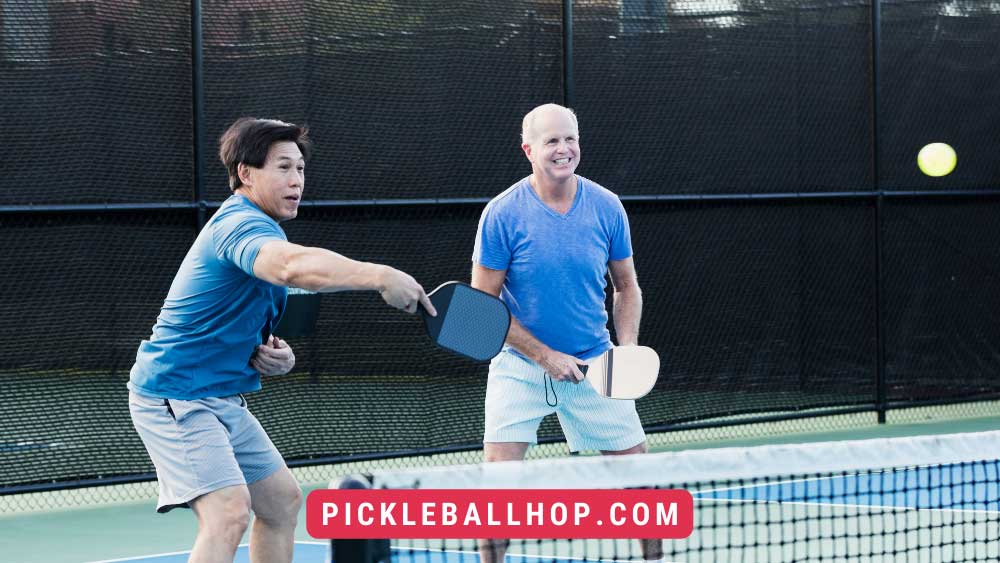 Pickleball players with younger children who need to entertain themselves at the same time will love this spot. A playground with three asphalt courts is available at Happy Warrior Playground on West 98th Street and Amsterdam Avenue. Pickleball nets are not provided on these courts, as they are basketball courts by default.
If you are interested in playing with others, you can join a Slack group that organizes games periodically. These are open play courts, so you can use them whenever you like. Game_happy-warrior-playground is the name of the channel.
You may enjoy reading How To Find Pickleball Courts Near Me
A school honoring Alfred Emanuel Smith is just across the street from the playground. Mr. Smith served as governor of New York for four terms. In honor of his accomplishments, Roosevelt referred to him as "The Happy Warrior."
There is a lot going on in this beautiful park! The scenery in this part of Manhattan is pretty and there are a lot of benches. The Mercedes Benz dealership is right next to the soccer field, so you know you're in the right place.
In Manhattan's Hell's Kitchen neighborhood, DeWitt Clinton Park is located in the Hell's Kitchen neighborhood. DeWitt Clinton (1769-1828) is the name of the park, which is named after him. Located between West 57th and West 59th Streets, the park occupies 30 acres.
A portable pickleball net must be brought, as there are two asphalt courts and one taped court. As there is no organized pickleball group or organization to arrange games, you can come and play as you please. During the development of the Hudson River waterfront, the city created the park in 1896. A landscaped promenade along the riverfront was originally planned for the park, but it was never constructed. It was instead converted into a recreation space with a playground, basketball court, pickleball court, and baseball fields.
The park has gone through significant improvements in the last few years, including a dog run, amphitheater, and water play area for kids. The DeWitt Clinton Park in Hell's Kitchen reflects the diversity of the neighborhood. Recreation, relaxation, and socialization are among the things residents of all ages and backgrounds do in the park. Hell's Kitchen is a great place to live because of this community space that brings people together.
On Manhattan's Upper East Side, Carl Schurz Park can be found in Yorkville. In memory of German-American Carl Schurz, who served as United States Secretary of the Interior during the term of President Rutherford B. Hayes during the early part of the twentieth century, the park was named. This park offers panoramic views of Roosevelt Island, the Queensboro Bridge, and New Jersey across the river along the East River. It stretches from 84th Street to 90th Street and stretches 14.9 acres. In addition to playgrounds, two dog runs (one for large dogs and one for small ones) have been built in the park, a basketball court, pickleball courts, an amphitheater, and a picnic area by the shoreline as well as a multipurpose area.
You can play at any time, no need to register, but you will have to bring your own net, unless you plan to play between 9:30 am and 8 pm, in which case "the pickleball doctor" will provide nets for all, so bring your own net if you plan to play during those hours. To find out about the changes that have been made recently, you can contact him via TeamReach code CSPPB.
You may enjoy reading Can I Play Pickleball With A Torn Meniscus?
Along the length of the park, there is an esplanade that runs along the waterfront. As part of Fredrick Law Olmsted and Calvert Vaux's winning design for New York's Central Park, they built Carl Schurz Park in 1878. Their original vision, however, was only partially realized due to budget constraints. It was under Robert Moses' direction that Olmsted and Vaux's vision for the park was expanded and renovated in 1934. "Moses' Masterpiece" is a group of parks designed by Robert Moses in the 1970s, and is composed of four parks: Carl Schurz Park (to the north), Morningside Park (to the south), and Stuyvesant Square Park (to the east) that are all part of "Moses' Masterpiece".
New Yorkers seeking respite from city life can visit the sprawling 26-acre St. Catherine's Park on Manhattan's Upper East Side. It is situated between 67th and 68th Streets. Michael Van Valkenburgh Associates designed the park, which opened in 2022, and it boasts a host of unique and dynamic features that infuse it with uniqueness and energy.
You will find a variety of sports facilities such as Basketball Courts, Handball Courts, Pickleball Courts, Soccer Fields, Playgrounds, Fitness Equipment, Running Tracks, Spray Showers, Bathrooms, as well as a Playground for the kids to run around on. The NYC Parks Department manages the courts from 10 AM to 1 PM on Mondays, Wednesdays, and Fridays, so you don't need to bring your own net, and you can play whenever you like.
You may enjoy reading Can you play pickleball with 2 players?
Among St. Catherine's Park's most impressive aspects are how the space is utilized. Its winding paths promote exploration and discovery rather than straight paths. There are a number of hidden nooks and crannies of the park that are tucked away behind various bushed hedges that add to the quaint and charming nature of the place. There are a number of amenities available at St. Catherine's Park in addition to its playful design, which makes it a truly enjoyable place to spend some leisure time in addition to its playful design. Additionally, there is an impressive array of plantings throughout the park, including over a hundred trees that provide much-needed shade during the sweltering summer months. It is certain that St. Catherine's Park will have something for everyone, whether you are looking for a place to relax, take a leisurely stroll or play a match of tennis. In light of this, the next time you're in need of a break from the hustle and bustle of life, make sure you stop by this one-of-a-kind oasis on the Upper East Side.
Located on the corner of West Houston St and Avenue Of The Americas in New York City's West Village neighborhood, William F. Passannante Ballfield is a public park. In addition to being named after a former NYC councilman, the ballfield is named after William F. Passannante.
Pickleball is played on six taped courts near basketball courts, but you will need to bring a net. There are many uses for the park and it is well-loved by the community. In the summertime, there are allowed other sports leagues that take place in this open play area.
You may enjoy reading Can You Play Pickleball On Grass?
Community campaigning and city funding culminated in the opening of the ballfield in May 2006, but an update was only made in March of 2022. Residents and visitors alike can enjoy this much-needed green space in the densely-populated West Village. Two baseball diamonds are available for little league and adult softball teams.
One of the best handball courts in the city is located at St. Vartan Handball Courts in Murray Hill. It can be found at the corner of E 36 St and 2 Ave. You can play there all day long because it's always clean and well-maintained.
A painted handball court is located in the area. Nets must, however, be brought with you.
Pickleball is played from 9 am to sundown in this 3.0+ Open Play community. Join their slack group #st-vartan-park if you're interested in joining and playing with other players
Indoor Pickleball Courts In NYC
Many indoor pickleball courts are just repurposed basketball courts that are equipped with portable nets and taped lines. Many of them have open play hours or have sessions you can sign up for. Updates and more information can be found on the linked schedules.
80 Catherine Street is home to one of New York City's most popular recreation centers. A few blocks from Times Square, it's located in downtown Manhattan. Swimming, basketball, pickleball, a multipurpose room, a dance studio, a media lab, and a weight room are just some of the recreational activities offered at the center for all ages.
Parks & Recreation operates the recreation center seven days a week and is open to the public. Those who possess a valid New York City ID card can enter the center for free. A small monthly or daily fee is charged to non-residents who wish to use the facility. It is recommended that you check the availability of the various activities here since there are so many going on.
You may enjoy reading What to wear to play pickleball
Former New York Governor Alfred E. Smith built the Alfred E. Smith Recreation Center in 1976. The design of the center was done by renowned architect I.M. Beijing Pei, who now has it etched into the cityscape of downtown Manhattan as a landmark. Several renovations and additions have been made to the center over the years, most recently a new roof was added in 2010. You can enjoy recreation and relaxation at the Alfred E. Smith Recreation Center whether you're a resident or visitor to the city.
One of New York City's most beloved recreation centers is located at 232 West 60th Street. Named after the first woman to swim across the English Channel, it is located on the Upper West Side of Manhattan. Recreational activities are available for all ages at the center, and several community organizations are also based there. Founded in 1966, the recreation center has served the community for decades. An indoor track, a weight room, and a swimming pool are among its many amenities.
Meetings and events can also be held in several program rooms. Lifeguards are on duty seven days a week at the center, which is open to the public. Swim lessons are available for all levels at the recreation center, one of the most popular activities. There are lane lines in the swimming pool so that swimmers can stay in their own lane. Divers can also take their swimming to the next level by diving off the diving boards. Two full-sized basketball courts are available at the center for basketball enthusiasts. Free weights and machines are available in the weight room to accommodate people of all fitness levels.
You may enjoy reading How Many Calories Do You Burn Playing Pickleball?
Make sure the pickleball courts are open and coordinate with the center by checking the activity schedule.
In addition to providing an exercise facility, the Gertrude Ederle Recreation Center also serves as a community gathering place. Several organizations in the area use the facility for meetings and events, such as youth groups, senior citizen groups, cultural groups, and others, such as clubs and organizations for the visually impaired. Everyone who walks through the center's doors is welcomed by its staff. Check out the Gertrude Ederle Recreation Center if you want to get active or have some fun with your family or friends!
In honor of Jackie Robinson, the first African American to play Major League Baseball, Jackie Robinson Recreation Center is located at 85 Bradhurst Avenue. There are a multitude of facilities and programs available through the recreation center for the community. These facilities include a basketball court (pickleball courts ), an outdoor swimming pool, a gym, a fitness room, as well as a variety of other amenities. The pickleball community that plays on Monday, Wednesday, and Friday is one that you should look into if you would like more information and availability.
Children can also participate in after-school programs and summer camps at the recreation center. Over 50 years have passed since Jackie Robinson Recreation Center was opened. People of all ages and backgrounds use this recreation center in New York City, which is one of the most popular recreation centers in the city. Sport, friendship, and creativity are all available to kids at the recreation center. Besides being a place for adults to stay active, socialize, and relax, it also offers a place for them to unwind and rejuvenate.
You may enjoy reading Singles Pickleball Rules
A vital part of the fabric of the community is the Jackie Robinson Recreation Center. People can enjoy themselves in a safe and healthy environment while staying active and healthy. All backgrounds are welcome to the center, where they can learn from each other and share experiences.
In the Highbridge neighborhood of the Bronx, New York, the Highbridge Recreation Center is a public recreation facility that is based at 2301 Amsterdam Avenue. It is a multipurpose facility for group and individual recreation. The recreation and Parks Department operates the center. We offer open play pickleball on Tuesdays and Thursdays from 10 a.m. to 12 p.m.
Opening in the 1900s, the recreation center is open to the public. Highbridge Park, which surrounds the recreation center, was constructed as part of the larger project. Robert Moses designed the park and recreation center in New York City during the first half of the 20th century, as did he for many other parks and public works projects in the city. Approximately 22,000 square feet are covered by the Highbridge Recreation Center building, which stands two stories high.
The ground floor consists of a gymnasium and a stage at one end, as well as locker rooms, weight rooms, and a multipurpose hall that can be used for functions such as dances or other events. A kitchen, offices, and classrooms are located on the second floor. Across the street from the building is an outdoor swimming pool. Programs and activities for all ages are available at the Highbridge Recreation Center. Sports leagues, dance classes, after-school homework assistance, senior citizen socials, cooking classes, computer classes, and arts and crafts classes are among the programs offered at the center.
You may enjoy reading Best Pickleball Paddles for Tennis Players
Where can I play pickle in NYC?
Bronx. Van Cortlandt Park. Van Cortlandt Park S between John M. …

Brooklyn. John J Carty Park. Fort Hamilton Pkwy between 99th & 100th Sts. …

Manhattan. Howard Bennett Playground. Between W. …

Queens. Highland Park. Jamaica Ave between Cleveland and Warwick Sts. …

Staten Island. Fairview Park.
You may enjoy reading Best Pickleball Players
Where can I learn pickleball in Manhattan?
Manhattan. Happy Warrior Playground, UWS (Added May 2022).

Brooklyn. McCarren Park, Williamsburgh (New May 2022).

Queens. Astoria Park – Triboro Bridge Playground A, Astoria.

The Bronx. Van Cortland Park (Need more information).

Staten Island.

Long Island.

New Jersey.
You may enjoy reading Pickleball Noise Problems
Where to Play Pickleball in Brooklyn
Pickleball is available in a number of locations throughout Brooklyn. It is important to keep in mind that some charge by the hour.
John J Carty Park — Four courts, no permit needed


at Fort Hamilton Parkway between 99th and 100th Sts Brooklyn, NY 11209.

Leif Ericson Park — There are 13 courts, and no permit is required.


Brooklyn, NY 11220, between 66th and 67th Streets

Winthrop Playground — There are two courts, a permit is required.


Located at the intersection of Winthrop Street and Rogers Avenue, Brooklyn, NY 11226

Court 16

is located at 526 Baltic St in Brooklyn, NY 11217

Brooklyn Bridge Park —

Pier 2 will have three courts this spring




at 334 Furman Street, Brooklyn, NY 11201

Marine Park — 4 courts


on Flatbush, Gerritsen, and Fillmore Avenues

Dean St Playground — 1 court


located between 6th and Carlton Avenues on Dean St

McCarren Play Center — Indoor court


776 Lorimer St
You may enjoy reading Pickleball Drills for Beginners