Could you imagine a paddle that allows you to reach, be accurate, and have power all at the same time? You're not done yet! Dreaming of owning the most advanced pickleball paddles on the market? Doesn't this sound like the best infomercial you've ever seen? It's not all embellishment, I'm happy to tell you. A new pickleball standard may be being set in the pickleball world with Selkirk Invikta Pickleball Paddle.
You may enjoy reading Champion Pickleball Paddle Reviews
I am looking forward to trying out and reviewing the new addition to the AMPED line of paddles. My goal for today is to give you a comprehensive overview of this pickleball paddle and compare it with the others from AMPED.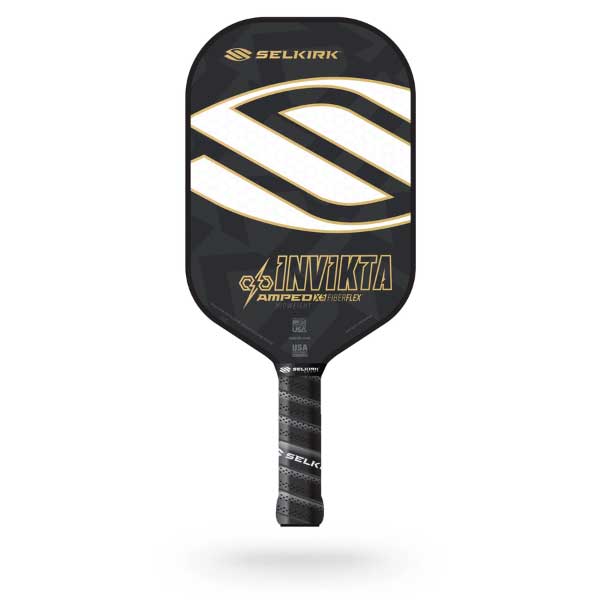 The paddles were provided to me by Selkirk for review. No sponsorship has been provided to me by them. They make the best paddles. I like to be as open and transparent as possible with these sorts of things, as you probably know by now.
Let's get started!
The first thing I would like to say about AMPED is
The Epic, S2, Omni, and Maxima are four different paddles from the AMPED line that Selkirk released back in October 2017. Open play locations and tournaments often feature these paddles since they've grown in popularity.
The AMPED series has been released in various versions since then by Selkirk. We'll be talking about the Invikta, which is the newest version. There is no difference between the Invikta paddle and the other paddles in the AMPED line except for the shape.
X5 core
In order to fully comprehend the AMPED line, it is essential that you understand the core that is used. Polypropylene (polymer) is the most common material used in the core of most paddles these days. Or, to put it another way, plastic. There's nothing special about it. However, let's stick with polymer since it sounds cooler.
Here's the thing, Selkirk went above and beyond. They've designed their own patent-pending X5 core. In this paddle, there is a much thicker core than most other paddles, but I don't know all the juicy details.
No exception applies to the Invikta. In addition to the other AMPED paddles, it has a thicker X5 core than other paddles on the market. As I will explain later, there is a downside to this.
You don't lose much power with the X5 core, which is soft and strikes true. The extraordinary thing about it is that. Pickleball technology is at its best with this model.
You may enjoy reading Onix Stryker 4 Pickleball Paddle Review
FiberFlex face
Fiberglass is used for the face of the AMPED line. The availability of this material is probably the reason why it is becoming so popular. Faces made of fiberglass are commonly referred to as spin materials. In addition to being able to impart more spin, graphite faces lose some of their explosive impact.
The paddle itself
My elevator pitch for the Selkirk Invikta Pickleball Paddle would be: it's an elongated paddle like the Omni, but with a longer handle. That's the simplest explanation. There is no difference in height or width between the Omni and this one, but the handle is longer.
With this paddle, you get more handle for easier drives and smashes, but less paddle face than with the Omni or similar paddles. Later in the article, I will explain why this is the case.
Specifications
Core: X5 polymer
Face: FiberFlex fiberglass
Average weight: 7.3– 7.7 oz (lightweight) 7.9 – 8.3 oz (midweight)
Paddle length: 16.5″
Paddle width: 7.375″
Grip circumference: 4.25″
Grip type: Selkirk ComfortGrip
Handle length: 5.25″
USAPA approved
Tyson McGuffin created and championed the paddle this time around and has used it to great success lately. Probably the most brutal serve I've ever seen comes from this guy. When I used to serve fast, it just felt like I was throwing paper airplanes at the ball. My paper airplane serve is nothing to be laughed at! Click here to read a guide on how to serve in pickleball.
I would definitely consider this a paddle for intermediate to advanced paddlers. There are several reasons for this, mainly its elongated shape and smaller horizontal hitting area. Beginners may want to consider other paddles that have a wider face because they will be more forgiving. There is a paddle recommendation page on my site that you can check out if you need help choosing a paddle.
You may enjoy reading Babolat Viper Technical 2022 Review
Invikta paddles are known for their exceptional quality and ability to shatter the ball and make your opponents cower in fear.
Well, maybe not too much cowering, but you get the idea.
In addition to power, this paddle also provides control and accuracy at the net, which makes it perfect for power players. I'm delighted to say that it's a great combination. Later, I'll talk more about that.
Visual design
Visually, this paddle is the same as the rest of the AMPED range. There have been no changes.
Several readers complained about the black material around the Selkirk logo in my previous reviews. Black material still appears on the midweight version, but it is not as prominent as it was previously. The lightweight version does not have the black material.
You can only get Tyson McGuffin's signed midweight paddle with the signed version. You can also read a guide on material for pickleball paddles here.
Midweight and Lightweight options
Both a lightweight and midweight version of the Invikta are available. In my experience, most pros who play with this paddle choose the midweight option. Power increases with paddle weight, as you probably already know. The downside is that you lose maneuverability and flexibility. I have introduced Selkirk paddles to many recreational players who choose lightweight paddles. Basically, people choose control over power, which is a smart choice.
There was an 8 oz midweight paddle and a 7.7 oz lightweight paddle that I received. It's true that the versions differ significantly, but the difference is not drastic. I would choose a weight based on what you think you can handle with your wrist and arm, since the Invikta is designed for whipping and driving the ball.
Come on, let's compare!
Invikta paddles are best described by comparing them to other AMPED paddles. There are many similarities between the two that I would like to address. You also need to take note of this if you're considering upgrading from another AMPED paddle.
Compared to the Epic or S2
Considering how similar the S2 and Epic are, I'm lumping them together. The same applies to the S2 as it does to the Epic.
Invikta paddles are considered elongated paddles. You're not sacrificing that much when compared to the Epic. Here's an interesting link:
It looks wider than the Invikta underneath my Epic because of the lens on my camera, but it's not that much wider. There are 8″ of width on the Epic, while there are 7.375″ on the Invikta. Therefore, you're only losing 23 inches in total, or 13.5 inches on each side! That's all there is to it! The trade-off is an increase in height of 34″! With this paddle, you get more reach while only sacrificing 13.5 inches on either side.
You could benefit from the Invikta if you're already accurate and don't mind sacrificing some width.
You may enjoy reading Wilson Tour Pro Pickleball Paddle Review
Compared to the Maxima
With its blade-like features, the Invikta resembles the Maxima very closely. There are some differences, however. Maxima will continue to be the paddle of choice for power players, but it will have a greater reach than Invikta. The USAPA allows a maximum length of 17 inches for the Maxima, but only 16.5 inches for the Invikta.
In most cases, upgrading a Maxima or similar blade paddle isn't a good idea unless you need more forgiveness.
Compared to the Omni
The Invikta is the closest paddle to the Omni of all the AMPED paddles. The Omni and the Invikta share the same width and height! There is, however, one major difference. There is a longer handle on the Invikta. With the Invikta, you get slightly less face area since it has a longer handle but is the same height as the Invikta.
In a nutshell, if you currently use an Omni, then I have some wonderful news to share with you:
You can upgrade and get a bigger handle if you don't like the smaller handle of the Omni.

The Omni will still give you roughly the same amount of reach.
There is something compelling about the Invikta because of this. If you choke down on the handle, you get the reach you'd expect from an elongated paddle, but when you choke up, you get the power you'd expect from a regular paddle. Cool!
Performance
The paddle acts as an aggressive version of an elongated paddle, as I have mentioned before. As a result of the longer handle, you are able to whip this paddle, giving you more reach than an elongated paddle. The handle is at the core of the Invikta, believe it or not.
It's all about the handle
The short handles typically found on elongated paddles are the #1 complaint I hear from people. Manufacturers use a small handle to give players the maximum amount of paddle face possible. The problem with this is that it leaves a lot to be desired, especially for players with more advanced skills.
It is extremely difficult to drive the ball with paddles with small handles. Due to your grip's distance from the center of gravity, it is difficult to control the ball. A longer handle has been provided by Selkirk to address this issue. With the new paddle, you can swing it much more easily. You may lose some paddle face, but you gain so much more functionality.
Your pickleball skills will be put to use with the Selkirk Invikta, including digging, smashing, driving, and dinking.
The best part of it is when you smash, pass, or drive the ball.
In the same way as I mentioned earlier, this paddle behaves like an aggressive version of an elongated paddle. With much more power, you can extend your reach in the same way. The handle is what gives you more power. You can whip this thing around like crazy! Lightweight versions are especially popular.
You may enjoy reading Paddletek Tempest Wave Pro Pickleball Paddle
When shooting backhands with paddles like this, it's important to realize that if you're too slow, your ball will go the other way. Generally, elongated paddles are not associated with the Invikta.
A longer paddle also has more angle, which is why this happens. In other words, the top of the paddle lags behind the centerpoint, which is your hand, because it is farther away from the center point. You may hit the ball off to the side if you do not initiate your backhand stroke quickly enough.
Who is it intended for?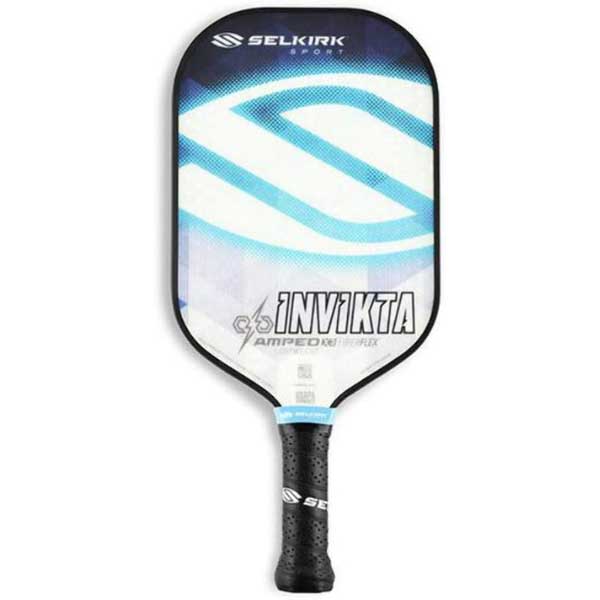 Players who want to extend the reach and power of their drives and passing shots without sacrificing much forgiveness should consider the Selkirk Invikta Pickleball Paddle. Pickleball paddles come with tradeoffs, just like most other sports equipment. It trades off with a little less width and area on the face.
Those who want to become more aggressive with their serving can also benefit from this paddle. Since the paddle must be underhanded and the contact must be below the wrist, the paddle's lesser width does not affect serving accuracy much. The next point I want to make is related to that.
The backhand is the major challenge when using these elongated paddles. Pickleball backhand dinks require cocking the wrist and bringing the paddle somewhat parallel to the ground in order to be performed properly.
You may enjoy reading Best Selkirk Pickleball Paddles Review
It's kind of like hitting a baseball when you strike the ball this way. During the serve, your paddle is nearly vertical, but during this move, it is nearly horizontal. Backhand dinks have a much smaller sweet spot than forehand dinks. As a result, you must play more accurately and with more confidence.
Due to the Invikta's only 13″ loss on each side of the paddle, it makes this easier than other elongated paddles. Another advantage of using this paddle is that it is lightweight.
A Selkirk Invikta will absolutely satisfy any Omni or other type of elongated paddle user who wants more power without taking up too much space. What's the reason? Despite the longer handle, it's basically the same thing.
My only gripe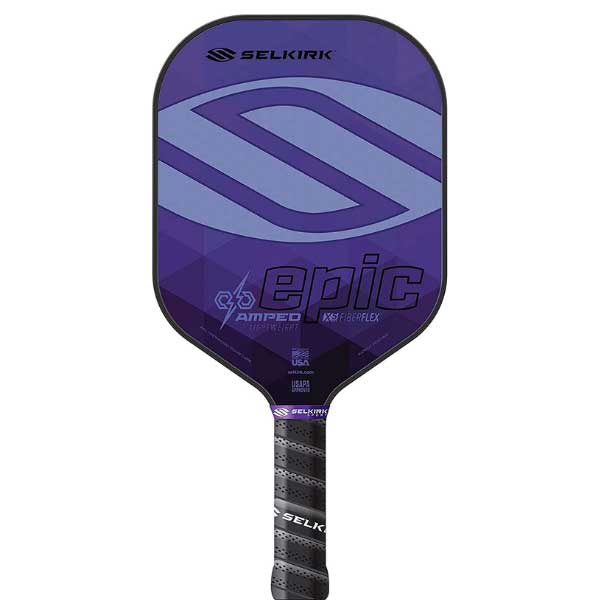 As I mentioned earlier, there is a downside I would like to share with you. An honest paddle review wouldn't be complete without a few gripes, would it?
AMPED paddles can be challenging to get used to if you've played with a standard polymer core and graphite face setup before. As opposed to AMPED paddles, which have thick, fiberglass faces, graphite faces feel explosive. The opposite can be true for beginners since they don't have preconceived notions about paddle sports because they've never experienced them before.
The softness may take some time to get used to for advanced players. You'll most likely be delighted with the paddle once you get there. If you decide to pick up an AMPED paddle, keep that in mind. This issue has not been experienced by everyone! The AMPED paddle line has been a huge success for dozens of people at this point.
Final Thoughts
It is my hope that you have found this review of the Selkirk Invikta Pickleball Paddle useful as you pick your paddle. The process of choosing a paddle can be quite challenging. In case you need help with that process, I've written an article about it. I appreciate you taking the time to read this and to check out the website! I would appreciate any questions or comments you may have.
You may enjoy reading Onix Z5 Graphite Pickleball Paddle Review