By Nancy from New Jersey
You may have noticed that Pickleball is everywhere now, from local courts to professional tournaments and celebrity matches. In 2022 alone, about 36.5 million people played the sport. But of that population, men made up the majority with 60.5% of pickleball players, while women made up only 39.5% of total players. In light of the seemingly shrinking inclusivity, I found Playin Pickleball, a virtual reality game that takes the time to connect to its users and constantly uses their feedback to improve the game.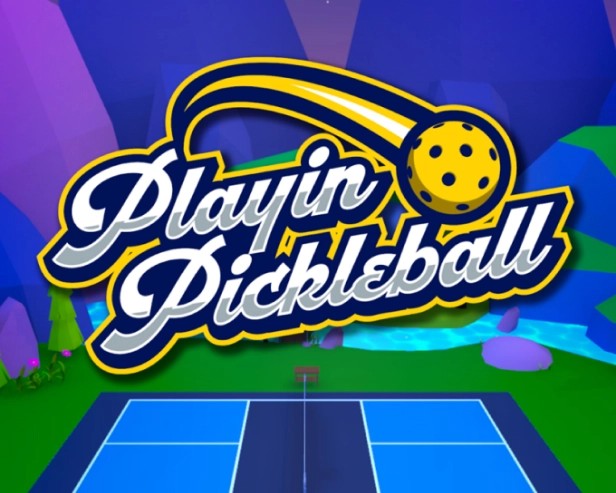 My name is Nancy, but online I go by the username thePROcrastinator on Discord. I found a new love for the actual sport through Playin Pickleball. I was initially just looking for a good workout, something fun I can do with my son. I had never played sports in my life before, but I found a community that embraced me for everything that I am– regardless of age, skills, and gender. 
With Playin Pickleball – I kid you not – I actually break a sweat, and hopefully I can take my online skills to a real court. I've not only learned the rules and terminology of the sport, but also gained more confidence in myself. It sounds cheesy, but the guys I've met online play with me at least once a day, telling me what YouTube videos of real techniques to watch, and giving me the energy boost in online tournaments whenever I would doubt myself. 
I mean, I'm playing with players from all over the world, and some of these men are in their 20s and others in their 60s. Regardless, it feels that everyone is on an equal playing field in the game. I hear stories about gamer friends meeting in real life, and though I haven't done that yet, I do consider these people my actual friends.
I don't even know their real names, but they've really made me feel included in the game and in the sport. I'm out here telling my son about how much I play VR daily and how he should join the Playin Pickleball community to meet these people, and here they are reminding me how much fun this is once I realize how much I'm bragging. 
I'm not a spokesperson for Playin Pickleball, but I did recently participate in a digital tournament they threw for their new partnership with Gearbox. They added Gearbox's new line of paddles into the game for us to use, and then offered the winner of the virtual tournament a trip to the Newport Beach Shootout from the Carvana Professional Pickleball Association (PPA) Tour event. 
Even though I didn't win, I was excited to participate and my male teammates kept joking with me that I'll go to a real court one day and tell people that I've never played, only to kill and awe them with my skills. They'll say, "How does she do that? You've never played pickleball?" 
This game is actually a realistic simulation of the real-life sport. I think the amount of Pickleball and Tennis players it has in its community displays that already. As I practice my newfound confidence and step out of my comfort zone to try new things like this VR game, I encourage you to learn more about Playin Pickleball and other games that share the same commitment to inclusivity.
I'm an average woman, who works during the day, hangs out with her family at night, and has some time in between to worry about her health and hobbies — and, as you get to the end of this, you realize that, ultimately, my demographics don't matter after all.