Pickleball Wood vs graphite – both are the two most common materials used in pickleball paddles. What are the differences between the two pickleball paddle materials, if you're not familiar with them? Is there a type that is right for me? Here are some comparisons of wood vs graphite pickleball paddles.
What is the Best Pickleball Paddle Material?
Pickleball paddles are commonly made from wood and graphite. It's important to note, however, that neither winner is definite. Due to the fact that the "best" material will vary from person to person. Depending on your preferences and style, some materials are better than others. Read the complete guide on pickleball paddle material by clicking here.
Wood Pickleball Paddles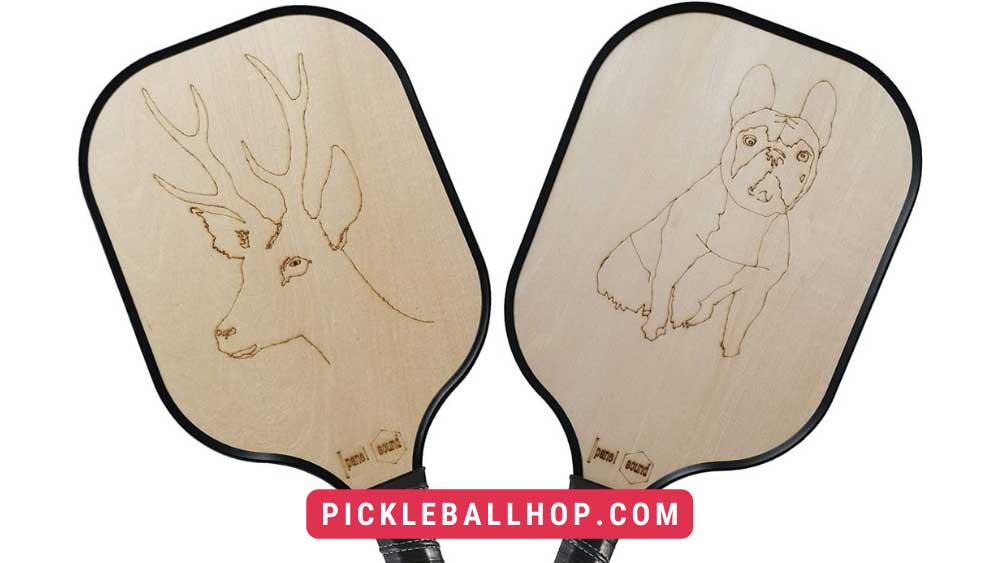 In order to better understand how wood pickleball paddles differ from graphite pickleball paddles, let's first examine why you might want to purchase a wood pickleball paddle.
Despite being very durable, wooden pickleball paddles can be very heavy. In the present day, many people avoid wooden pickleball paddles due to their inflexibility, as well as the fact that wood has been replaced by other materials as a material of choice for paddles. The wooden paddles are a good option to try if you are new to pickleball. In addition, wooden paddles are a good choice if you have children who want to play since they are such durable options. 
Additionally, wooden paddles are an affordable option for those who want to have extra paddles on hand for guests or participate in clubs where many paddles need to be shared. I recommend you go for a lighter graphite pickleball paddle instead of a wooden paddle if you're planning to play pickleball on a regular basis.
Pros and Cons of Wooden Pickleball Paddles
Wooden pickleball paddles have some advantages and disadvantages. Before buying a product, you should consider these factors:
Pros:
Paddles made of wood are generally less expensive than those made of other materials

Composite and graphite pickleball paddles do not last as long as wood pickleball paddles

It is easier to return the ball with a wooden pickleball paddle since it has more power
Cons:
Pickleball paddles made of wood are heavier than those made of graphite. Typically, they weigh between 10 and 15 ounces. There can be a significant strain on the wrist as a result of this weight

With wooden pickleball paddles, shots are harder to control 

Paddles with special features are available today that can assist players during games
Graphite Pickleball Paddles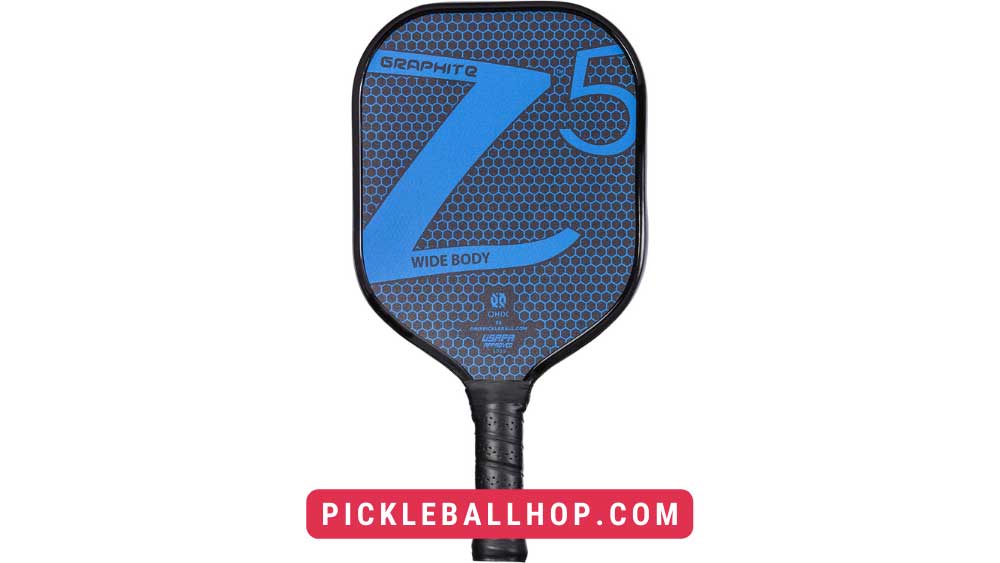 You're best off using a graphite paddle if you're switching from tennis to Pickleball. You'll feel most comfortable with it since it's familiar to you. Pickleball paddles made from these materials are heavier, stiffer, and more rigid than those made from other materials. 
In addition to being more expensive, graphite pickleball paddles are also more durable. Some players may not be able to afford these higher-quality paddles, which can make it difficult for them to purchase them.
Additionally, graphite pickleball paddles are more forgiving than fiberglass paddles because they're easier on the wrist. In addition to being more durable, these paddles are also easier to maintain. If you don't take care of your pickleball paddle, the handles tend to wear out pretty quickly.
You may enjoy reading Graphite vs Composite Pickleball Paddle
Pros and Cons of Graphite Pickleball Paddles
Graphite paddles are popular among professional pickleball players for many reasons. The paddle itself is exceptionally tactile and responsive despite the light and rigid graphite portion.
Pros: 
A graphite paddle has a softer touch on the ball than a composite paddle because it is more rigid.

The top-of-the-line graphite paddle is ideal for players who win a lot at the kitchen line. It is sufficient for the ball to be returned by them

PADDLES made from graphite are known for their responsiveness and feel, which also makes them fun to use!
Cons:
Although these paddles are lightweight, they do not provide enough power because of their lightweight design 

Due to graphite paddles' lighter weight, passing shots and game-winning shots can be slightly more difficult

It's very easy to get sucked into buying a paddle that looks good, which can be problematic because there are a lot of graphite paddles on the market. The product may look good, but it may not perform well.
Features to Consider When Choosing a Paddle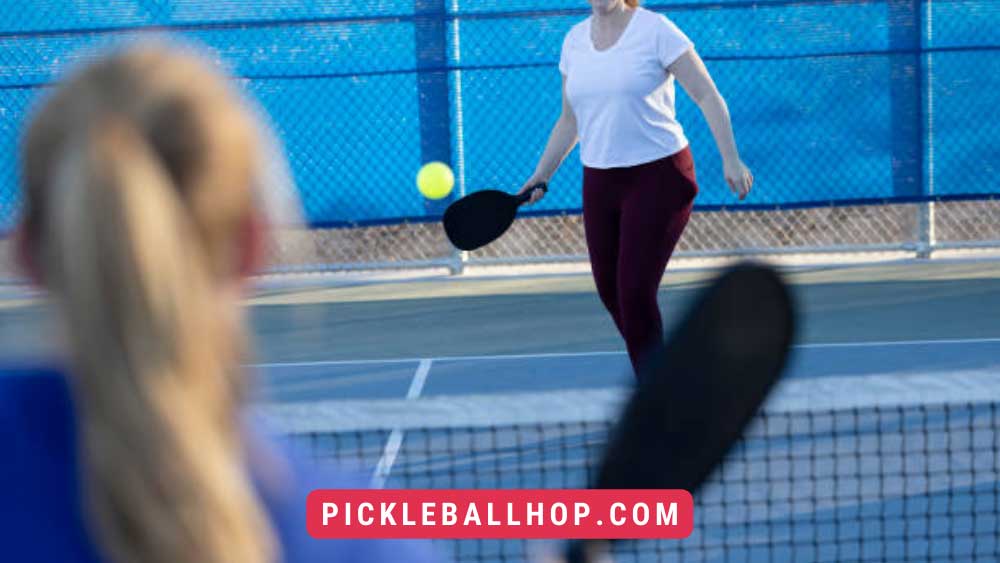 In reality, most people who read this article are looking for information about how wood vs graphite pickleball paddles compare, so they may be willing to compromise in some areas. As you search for the best pickleball paddle for you, I also recommend keeping in mind a few other features. 
Weight
In addition to control, weight is another important feature to consider. In addition to determining how the paddle feels when you hold it, weight also affects the way it swings.
Depending on the model and size, pickleball paddles can weigh anywhere between six and fourteen ounces. Lightweight paddles weigh less than 7.3 ounces, while medium paddles weigh between 7.3 ounces and 8.4 ounces. It is considered heavy if the number exceeds 8.5. Click here to read a guide on pickleball paddle weight.
Grip Size
Finding the right grip is paramount to achieving the goal of taking accurate, controlled shots in pickleball. 
Long vs. short grips are a matter of debate. Shorter grips are said to offer greater control, while longer grips offer more stability. The grip should, however, not be too long or too short, in our humble opinion. Most people find it comfortable to hold something that's roughly the size of their palm. 
Paddle Width
Another feature to consider is the paddle's width, which affects how well you can hit the sweet spot. It's usually not a good idea to exceed 24 inches in width for the paddle.
Edge Guard
There are some pickleball paddles that have edge guards to protect the edges from chips and damage. Others opt for large edge guards, which increase the hitting surface. Most people prefer medium-size edge guards. You may not want to choose a pickleball paddle that has large edge guards because they increase the paddle's weight. 
You may enjoy reading Best Carbon Fiber Pickleball Paddle
Frequently Asked Questions
You may still have a few questions about wood vs graphite pickleball paddles after reading this article. Whatever your level of pickleball experience, you're welcome here. If you want to know more about paddles, you should do your research.
Some common paddle questions are listed below.
How Long Do Paddles Last?
Paddles have varying lifespans depending on their materials and construction. Your paddle may not be good for long-term use if its interior is thin and its exterior is too smooth. It can, however, serve as a good starting point.
It is also important to take into account the area between the paddle and the handle. Paddles with weak points can break even if their surfaces are still usable, and that is a problem with many paddles.
Check the edges and handle of the paddle if possible. Once you know if it's durable enough, you can decide how many games it will last.
Is there a paddle that gives you more power?
Paddles with more weight have more power. Lightweight paddles may be easier to maneuver and hold, but they aren't as strong.
Alternatively, you can look for paddles that are super-heavy to gain even more power. You can also get a medium-weight paddle if you only need an average amount.
Is there a paddle that offers more control than another?
Power may be gained by using a larger paddle, but control may be sacrificed. It is better to use a paddle that is smaller and lighter if you are in a game where you have to respond quickly.
For more control, you should choose a lightweight or medium-weight paddle. Your shots will be more controlled if your head is smaller, so you will be able to reduce the overall weight.
Are Good Paddles Helpful for Beginners?
Beginner pickleball players can benefit from many things, and the right gear is essential. A good-quality paddle won't break the first few times you use it, but you don't need the most expensive one.
Choosing a lighter paddle may be a good idea as a beginner. Although it won't be as powerful, your wrist won't be strained. When you begin playing more, you will be able to determine whether or not you want a paddle with more power and weight.
What is the best way to hold your paddle?
Maintain a close relationship with your paddle while playing. You can make more shots early on if you improve your reaction time.
It's also a good idea to stretch before you play. The best way to prevent pickleball injuries is to warm up before playing. For preventing fatigue, walk or jog around the court, followed by stretching your wrists and arms.
Make sure you feel comfortable and secure holding the paddle. Your pickleball paddle may not be the best if the handle is too short. The paddle should not feel uncomfortable when you hold it.
You may enjoy reading Pickleball Drills for Beginners
Final Thoughts
As an exercise sport, pickleball can be enjoyed by a much broader audience than other forms of exercise. A sport that is easy to understand, badminton combines elements of tennis and ping-pong. As a result, it is ideal for people in wheelchairs, adults in their mature years, and families with children of all ages.
Picking the right pickleball paddle can be a challenge if you're trying to decide between Wood and Graphite. The gameplay of the two games is very different, despite their similarities.  Whatever you choose, you'll improve over time, whether you play with wood or graphite. Striking power and grip strength can both be improved by using either paddle option. 
This guide hopefully clarified the differences between wood vs graphite pickleball paddles. Can you tell me whether your pickleball paddle is made of fiberglass or graphite? Can you tell me what you think about it if so? If you have any comments or questions, please let us know!  
You may enjoy reading Best Pickleball Set