Pickleball does not require a high-end paddle to be played well.
A cheap AND sub-par paddle, however, can be a hindrance and a stumbling block, which is why in this article, we are looking at Best Cheap Pickleball Paddles that are both affordable (generally aiming for a pickleball paddle under $50) AND high-quality.
In short, we want you to get the best affordable pickleball paddle experience for your money. The pickleball paddle's sweet spot should be large, and the core should be made of polymer. Wooden paddles should generally be avoided.
What should you do first? The pickleball paddle marketplace is flooded with options. If you're searching for cheap paddles, the decisions become much more difficult. Quality should not be compromised. To help you find the best cheap pickleball paddles, we created this guide.
Best Cheap Pickleball Paddles Reviews
Selkirk NEO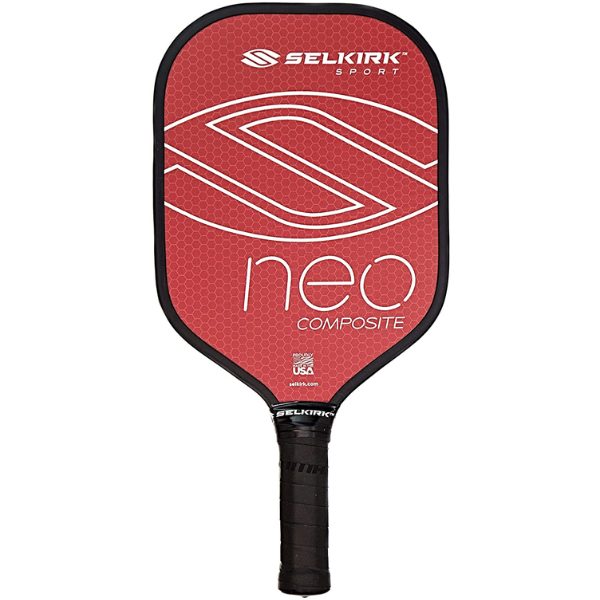 For the best possible pickleball paddle for the cheapest price, this is your best bet.
Selkirk NEO is a USAPA-approved tournament product. In the construction of this paddle, polymer has been used. 
Therefore, the paddle has a great deal of strength and durability. With this option, you can put more of your focus on power rather than spin. you may enjoy reading our guide Best Elongated Pickleball Paddles
You will feel the power behind your shots with this paddle, since it has an exceptional sweet spot. You will notice that those shots will fly off from this paddle because it's all about timing. Thanks to EdgeSentry, the edges of your paddle will be well protected against moisture and wear. If you find ThinGrip handles to be very useful for better control on your shots, then this paddle is for you. There is a standard grip size of 4.25, but if you prefer, larger and smaller grips can be ordered.
You can have more precision in your shots and better control with the thin grip handle, textured paddle facing, and lightweight construction of this paddle. The pickleball paddle that you find on the market with good looks is probably one of the best cheap pickleball paddles you will find.
If you are an intermediate player or a beginner, you should consider the pickleball paddle because of its size and length.
Gamma Phaser 2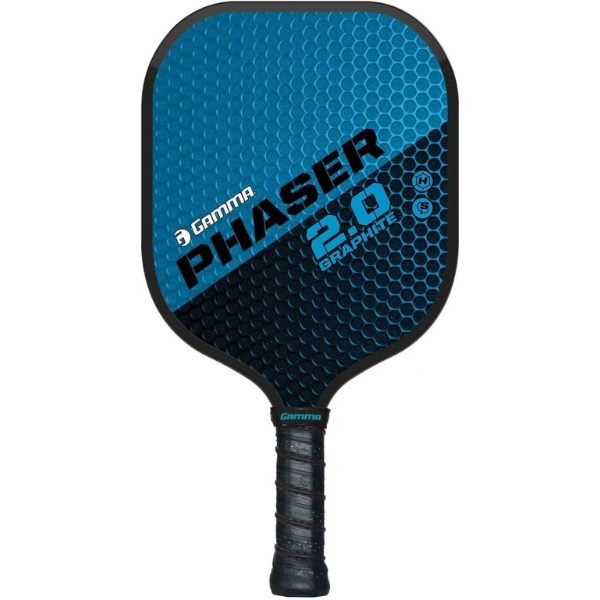 It comes in six different color combinations and is lightweight, with a honeycomb core and graphite face. Among the cheap paddles we are reviewing, this one has the best facing design, so if that's a priority on your list, look no further.
This paddle weighs between 7 and 9 ounces, and has a graphite face that is textured as well as a durable edge guard.
Beginners and novices will appreciate this paddle. By using it, you will be able to learn the game and improve with time. The weight of your paddle will determine the paddle you choose and the skills you will develop. you may enjoy reading our guide Best Pickleball Paddles for Beginners
Power and control are perfectly balanced in the paddle. We recommend it only for those who are learning new skills. You will have a much better selection of options if you have played the game before.
There is a sweat-absorbing feature in the paddle's grip, and it is very soft. Your shorts are easily controlled due to the small grip. USAPA officials have also certified that the paddle meets all quality and specifications standards.
This pickleball paddle is made of fiberglass, which is another excellent feature. You will not experience any form of air resistance during your shots and swings since the ball will move in the air very comfortably. This is one of the best reasons why a beginner would find this paddle useful.
Rally Pro Tyro 2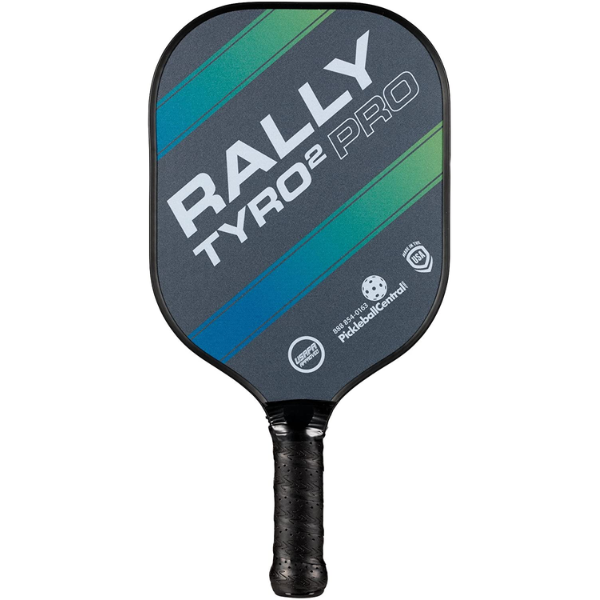 For tournaments, the IFP and USAPA approve this Rally Tyro paddle. This paddle is not poor in terms of performance just because it is cheap. 
Despite its lightweight design, this best cheap pickleball paddle is exceptionally durable, thanks to its polypropylene core. It is also vibration dampened, thanks to its materials. Control and power are not compromised. You can therefore win more often. you may enjoy reading our guide Best Rated Pickleball Paddles
A moisture-wicking cushion is also included in the grip of this paddle. This provides a comfortable grip and allows for easy shooting. Its textured grip allows you to swing easily, and its polypropylene core allows you to take powerful shots efficiently.
The paddle also does not cause any vibrations in your shorts, which is an added bonus. You will now be able to hit the target accurately, and your shots will end up where you want them to.  A polycarbonate facing is also included. 
You'll experience more power in your sweet spot with this velvety texture. Your shots will be more accurate and powerful as a result.
Head Radical Paddle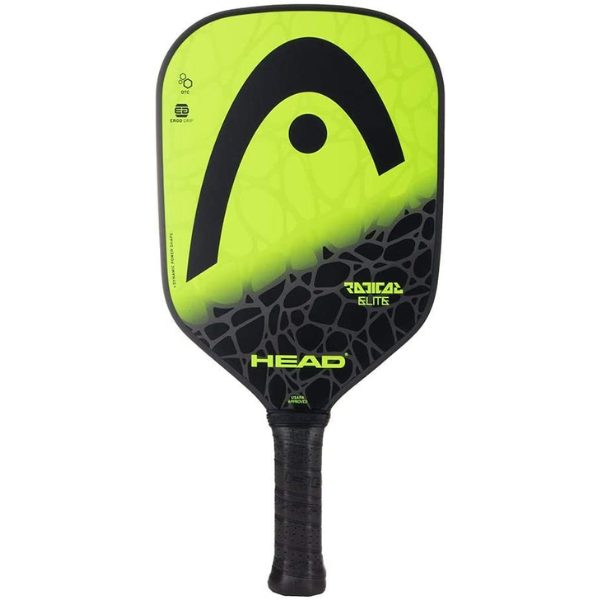 On the paddle's hitting surface, there is a fiberglass finish. You will enjoy playing your shot with this finish. When it comes to playing those powerful shots, it's one of the best options under $50.
This is a good option to consider for someone with some skills but doesn't want to spend a lot on a paddle. If you do not feel comfortable using graphite paddles, fiberglass is an excellent alternative. A honeycomb grip lets you conveniently wick moisture away from your hand so that it won't feel heavy in your hand. you may enjoy reading our guide Best Padel Rackets
With a better grip, you will be able to make those quick shots with high power. As a result of the fiberglass finish, your shots will also be easier to control. Yet this paddle focuses less on spin and more on quick shots. This is a good choice for those who love fast-paced games.
Niupipo Honeycomb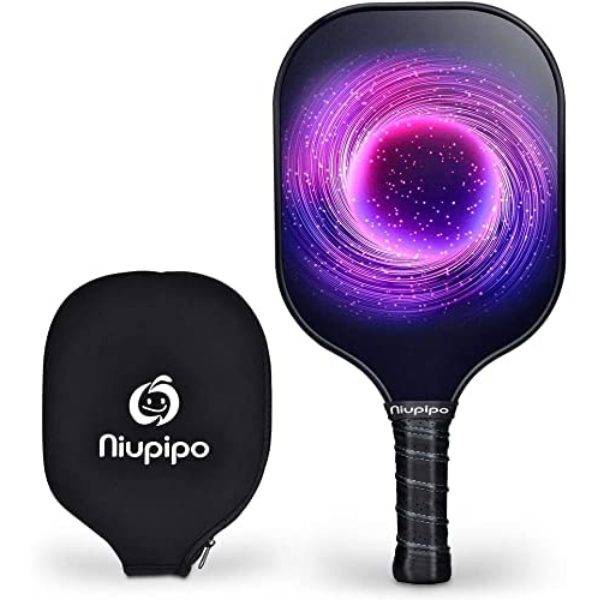 The nylon paddle with fiberglass face and polypropylene honeycomb core from Niupipo costs the least. This is the paddle for you if you're looking for the best savings.
A fiberglass face is also featured on this paddle, which is also USAPA approved. A cover will also be included with your purchase to protect your paddle while in storage.
You will have a comfortable grip while playing and all moisture from your hands will be absorbed by the material. As a result of the grip, more energy is transferred from your arm to the paddle.
Fiberglass paddles provide you with the sweet spot that you need for those power-packed aggressive shots. Paddles made of composite material are significantly lighter than those made of polymer, which means your shots won't be burdened by extra weight. Because of this, you can play with greater confidence.
Your shots will be much more maneuverable. You will be able to generate more power with this paddle. So if you are looking to improve your skills and play some powerful shots, this is a perfect choice.
This paddle is good all around for the price, but if you're willing to spend a bit more, you'll get a bit more quality and control with one of the other paddles listed here.
How to get the best cheap pickleball paddle – A Buyer's Guide
Due to the vast variety of pickleball paddles available, it becomes very difficult to choose the right one. Prior to purchasing the best cheap pickleball paddle, here are some crucial things you need to take into consideration.
Materials
You should avoid purchasing a wooden paddle if you intend to play even casually. With the advent of newer materials (composite, graphite, polypropelyne, etc) paddles became lighter, longer-lasting, more controllable, have a bigger sweet spot, provide more power, and are more powerful than wood paddles.
The price of graphite and composite pickleball paddles will rise soon as you start looking at them. You should select fiberglass, polymer honeycomb, or polypropylene in the cheap or value category, since those are your best choices. This paddle is made from durable materials, and the price is also affordable.
you may enjoy reading our guide Best Elongated Pickleball Paddles
Paddle Weight
You don't have to use a heavy paddle when playing pickleball for recreation. As for the weight, you can choose between lighter and heavier paddles. Lighter paddles will give you better control while heavier paddles are better for stronger shots. With heavier paddles, you can hit powerful shots like those long drives and serves from the baseline. Spins and maneuvers are easier with lighter paddles. You won't have any problems with paying with a slightly heavy paddle unless you have arthritis or tennis elbow.
Grip Size
It is important that you choose a grip that fits your hand perfectly and ergonomically. You won't feel comfortable playing if you aren't very comfortable with your grip. Whenever you are unsure what size to choose, it is recommended that you choose the smaller size. By holding the paddle in your hand, you can feel the grip better. Here are a few tips you may want to keep in mind as a general guideline if you shop online:
Under 5 feet 2 inches in height → 4-inch grip size

Five feet three inches to five feet eight inches → 4.25-inch grip size.

Over 5 feet 9 inches in height → 4.5-inch grip size.
Paddle size and Handle Length
You should always make sure that the size of your paddle does not exceed 24 inches, regardless of whether you are a seasoned player or are just getting started. Hence, the best dimensions for short handles are 8 inches by 16 inches and 5 inches by 19 inches for long handles.
You should be sure that your paddle is of the right size and has a wide hitting area.  Beginning players always appreciate these features. Professional players prefer paddles that are long and have good grips.
you may enjoy reading our guide How To Find Pickleball Courts Near Me
Core
Choosing the core of your paddle is extremely important, as it is the backbone of the paddle. Metal cores are typically more expensive. Ideally, you should opt for a core made of polymer or polypropylene.
This polymer-based core is lightweight and flexible thanks to its honeycomb structure. In addition to being extremely durable, the paddles also produce noise due to their lack of sound cushioning.
A lightweight and durable alternative is polypropylene. This material is becoming increasingly popular due to its light weight and durability. This material makes very little noise, which is another excellent feature.  
You will have the right amount of bounce in your shots here since the core is soft and flexible. As a result, the paddle can create that cushioning effect, which results in a less reflective paddle. You can also get paddles with aluminium cores, but they're more expensive.
Durability
Finishes and overall quality also matter here, along with core quality. No matter how cheap the paddle is, its hitting surface must have a good quality finish in order to avoid peeling. To avoid sun damage or discoloration, ensure the paddle face finishes have UV inhibitors.  
Deflection
The tramp lining effect doesn't exist with a USAPA-approved paddle. USAPA has outlined these guidelines. The spring in more springy paddles can produce more power with less effort, but control and precision will be compromised.
Sound
Several countries have some noise restrictions in place, although they might not be the most important aspect to mention here. You should choose a polypropylene paddle in such a scenario. As a result of the foam area right in the center, it has the ability to dampen sound. As a result, it is able to reduce sounds.
Edge guard
The edges of your paddle are protected with this feature and will be more resistant to chipping. As edge guards mitigate any damage caused by hitting the ground, they are essential for longevity. This is especially true for beginners. The best edge guard is of medium size, but a large one can also provide a large surface. A wider guard, however, will make your pickleball paddle heavy and negatively impact your overall performance.  
you may enjoy reading our guide Why is Pickleball So Popular
Skill level
Select a pickleball paddle that is appropriate for your skill level. Those with experience in this game prefer paddles that are longer, while beginning players prefer paddles that are wider to create a larger sweet spot. A lighter paddle may be appropriate for a novice player, while a heavier paddle may be more suitable for an expert.  
Price
It stands to reason that price is going to be the main factor when looking for the best cheap pickleball paddles. Market prices for pickleball paddles range from $15 to $200. If you are planning to use it as a recreational tool, you may want to choose the $30-$50 range. You're looking at a price range of $90 to $150 if you're looking to get the most out of your equipment.
FAQs
Is it better to have control over power?
To answer this question, you must first assess your game. Find out whether your strength lies in power or control, or if you have a balance between the two. A blend may be right for you if you like a combination of both. Ideally, you should switch between the two games. (During aggressive gameplay) it is sometimes necessary to have a stronger shot. During defensive gameplay, however, you need more control. Your choice depends on how you prefer to play.
Is a lightweight paddle better than a heavy one?   
As always, your personal preference, physical ability, and playing style will determine your choice. No rule says that you have to use a lightweight paddle if you like to play with heavy paddles. Feel free to experiment. 
You should opt for a lighter option if you have a history of injuries or issues like tennis elbow. A heavy paddle will give you more control if you are a power hitter.
you may enjoy reading our guide Why Is It Called Pickleball?
Conclusion
In summary, the best cheap pickleball paddle reviews are explained the above:
Having made your choice, which pickleball paddle will you be using next time? Would you mind sharing any recommendations with us? Let us know in the comments!
You can check out our reviews of top rated pickleball paddle in the link above if you're interested.