Despite how popular pickleball has become, there are a few problems associated with it.  It is becoming increasingly difficult to find inexpensive paddles due to the explosion in companies making them.  In other words, finding the best pickleball paddle under $50 can be a challenge.  
Over fifty dollars can be spent on a pickleball paddle, and there are literally hundreds of options to choose from.
How can you select the best one from all of them?  My goal in this post is to answer that question for you. 
You may enjoy reading Best Pickleball Paddle Under $100
In addition to sharing many of the same design principles as the Response Pro, one of Prince's best paddles, the Synapse is the best pickleball paddle under $50.
What To Look For In The Best Pickleball Paddles Under $50
Finding the best pickleball paddle under $50 is a secret I've discovered after researching pickleball paddles for years.
You're going to hear about it from me.
The common factor among all three paddles is the one thing they all share. 
Can you tell me what it is?
All of them are made by major tennis racket brands and have proven to be highly popular in pickleball.
What is the significance of this?
The truth of the matter is that anyone can manufacture cheap $50 paddles from China and then sell them on Amazon and make some cash.  
There are, however, many paddles of those types that are not certified by the USAPA.
It is not uncommon for small knock-off paddle manufacturers to make USAPA-certified paddles.  
There are a few companies that make more expensive paddles, but they don't make $50 paddles.  Their lineup does not include paddles above $50.  There is no high-end series available from them.
In order to get the most out of a more affordable paddle, paddle companies must know how to make a premium paddle.  
Wouldn't you choose a racket or paddle made by a big name company if you were going to choose a cheap, $50 paddle?  Can it make high-end, elite paddles within the $150 price range as well?
That's why the best $50 paddles are made by Prince, HEAD and Wilson. These paddle companies know how to make their inexpensive models just as functional as their higher-end models. 
If I was going to play with a paddle from a little-known brand that only specializes in cheapos, I would rather play with a $50 paddle from Prince, a racket and paddle sports giant.
You may enjoy reading Paddletek Tempest Wave Pro Pickleball Paddle
If I am going to spend $50 anyway, I might as well go with an expert brand.
A great starting point for anyone new to pickleball is my guide on What Is Pickleball. 
Take a look at the link to find out How To Get Better at Pickleball
The Best Pickleball Paddles Under $50
The Prince Synapse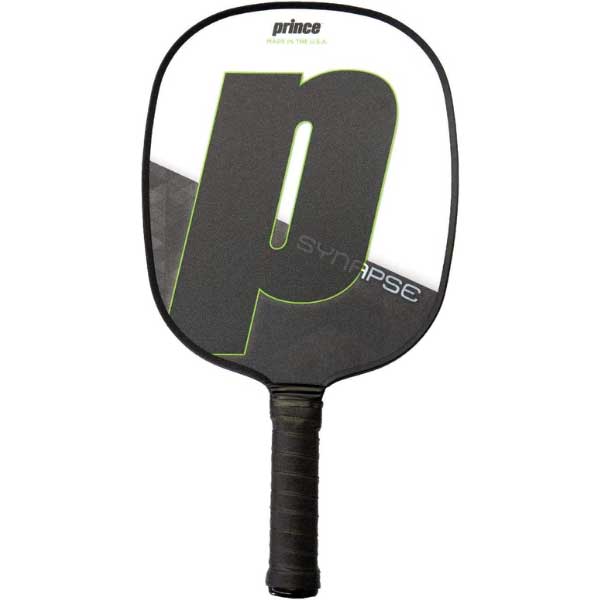 Among my favorite pickleball paddles under $50, the Prince Synapse has characteristics similar to both my all-time favorite paddle and the one I am currently using – the Prince Response Pro.
You may enjoy reading Best Pickleball Nets
Prince Synapse Design
As a matter of fact, the Synapse has design elements that are derived from Prince's Response Pro and Spectrum Pro paddles, two of their most popular and expensive paddles.
The shape is the most common shared concept.  Prince paddles are famous for their rounded oval shape, which gives them a very forgiving paddle face and a huge sweet spot.
Whether you're a beginner or an intermediate player, that wide oval paddle shape with that textured fiberglass finish will cater to all levels of players.
This, coupled with the Synapse's textured fiberglass face, makes it a pickleball paddle with major performance potential despite its teeny $50 price tag.
Prince Synapse Specs
The Synapse's width is one of my favorite features. As with Prince's other more expensive paddles, this paddle has an 8 1 4″ width.  
The wide body feels and oval shape of the Synapse will appeal to beginners.  
Including the handle, the paddle measures 15 34′ long, which is pretty long for a paddle this wide. 
There was a purpose behind Prince's actions.
You may enjoy reading Best Selkirk Pickleball Paddles
What's the reason?  
A female player may be able to play with a two-handed backhand if they have small hands.  Your tennis background will make this feel amazing!
A longer grip length will give you a better "whip" if you're a male player. Men may not be able to perform two-handed backhands, but they will still enjoy the extra "whip" they get.  
In addition to making topspin forehands easier to execute, this also makes them more effective.  
Synapse's paddle face and core are made of polypropylene and fiberglass (textured). 
The Synapse's touch, power, and accuracy are all attributed to these two paddle specifications.
The paddle core distinguishes the Synapse from Prince's higher-end paddles.  The Response Pro and Spectrum Pro use higher grades of polymer across the paddle face than the Synapse which uses polypropylene.
With a honeycomb-shaped polymer core, there are fewer dead-spots and more sweet spots.
Synapse for $50 doesn't offer that.
Note from Editor: The $50 paddle below from HEAD has a honeycomb core. For more information, keep reading.
It is comforting to know that Prince has made a good paddle for that $50 price tag. 
Average weight of 7.6 ounces is found on the Synapse paddle.  In terms of weight, it's on the lighter side, but it's a good starter weight for those just starting out. 
The Head Radical Elite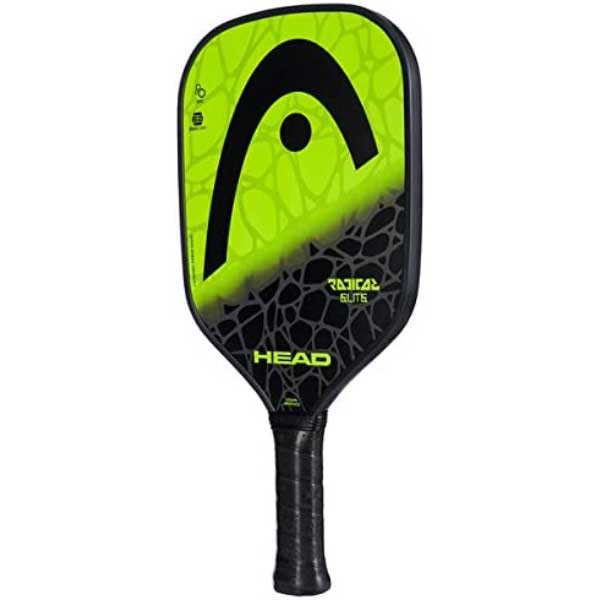 In my opinion, the Radical Elite paddle from Head is the best pickleball paddle under $50.  
HEAD is a serious racket sports brand that you're likely to be familiar with if you've played tennis.
From beginner-level paddles to pro-level paddles, they make a wide range of pickleball paddles.
Sarah Ansboury is sponsored by HEAD and is a 5.0 professional and gold medalist.
You may enjoy reading Best Graphite Pickleball Paddles
HEAD Radical Elite Specs
However, the Radical Elite remains a very good beginner paddle even though it is heavier than the Synapse.
There is an average weight range between 8.1 and 8.3 ounces for this product.  It's designed for those who like their swings to have a little more "oomph.".
For easier reach, the paddle face measures 16 inches long.  New players will find it more forgiving because of this.
The paddle width is 7 7/8″, a perfect match for the 16″ length, making this another great wide-body paddle.
This $50 paddle has plenty of paddle surface thanks to its wide width and long body, as well as its slightly heavier 8.1-ounce weight.
You may enjoy reading Best Lightweight Pickleball Paddles
This is an excellent option if you are just learning the game…but would like your swings to have some pop.
Last but not least, there is its honeycomb polymer core and smooth fiberglass composite paddle face.
In spite of its $50 price tag, the "single-piece" construction of this paddle makes it even more unique.  
A single piece of material is used for both the paddle face and its five-inch grip of the paddle.  
The paddle face and the handle of many inexpensive pickleball paddles are separate pieces, making them a "two-piece" design.  
Many paddles, regardless of price, break at the point where the handle connects with the face.
You get a more durable build with a single-piece design.
The Wilson Profile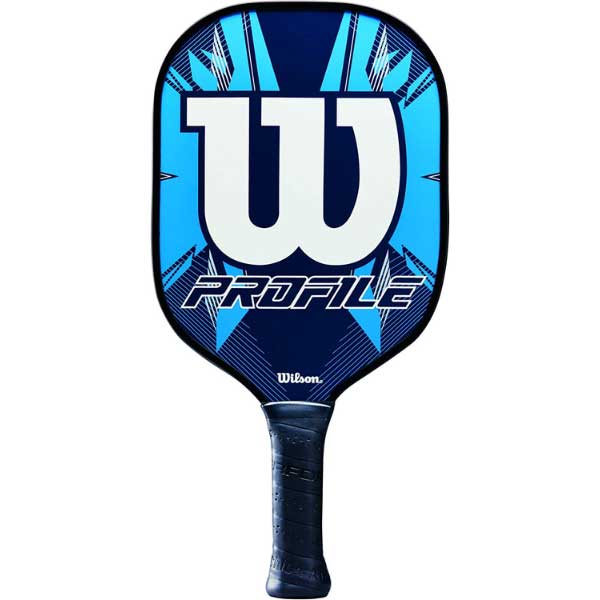 This is my no. 3 pick because of its affordability under $50 (depending on which color you pick) and its manufacture by tennis heavyweight Wilson.  
Wilson Profiles have lightweight graphite faces and honeycomb polymer cores, making them great starter paddles.
As far as weight is concerned, Wilson made this graphite paddle quite a tank, weighing in at 8.4 ounces.  A graphite paddle that heavy is unusual.
Although graphite paddles tend to be the lightest paddle material available, the Wilson Profile has plenty of weight to it.
With its added weight and longer 5-inch handle, the Profile has good power as well as a good touch at the net thanks to the graphite face.
You may enjoy reading Best Quiet Pickleball Paddles
Wilson has discontinued the Profile, which is the only reason it comes in at #3 on my list.  There is now a $50 price point for their cheaper line of pickleball paddles.
The Profile paddle is still a good choice and is available on Amazon easily.
I'd confidently recommend the Rally Flare if you're leery of a paddle no longer made by its manufacturer.
There is no big paddle or racket company making the Rally Flare, but it is a reliable $50 paddle widely used by beginners.
Best Pickleball Paddles Under $50 – Final Thoughts
The three paddles listed below are the best pickleball paddles under $50 on the market today.  I cannot choose between the Prince Synapse and the Princess Synapse.  All of them, however, are worth their $50 price tag.   
In addition to Pro-Lite, Selkirk, Engage, and Paddletek, none of the big pickleball manufacturers had paddles available. 
What is the reason for this?
Well, it's pretty simple.  Paddles in this price range are simply not made by these heavyweight pickleball paddle makers.  
The $50 paddles offered by Prince, HEAD, and Wilson are excellent choices until they expand their lineup to include more affordable versions.
You may enjoy reading Best Pickleball Sets