Pickleball is a game that can be enjoyed by anyone, no matter what level of play you have.
Pickleball, after all, is a social activity, which means that it is supposed to get people interacting with one another while playing. When you play, shouldn't your clothing say something too, if you're going to be talking?
Pickleball is getting more and more attention as one of the most rapidly growing sports in the country. Equipment manufacturers will be making more specialized paddles and other gear for players as a result. Women and men are both wearing the best pickleball shirts made by apparel companies.
Don't forget to pack your pickleball paddle with all this awesome gear.
Best Pickleball Shirts 2023
While pickleball is growing rapidly in popularity, many people are still unaware of this sport. The unique name of the game, along with terminology such as "dink" and "kitchen", make pickleball shirts both funny and cool.
The tone of the game can be set by wearing pickleball apparel when you play. When you wear a shirt that shows off how passionate you are about the game, your opponent knows not to take you lightly. As an alternative, wearing a humorous shirt will signal to the subconscious that you're there to have a good time. No matter how you do it, you're sending the message that you're passionate about the game.
The Game's Ambassador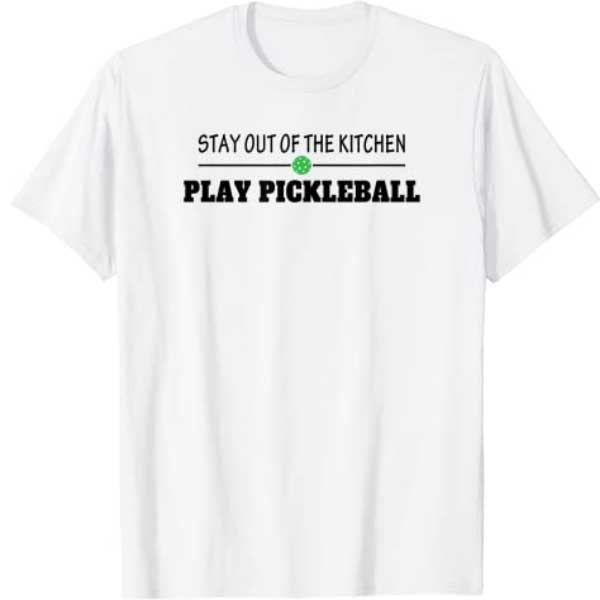 Print shirts have been used for communication since the 1970s when people created pithy sayings to express themselves.
You can encourage countless people to play pickleball by displaying your love for the game on your shirt as you go about your daily routines.
You can introduce more people to pickleball by wearing a provocative or funny t-shirt.
Best Pickleball Shirts
A humorous pickleball shirt makes you laugh and feel better, and that is the best medicine. Shirts like these will make pickleball fans smile, regardless of their sense of humor. In addition, all of our top picks are available in styles that can be worn by both women and men.
Here are some of the best pickleball shirts:
1. I Don't Always Play Pickleball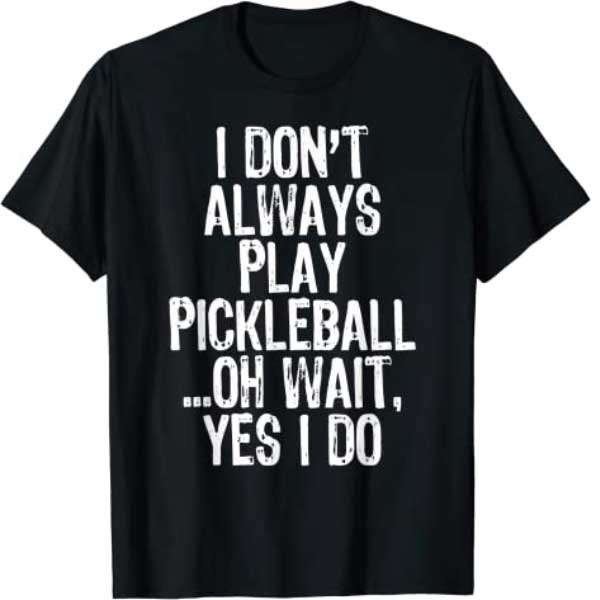 In pickleball, aficionados know that the game can become so addictive they can't get enough of it.
It will bring a chuckle to wear this tee that pays homage to seemingly endless play.
Featured here is an all-white tee in 3 color variations, ranging in size from small to 3XL.
For women, the same three colors are available, along with sizes small through XL.
2. Dink'n Go Nuts Pickleball Paddle Tshirt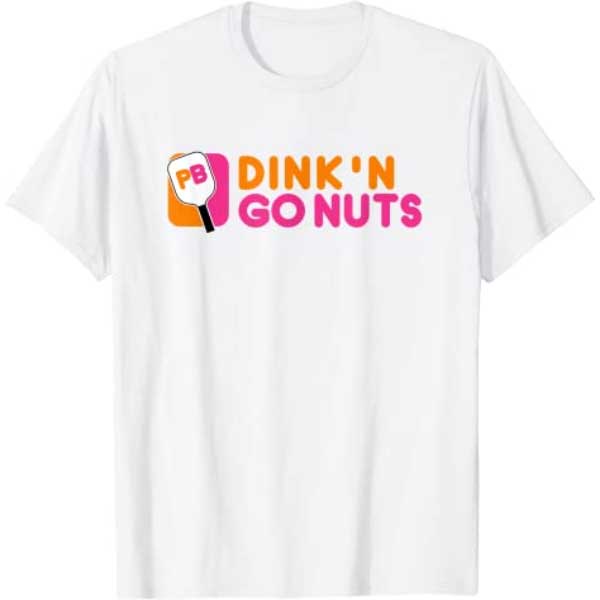 You'll recognize the clever play on a popular doughnut maker's logo after just one glance at this Dink'n Go Nuts pickleball shirt.
This pickleball parody is the perfect combination of colors and style.
There are four different color options and sizes available for this shirt for men.
Women's shirts come in the same four colors as men's shirts but come in a smaller size range of small to XL.
3. Just Dink it! Funny Pickleball Gift Watercolor T-Shirt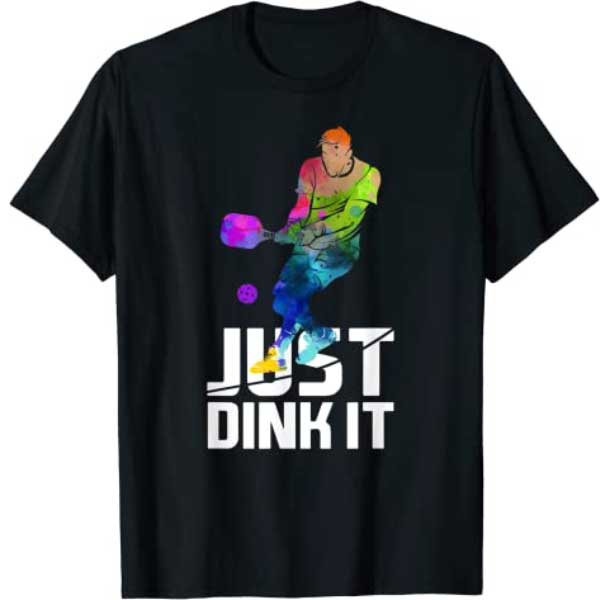 A more modern take on a recognizable brand completes our #4 pick.
While the previous shirt featured a brand's logo, the Just Dink It tee targets a slogan. As a result, pickleball is complete.
We offer this men's Just Dink It t-shirt in two different color choices and sizes ranging from small to 3XL with a watercolor design.
Women's Just Dink It t-shirts come in the same design and shirt colors as men's t-shirts, and they range in size from small to XL.
4. Pickleball I Dink in the Kitchen Warning T-shirts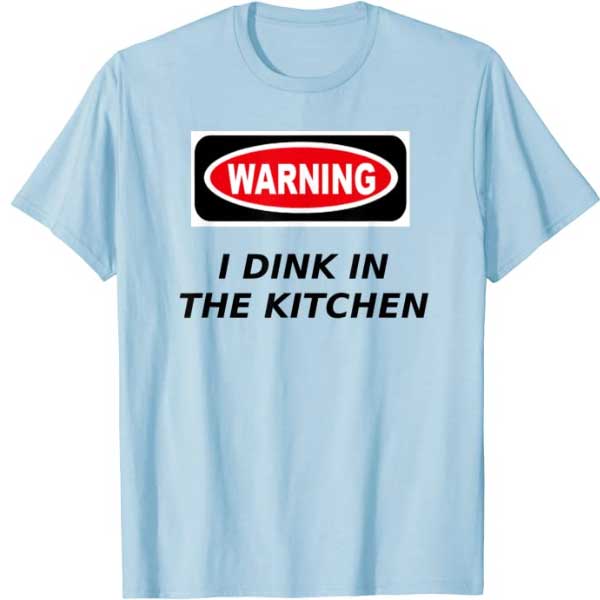 Another alcoholic allusion paired with a play on words makes up our #4 pick for funny pickleball shirts. On your next trip to the pickleball court, you're sure to get grins when you see the graphic and the slogan.
Men's sizes and colors are available in this shirt, with a choice of 5 distinctive colors.
Women can choose from the same five color options as men, but with a smaller size range of small through XL.
5. Funny Pickleball T-Shirt Old Pickleballers Never Die Dink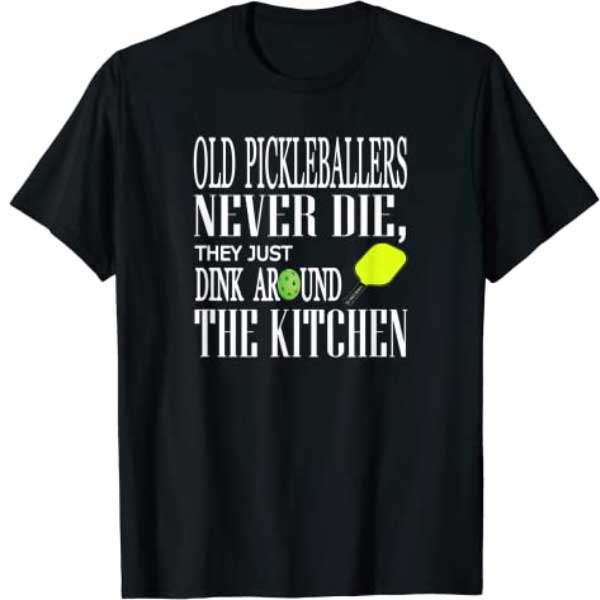 The growing number of middle-aged and senior players shows that pickleball is not just for the young.
It is the perfect t-shirt for anyone who loves the game and intends to continue playing for as long as their bodies allow.
There is a caption that says, "Old pickleball players never die… they just dink around in the kitchen".
There are several sizes available for the men's version, while for the women's version, there are small to XL.
Best Dri Fit Pickleball Shirts
With Dri Fit shirts, you'll stay dry and comfortable during your workout.
It does so by diverting sweat away from the body and allowing it to evaporate on the fabric's surface.
Several Dri Fit shirts are available, but there aren't that many that are made specifically for pickleball. A good one with both male and female versions was found, however.
Men's Dri Fit Pickleball Court Shirt
The Pickleball Rocks white is a great example of mens pickleball shirts dri fit. Available at Drinkers & Bangers. The subtle and attractive pickleball court design on this polyester shirt makes it a great pickleball shirt.
Pickleball court shirts for men are available in red and navy blue, and sizes range from small to 2XL.
Women's Dri Fit Pickleball Court Shirt
The Pickleball Rocks Live Laugh Play shirt comes in red and purple colors and has a v-neck. These pickleball shirts are available in sizes ranging from small to 2XL.
Best Pickleball Shirts For Men
Pickleball enthusiasts want the best gear, which means they want to make the most out of their time playing. It's no surprise that most pickleball players choose shirts that convey their approach to the game as part of their equipment. The top men's pickleball shirts are listed below.
1. Never Underestimate An Old Man With A Pickleball Paddle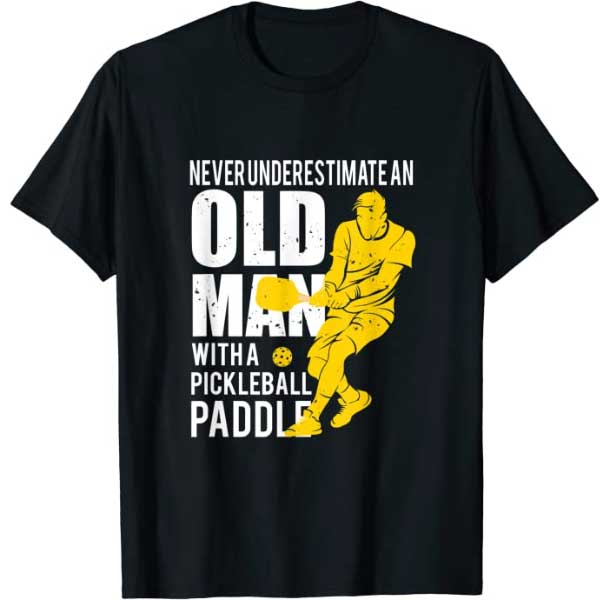 The best men's pickleball shirt we recommend is one that is aimed at old men, but works for men of all ages.
With its humorous message "Never Underestimate An Old Man With A Pickleball Paddle", it represents how appearances can deceive, particularly when it comes to court prowess.
This stylish design is available in five different colors and sizes that range from small to 3XL, meaning there is an option to fit every man.
2. Pickleball T-Shirt: Major Leagues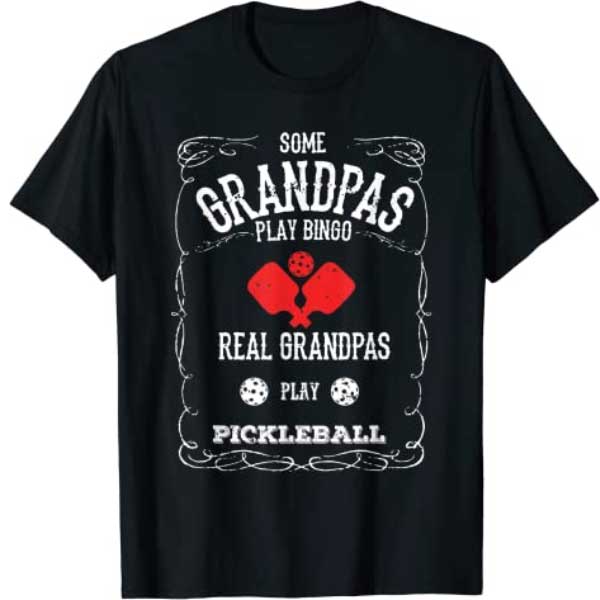 A spin on a classic sports design is our 2nd pick for the best pickleball shirt for men.
Using the distinctive colors and design of Major League Baseball, this t-shirt features a player and the word "pickleball.". Even though baseball may be the nation's favorite pastime, this shirt hopes to change that.
The striking pickleball t-shirt is available in 5 different colors and sizes ranging from small to 3XL.
3. Real Grandpas Play Pickleball T-Shirt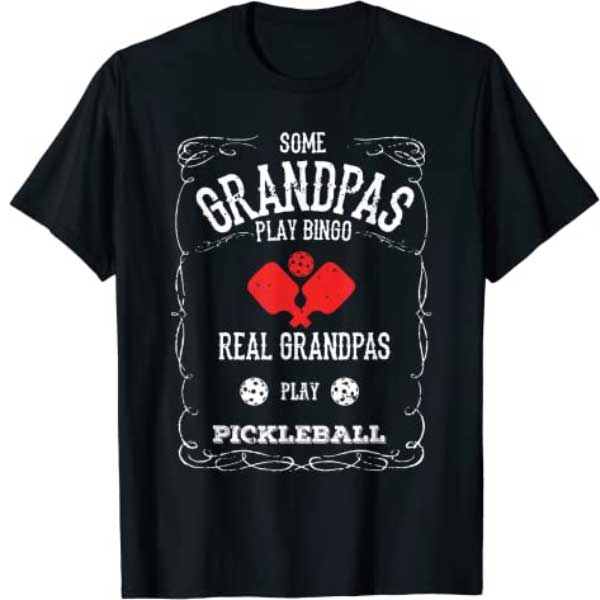 Pickleball shirts for men targeting patriarchy are the third option in our list.
With its message that "Real Grandpas Play Pickleball", this shirt plays into the stereotype of old men wasting their time marking bingo cards.
With five colors and sizes ranging from small to 3XL, there is a version of this shirt that will please even the pickiest of grandpas.
4. Old Man With a Pickleball Paddle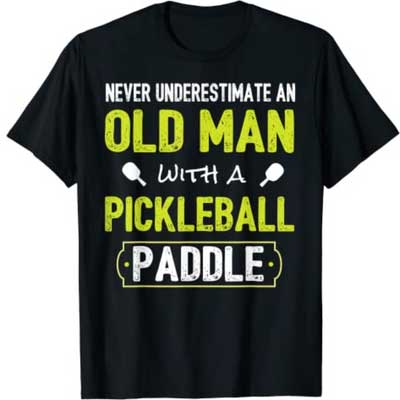 You could give this as a gift to your favorite retired pickleball player!  Pickleball shirts make excellent gifts for dads or grandfathers who are always showing the young bucks how good pickleball looks!  
Play in comfort and style in this 100% cotton shirt!  In addition to kelly green, royal blue, asphalt, brown, and black, it is also available in other colors.  Featuring a classic fit, lightweight construction, and double-needle sleeve bottom hem.  This shirt does not come in a women's version.
Best Pickleball Shirts For Women
With so many women's pickleball shirts available, women have a variety of options to choose from when selecting apparel for their games. The pickleball shirts for ladies below are perfect for women of all ages, sizes, and shapes.
1. I Know I Play Like A Girl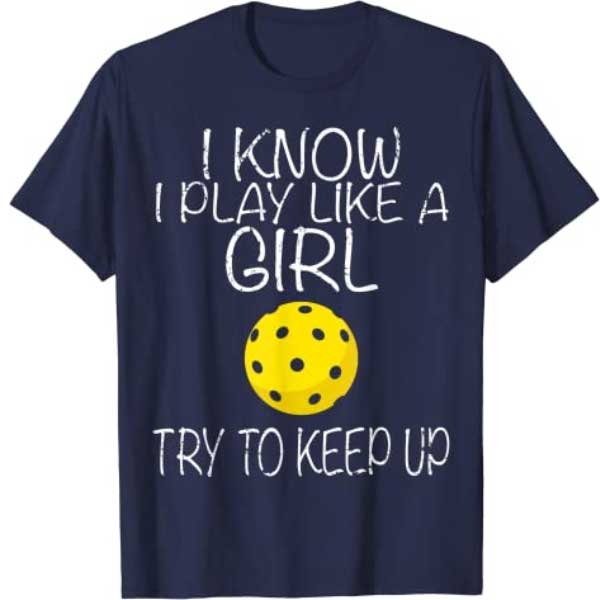 Taking a tired taunt and turning it upside down, here is our pickleball shirt for women.
It says "I know I play like a girl… try to keep up with me".
Using this response demonstrates to others that you are a serious pickleball player and aren't intimidated by any opponent across the net.
T-shirts fit women sized small to XL, and come in five different colors.
2. Pickleball EKG T-Shirt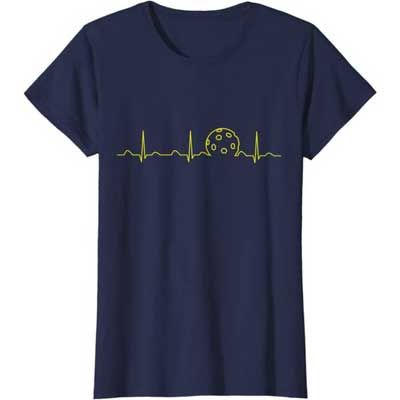 It's a must-have pickleball t-shirt if you're a pickleball enthusiast like us!  This shirt is perfect for anyone who loves the game.  Both men's and women's versions are available in navy, asphalt, kelly green, black, and brown.  An EKG heartbeat graphic is incorporated with a pickleball paddle and ball.  There will be no denying how passionate you are about this sport in this classic-fit t-shirt!  With a paddle and a ball, communicate that pickleball is your passion!
3. Keep Calm and Pickle On Pickleball T-Shirt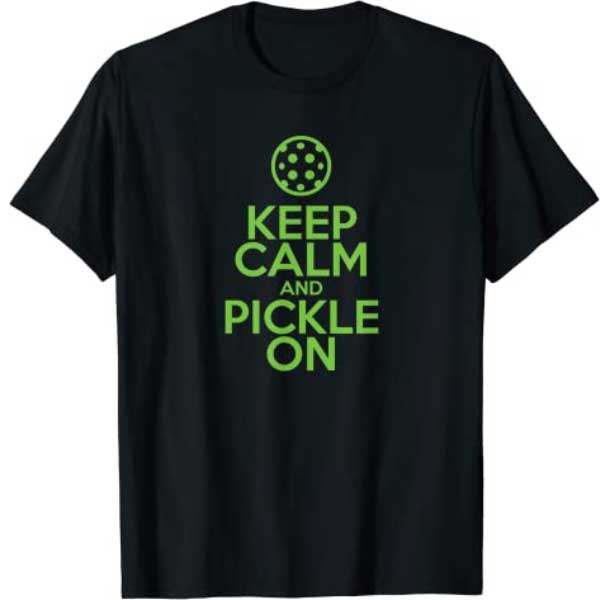 We chose a modern take on a classic phrase from history for our favorite ladies' pickleball t-shirt.
In pickleball, the phrase "Keep Calm and Pickle On" is meant to emulate the famous British motto from WWII.
Women can show their poise on the pickleball court with this stylish shirt, which comes in five colors and sizes from small to XL.
4. Dink'n Go Nuts
Would you have ever thought Dunkin Donuts' classic moniker would be used for a pickleball shirt?  Someone came up with this brilliant idea, and we love it!  The dinking aspect of the game can indeed get NUTS for anyone who has ever had a long volley point at the net. This is another clever play on words, as well as a subtle reference to the game's most important aspect – dink play!
Only four colors are available for this shirt: white, grey, yellow, and black. It does not matter what color shirt you wear, Dunkin Donus' classic color pattern and font will remain perfectly legible.  In addition, the pickleball paddle named "PB" fits seamlessly into the design.  Do you get it?  Is it possible to sew a shirt seamlessly?  OK, we'll let the people who design the pickleball shirts do the clever pun stuff.
5. Stay Out of the Kitchen Play Pickleball T-Shirt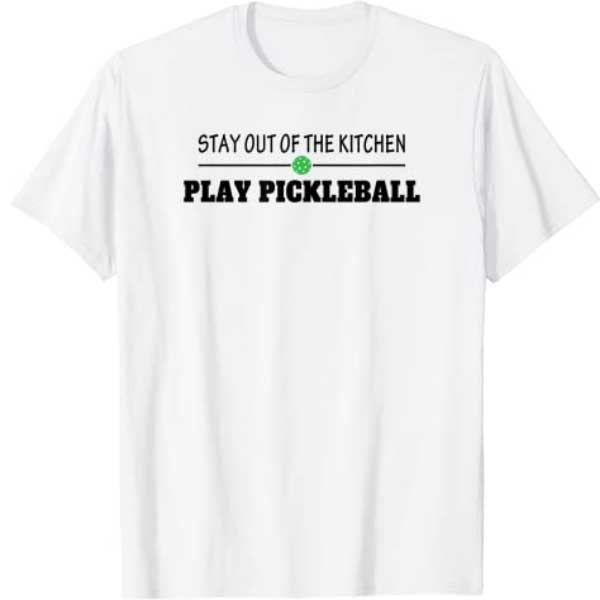 In our third pick for the best women's pickleball t-shirt, we take an old stereotype and combine it with pickleball terminology to come up with a clever statement.
"Stay Out of the Kitchen – Play Pickleball" is printed on this shirt using an attractive and fashionable design.
The comfortable cotton shirt is available in five different colors and fits women's sizes small to XL.
Buying Guide for Best Pickleball Shirts
In order to play pickleball successfully, players must wear the correct pickleball apparel. Even an expert would have doubts when picking out the perfect outfit, regardless of how much experience he or she has.
You can choose from a variety of brands. It is, however, important to consider a few factors before buying. There are many factors to consider, such as size, comfort, design, etc. Personal preference ultimately determines what works for you.
Several factors must be considered when purchasing the right clothing. They are as follows:
Design
A variety of designs are available. The list of pickleball t-shirts includes trendy t-shirts, basic tees, graphic tees, sweatshirts, funny pickleball shirts, and more.
You should always pick a design that matches your personality the best. You'll be able to stand out on the court that way. Funny designs like "Whose Serve?" are available. I guess it's like a huge Dill, just dip it, Life is a good pickleball shirt, etc.
There are some t-shirts with inspirational quotes like "You can do it" or a pledge printed on them. You can choose it based on your preferences.
Size
For pickleball to be played efficiently, the right size is crucial. The looseness or tightness of your clothing may make you feel uncomfortable during play.
Sports like pickleball require a great deal of movement. Therefore, it is very important to take the size into account when playing.
Sizes are available in a wide range. XS-3XL are the available sizes. The main factor is what the brand offers. Wear t-shirts and move around a bit before purchasing them. The only thing that matters is whether you feel comfortable wearing it.
Purpose
Make a decision before buying the t-shirt about why you want to buy it. The t-shirt should be able to move freely if you are wearing it for a tournament.
You will stand out the most if you wear nice-looking shirts with fun designs if you play casually.
You may enjoy reading Where to Play Pickleball NYC?
Comfort 
When purchasing a pickleball t-shirt, you should consider your own comfort. What's the point of wearing a flashy t-shirt if you don't feel comfortable when playing?
It might seem attractive to choose a design that is cool and funny but always stay mindful of your comfort. You should buy polyester shirts if you are a competitive player. You can keep dry by wicking away moisture. A cotton shirt is a suitable choice when you are playing casual games with your family.
Fabric Quality
It is possible to determine the durability of t-shirts by the quality of the fabric. You can experience a more flexible and breathable experience by wearing cotton t-shirts. It is possible for them to become worn out after several washes.
Buying professional pickleball shirts is a good idea if you're competitive. A performance t-shirt is made from a premium polyester and is known as a performance t-shirt. This makes them more durable. You won't have to worry about them getting destroyed after a few washes. Pickleball shirts can also be found that wick moisture away from the body. Body moisture is wicked away by it.
As a gift, a pickleball shirt
Gifts such as pickleball t-shirts make great pickleball gifts. Almost anyone can receive it, whether it be your parents, grandparents, younger siblings, or even your close friends.
Get pickleball addicts funny t-shirts as a joke if you have friends who are addicted to pickleball. It would also be nice to give your grandparents t-shirts with inspirational quotes on them. You decide what's best for you!
FAQs on Pickleball Shirts?
Is there a dress code for pickleball?
There is no dress code for pickleball. It is acceptable to wear whatever you like in many sports, as long as it is within reason. Pickleball players should always wear generic athletic clothing.
How Do People Dress for Pickleball?
Clothing that players like to wear and is comfortable is worn by players. Moisture-wicking shirts and other athletic clothing are very popular. The more casual graphic t-shirts, however, are preferred by some players.
What is the Best Pickleball Shirt?
BALEAF's quick-dry men's pickleball shirt is our favorite pickleball shirt. Flatlock seams and tagless collars make it very comfortable. For those who play pickleball outside in hot weather, it also keeps you cool by wicking away moisture.
What is the best brand of pickleball t-shirts?
The best pickleball t-shirt brand is not de facto-defined. A few brands that we have found to be high quality are BALEAF, Russel Athletic, and C9 Champion. Furthermore, their wide range of colors and affordability make them a great option.
Where to Buy Pickleball Shirts?
Sports retailers should offer pickleball-specific clothing since pickleball attire can be very generic. In contrast, if you're looking for pickleball-specific clothes, you'll need to visit a specific store. There are many websites that sell such shirts, including Amazon, Etsy, and Spreadshirt.
Final Thoughts
You can find tons of the best pickleball shirts out there, and which one you like best depends largely on whether you like sporty or funny shirts. As a result, we recommend the BALEAF men's quick-dry shirt for men. This polyester-spandex mix shirt keeps you dry and breathable while wicking away your body's sweat. It might also be worth grabbing a few different colors for variety since there are a lot of colors to choose from.
We chose the Amazon Essentials women's tech stretch t-shirt as our favorite women's shirt. Almost identical in material and style to the BALEAF shirt, it's a v-neck shirt made from polyester and spandex.
Pickleball players will find it both flattering and comfortable. It's the two-shirt deal that made it stand out over the rest. In addition, it has several excellent reviews on Amazon, making it one of the most highly-rated women's sports shirts.
You can find the Best Pickleball Bags post if you're looking for a bag to hold your pickleball shirts, paddles, and other gear.
You may enjoy reading our guides: