Take your game to the next level with the latest footwear. Pickleball is in vogue right now, in case you weren't aware. With the development of pickleball courts and playing facilities, America's fastest-growing sport has created a booming train (for the second year in a row). Private investors and local governments are rushing to build pickleball clubs and public courts because the game is so friendly to all ages and levels of competition.
It's time to begin vetting the best pickleball products because the exponential growth of pickleball has made it a legitimate industry. Investing in proper footwear is one of the most important areas to consider when investing in pickleball paddles and balls. It's time to talk about pickleball shoes. We have a guide on Best Pickleball Shoes for Women if you are a woman and want to buy shoes
It is important to consider both traction and lateral stability when choosing the Best Pickleball Shoes for Men. During fast-twitch movements, you'll move in various directions, so you'll need strong outsoles with responsive tread patterns and a midsole that is constructed for side-to-side movement. For lateral stability, a shoe will have a wider platform, a stiffer lower structure, and a heel pocket designed to help prevent ankle injuries. The weight, comfort, and breathability of a pickleball shoe should also be taken into consideration.
Here you'll find a variety of brands making pickleball shoes (a recent trend that has legitimized the sport), as well as brands with sports models that are similar (think tennis and volleyball shoes). These pickleball shoes, regardless of their designation, are among the best. You've got to equip yourself with the right kicks if you want to optimize your game!
Best Men's Pickleball Shoes
K-Swiss Men's Express Light Pickleball Shoe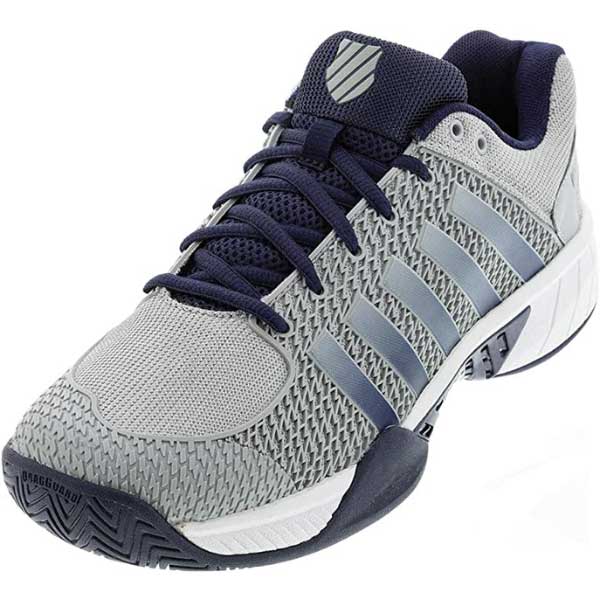 The brand has quietly been creating game-ready pickleball shoes for a wide range of price points, but you might not expect it to be at the top of the pickleball shoe game. This wallet-friendly Express Light comes with a 180-degree Plantar Support Chassis, as well as a DURAWRAP cover that reduces toe drag. You can usually find these kicks in a variety of colors, so if you need a pair right away, you can count on them to arrive quickly.
ASICS Men's Upcourt 5 Volleyball Shoes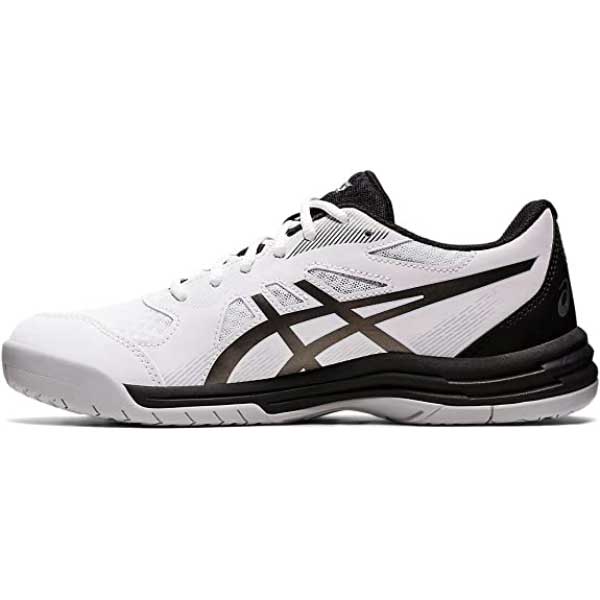 With the Upcourt 5, Asics brings its top-selling model to the next level. A favorite of indoor volleyball players and indoor pickleball players alike, this shoe is also a must-have. 
With some of the strongest traction in the game, it's lightweight and sturdy. These bad boys aren't going to let you slip and slide on the gym floor.
Men's ASICS Gel-Rocket 8 Shoes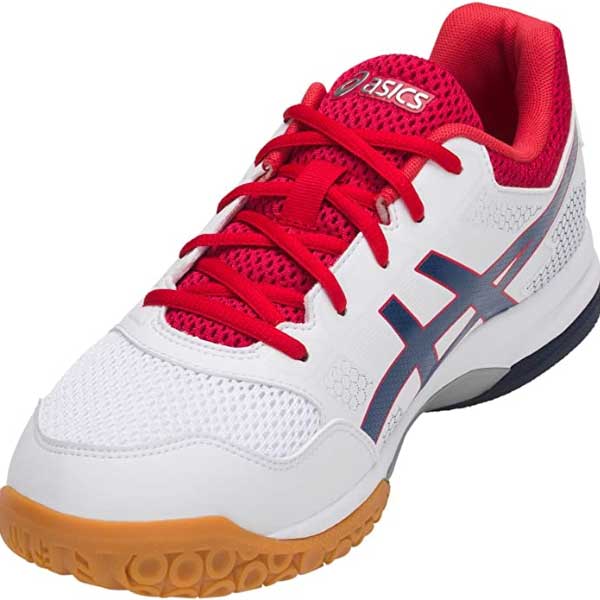 We recommend the ASICS Gel-Rocket 8 as our number one pickleball shoe recommendation for men and women alike.
Gel-Rocket shoes are perfect indoor pickleball playing shoes because of their grippy, gum rubber outsoles. Pickleball courts made of hardwood require a material that provides excellent traction.
Furthermore, they are exceptionally comfortable and offer exceptional flexibility, in addition to their excellent traction. Due to the stiff soles of court shoes, this is somewhat uncommon. The Gel-Rocket 8 doesn't seem to have that problem. Wearing no shoes will allow you to be as agile and dexterous as if wearing no shoes at all!
A patented gel cushioning system from Asics provides outstanding shock absorption in the men's Gel-Rocket 8.
Gel-Rocket sneakers are made in different designs and color schemes, making them great pickleball shoes. Others have a more retro feel, while others look more modern. We're sure you will find at least one design that fits your personal style.
Furthermore, the Gel-Rocket 8 from ASICS is extremely affordable. Even though it comes at a midrange price, its performance is certainly above average.
K-Swiss Men's Hypercourt Express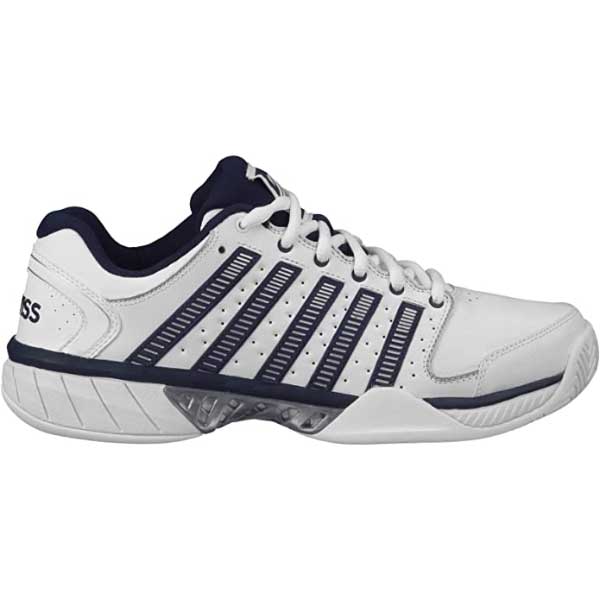 The Hypercourt Express tennis shoe for men from K-Swiss is no exception to its reputation for high-quality athletic footwear.
Despite some not appreciating the wide design, we found it to be more helpful than hindering. Although the shoe had a wider base, it never felt clunky; instead, it aided in stability and balance while playing pickleball.
The shoes stand out from the pack due to their exceptional level of comfort, and this helps justify their clearly premium price tag.
For other shoes that have a soft, plush interior, heat and ventilation may be a problem, but not the Hypercourt Express. Our surprise was that these shoes provided more ventilation than most competitors. While keeping your active feet relatively cool and dry, these shoes provide great cushion and comfort.
You may enjoy reading How to Choose The Best Padel Shoes
These best pickleball shoes for men are also surprisingly lightweight, considering their seemingly larger "footprint." They are among the lightest shoes we evaluated. It is a pretty rare thing to find lightness in court shoes, as they often sacrifice support for increased lightness.
The pickleball shoes you find here are definitely some of the best on the market. This premium-level quality is only available for a bit more money.
Under Armour Men's Ultimate Turf Trainer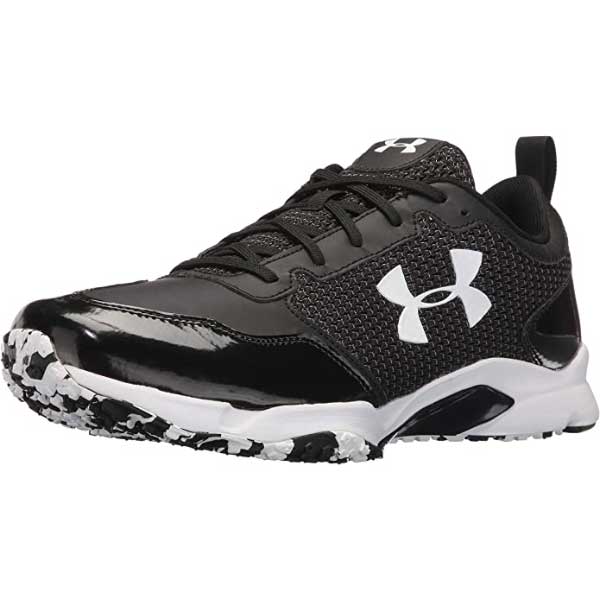 A classy-looking shoe, the Ultimate Turf Trainer from Under Armour is all black and white. Wear them when you're not ballin' it up on the pickleball court, too! They look so nice, in fact, that you might be tempted to wear them all the time!
Under Armour's innovative Super Foam provides a high rebound insole for the Turf Trainers. In addition to providing excellent shock absorption, this insole provides excellent cushioning and support for long pickleball matches.
Adding to this high level of comfort and stability is the full-length "Micro G" midsole. It enhances your stability and dexterity on the court by giving the shoes a very responsive feel and performance.
You can easily play pickleball on concrete outdoor courts with the lightweight outsole provided. Almost impossible to believe, the shoe weighs only 10.6 ounces! As a result of padding the toes and sides of the shoe in order to support lateral movement, court shoes tend to be heavier than other shoes. Additionally, the non-marking outsoles won't scratch your wood floors when you walk inside.
Mesh materials combined with synthetic leather construction make them exceptionally breathable.
Overall, these shoes are incredibly comfortable, breathable, and provide excellent traction on pickleball courts outside. As far as we are concerned, these stylish shoes are more like co-champions than runner-ups.
Nike Men's Court Lite Tennis Shoes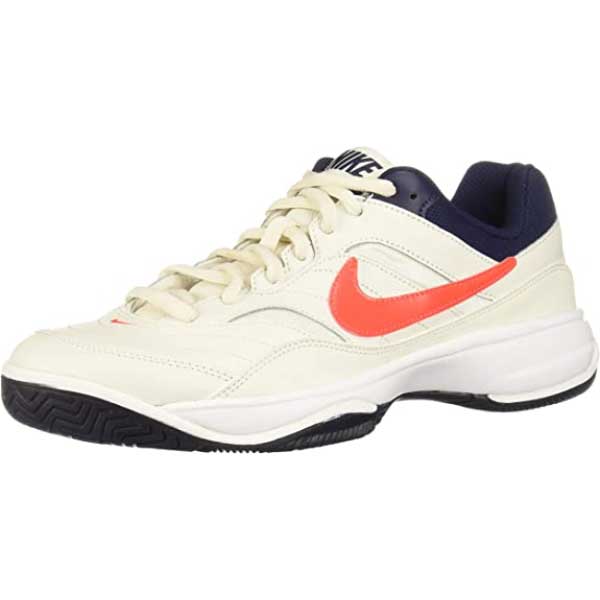 Nike is usually the first name that comes to mind when people think of top-notch athletic footwear. Among the many reasons why Nike is regarded as one of the best in athletic gear is that the company has been making outstanding gear for decades.
One more reason to be confident in the greatness of Nike's legacy is their Court Lite tennis shoes. The price of these outstanding kicks is Nike-level, but you won't be disappointed with the durability or performance.
In particular, the mesh tongue of the Court Lite shoes is a clever design feature. Your feet will stay cool and fresh throughout long pickleball matches thanks to enhanced breathability through the tops of the shoes.
As well as providing excellent cushioning and arch support, the Phylon midsole is another great lightweight option.
A more important aspect of this best men's pickleball shoe for indoor play is the additional material in the toe area which helps protect your toes from blunt impacts.
These Nike shoes certainly deliver in the outsole department as well, and that's an important aspect of any indoor pickleball shoe. The innovative GDR outsoles from Nike will provide you with top-level grip and traction.
When it comes to athletic shoes, Nike can't be beaten. These are certainly deserving of more than a mention, even if they may not be our number one pick overall. With these shoes, you'll enjoy the best comfort, support, and durability for a long time to come. The Nike pickleball gear will also make you look pretty good while you're hitting the courts.
You might be thinking about Tennis Shoes For Pickleball since I gave you a guide on the best men's pickleball shoes and I also recommended tennis shoes, so if you are not sure whether you should wear tennis shoes for pickleball you can read the guide here.
Final Thoughts
Kevin Misher consulted on Pickleball Hop for six months about the best pickleball shoes for men. We put a variety of men's pickleball shoes to the test and evaluated their durability, stability, and weight, including the work of our Gear and Commerce Editor Kevin Misher. A high customer rating on an e-commerce website we trust was also considered when selecting top-reviewed pickleball shoes.
You may enjoy reading Pickleball Shoes Vs Tennis Shoes