Pickleball can be played both indoors and outdoors, which is one of its greatest advantages. Whenever the temperatures plummet or the weather turns windy, you may be forced to play indoors. It's also possible that someone you know would like to try playing outside one day if they're used to playing indoors only.
It's important to learn how to play in both situations, regardless of preference, as a pickleball player who's looking to advance their skills. The type of pickleball balls you use can make a significant difference if you're playing indoors or outdoors.
Types of Pickleball Balls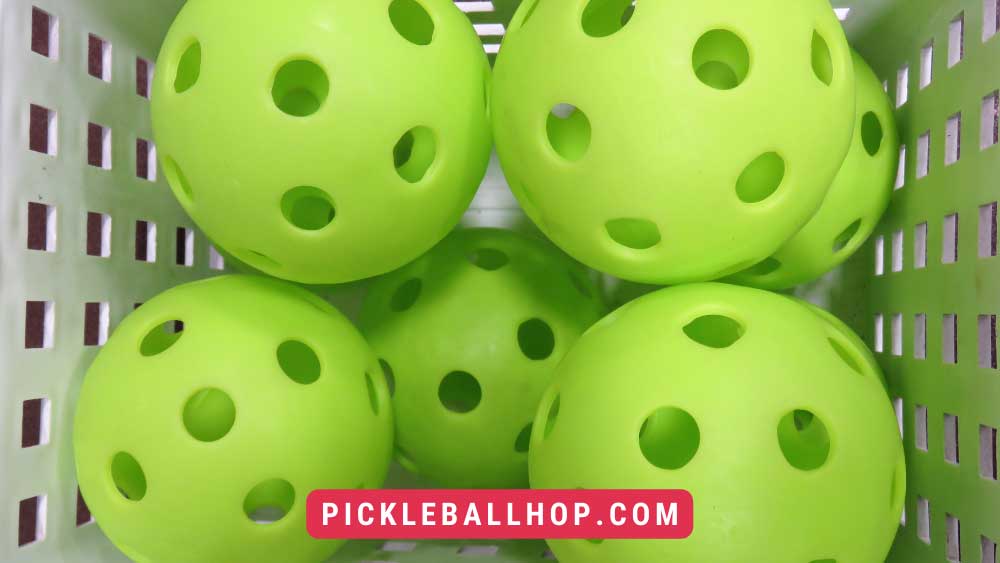 pickleball balls indoor vs outdoor are the two types of pickleball. A pickleball player should understand the differences between these two types of play. Both types of pickleball are manufactured by most pickleball manufacturers.
Indoor Pickleballs
In comparison to outdoor pickleball, these models have larger holes. Outdoor pickleball tends to be harder and more difficult to handle than indoor pickleball. Indoor pickleball, on the other hand, tends to have more drag than outdoor pickleball, making them somewhat challenging to slam.
A pickleball that is played indoors usually has more textures compared to one played outdoors, allowing it to spin more efficiently. Furthermore, they are slightly smaller and lighter, and their rallies are longer. Unlike outdoor pickleball, indoor pickleball won't crack very easily. Wear and tear on an indoor ball also leads to the development of soft spots.
Since indoor pickleball is lightweight, they're highly affected by wind, which is why it's called indoor pickleball and shouldn't be used outside. In addition to being lighter, indoor balls are also quieter than outdoor models and hurt less when hit.
You may enjoy reading Best Indoor Pickleball Courts
Outdoor Pickleballs
In addition to being made of smooth plastic, outdoor pickleball has a heavier and harder body. There are also 40 holes drilled in them. They are more wind resistant because of their heavier construction. Pickleball should not be played outdoors, though. Because outdoor pickleball has less drag than indoor pickleball, it can be hit very hard.
Pickleball balls that are played outdoors are much quicker and harder to hit than those that are played indoors. A few degrees of finesse are required to handle outdoor models, which makes for more heated gameplay. In the near future, an outdoor pickleball will go out-of-round or crack, so make sure you stock up now.
The playing style, temperature, and playing surface all play a role in the life cycle of outdoor pickleball. Regularly checking for the roundness is crucial since they easily go out-of-round. The easiest way to do that is to spin the ball and observe the movement. Because outdoor pickleball is heavier, they tend to be noisier than indoor pickleball.
You may enjoy reading Best Outdoor Pickleball Paddle Reviews
Pickleball Ball Requirements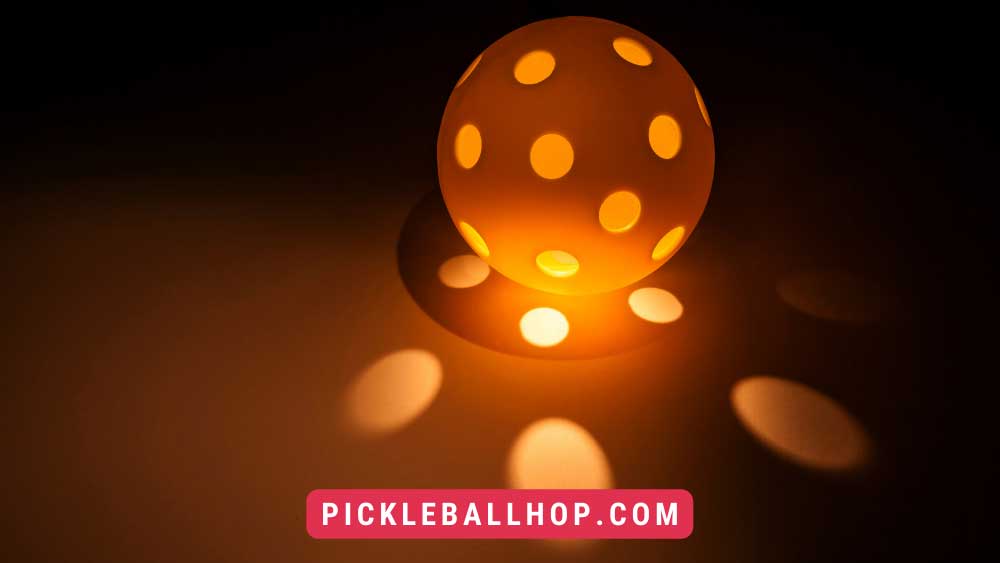 The USA Pickleball Association has very specific requirements for pickleball balls which we will cover next, but you need to realize that meeting those rules doesn't mean the ball is good enough. Pickleballs that are officially approved by USAPA must be on its list of approved pickleball. Updates are made to the list periodically.
Various pickleball models are listed on the approved pickleball list. For each ball to be differentiated from the others, the manufacturer's logo must be imprinted on it, along with a uniform color. A granite surface or an area of 12 x 12 x 4 inches must also be tested for a bounce for each ball. For the bounce test, the ambient temperature must be between 75 and 80 degrees Fahrenheit.
In order to make a smooth and moldable ball, the material must be smooth and flexible

Pickleballs must have a uniform color and manufacturer's branding

Pickleballs should have a diameter of 2.87 to 2.97 inches

Pickleballs must weigh between 0.78 and 0.935 ounces

A ball's out-of-round variance should not exceed 0.02 inches

Dropping from 78 inches, the ball must bounce 30-34 inches

On a Durometer D scale, the pickleball must have a hardness of 40-50

There should be 26-40 evenly spaced circular holes on the pickleball court
Common Pickleball Colors
According to the official USAPA rules, there is no requirement regarding the colors of pickleball. The only requirement is that the ball must be uniformly colored. The colors that are most popular are orange and yellow. Also very common are yellow and white pickleball. Pickleball players generally find it easier to see pickleball that has a darker color, especially indoors. You can also read Pickleball court colors
Final Thoughts of
pickleball indoor vs outdoor balls
Is it possible to play pickleball indoors and outdoors? An outdoor pickleball doesn't work well indoors due to its tendency to skip off the floor and not bounce in the manner you would like. Due to their lightweight construction and quietness, many players prefer to play with indoor balls outside, especially casual players.
The weather largely determines whether you play indoors or outdoors when it comes to pickleball. It's highly recommended that you stack up on each type of sport so the weather won't hinder your enjoyment. Regardless of whether you are in a gym or outside, make sure you purchase sets of balls in darker colors so you can clearly see them.
You may enjoy reading Can You Play Pickleball On Grass?