In the hands of many of today's top professionals, Paddletek paddles have been the leader in Pickleball Paddles for a long time. Paddletek athlete Dave Weinbach favors the Tempest line. Catherine Parenteau. Also, you can find Catherine Parenteau holding it up on the medal podium. As an intermediate model in the Tempest line, the Tempest Wave II is a great choice. Pickleball paddles have textured graphite surfaces and honeycomb cores made from graphite polymer composites. A control and touch style of a player would benefit from this paddle, according to paddletek. Paddletek claims to deliver accurate touch with this Paddletek Tempest Wave Pro Pickleball Paddle, which I've been testing over the last few weeks.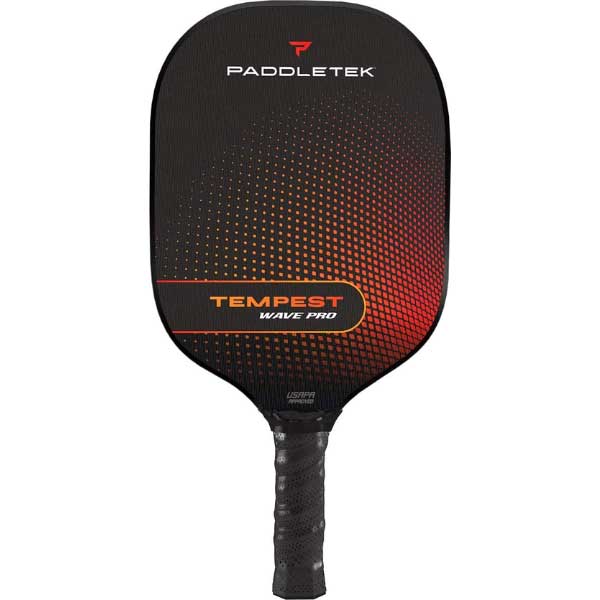 Paddletek continues to develop new core materials with Tempest PolyCore technology. In addition to enhancing the feel of the paddle, this graphite polymer composite honeycomb enhances its control. One of the most advanced paddles on the market today is made with the new graphite face in combination with the leading edge of core materials.
Control – 5 out of 5
The word 'consistency' immediately comes to mind when I think of a control paddle; being able to consistently place the ball with the perfect spin and finesse on the court. It is in this area of the game that the Paddletek Tempest Wave II excels. Playing with this paddle for the first time, I noticed that it balanced power and touch well. Every shot felt comfortable and predictable thanks to this. Taking wide dinks to the Kitchen was just as easy for me as hitting from the net to the baseline.
My mishits were noticeably limited by this paddle's large sweet spot. The control of my delivery and feeling more comfortable going for the lines improved when I took volley shots at the net. Dinking and net play proved to be the best uses for this paddle. It was easy and consistent to slice and lift with the paddle.
A balanced feel and easy swing were evident right out of the box with this paddle. Taking it out on the court for the first time, I felt familiar with the way it glided through the air. Paddletek Tempest Wave II feels comfortable from the very first game, unlike many other paddles.
You may enjoy reading Onix Z5 Graphite Pickleball Paddle Review
Power – 3 out of 5
No matter how much it may seem like a power paddle, it is not one. I was amazed how controlled even the power game was when an overhead smash shot was required. In some of my more powerful shots and put-aways, I did feel like I was lacking some extra pace. Tempest Wave II's paddle does not generate any extra power, so you will have to put it in yourself. It may not be as capable as it used to be for bangers from the baseline to put down passing shots.
As a result, the paddle is able to absorb most of the energy that the ball delivers into it and deliver it at a more controlled rate thanks to the core material and texture on the face. Power pop may be a hindrance to players who transfer their opponents' energy into a slower dinking battle. With an average weight of 7.5 ounces, this paddle is also lighter. This paddle added less power to my game due to its lighter weight in an already control-oriented package.
Touch and Spin – 4 out of 5
Spin and touch games are enhanced by the graphite textured face. I was able to keep the shots low and accurate due to the consistent pop of the paddle during the short game. As with most thick-cored paddles, the paddle offers some hand feedback, but the vibration is modest. Protecting the arm from unnecessary strain will be a big benefit to players who suffer from wrist or elbow injuries.
It is immediately apparent that the ball has a lot of spin due to the texture on the face. I felt that the grippy surface helped me improve my slice dinks and topspin baseline shots. The control and accuracy performance of this paddle is once again impressive.
Longevity – 4 out of 5
Approximately 50 games into the game, I noticed that the paddles were getting scuffed by the ball. The paddle does not perform poorly as a result of this cosmetic issue. A consistent player should get a year's worth of play from this paddle before noticing any degradation in the core or consistency. The paddle's construction is excellent. As the paddle was hit on the court throughout the playtest, the edge guard did a good job protecting the paddle core.
Aesthetic – 5 out of 5
A great deal of thought has gone into the design of Paddletek's paddles. Unlike other paddles, the Tempest Wave II features unique imaging on all sides. On one side, the Paddletek P has a subtle look while on the other, the dotted wave has a more energetic look. Many of Paddletek's current designs match this classic design. It is always subjective to the holder what looks good, but this paddle has a great look.
Final Thoughts – 21 out of 25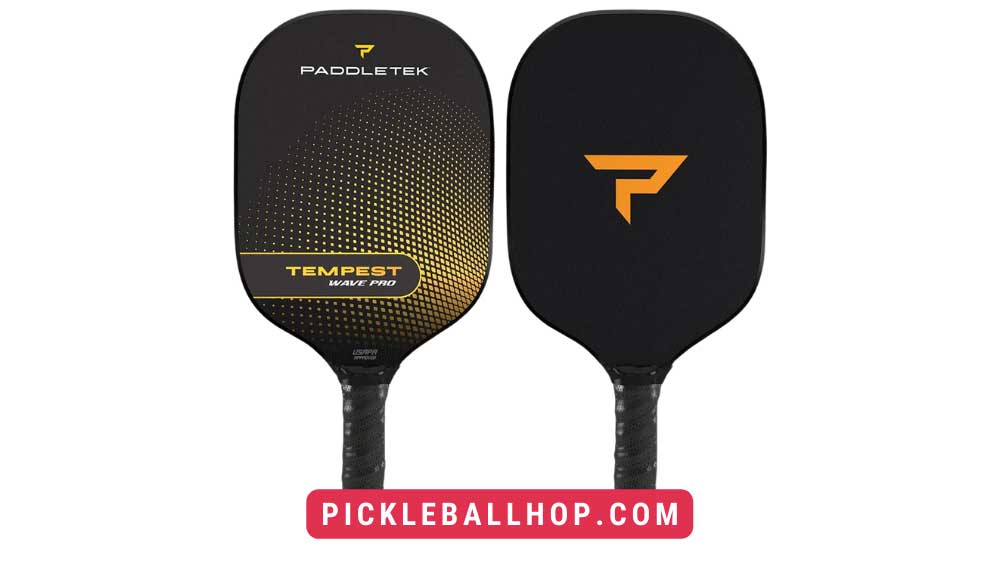 If your game is controlled and your dinking battles are long and accurate, this Paddletek Tempest Wave Pro Pickleball Paddle is for you. When you can consistently place the ball where you want while waiting for your opponents to make mistakes, you've got a sweet spot with this paddle. Players looking to up their game from their beginner paddle can find this a great option as it has a good feeling of balance which allows them to continue improving.
Within just a few games, I felt at ease using this paddle and got used to it almost immediately. You can easily get the most out of the Tempest Wave II paddle with its excellent control and touch. If you are a player between 3.0 and 4.0, you'll find that this Paddletek Tempest Wave Pro Pickleball Paddle will assist you in improving your control and touch. A soft paddle may deter power players from passing shots due to the lack of top end and the soft feel.
Pricing – Specifications
It costs $129.99 to purchase the Paddletek Wave II. An intermediate paddle at this price point should last you a season or two at least.
In spite of its size, the Tempest Wave II paddle offers you incredible control for tactical short games. With its textured graphite surface, you can place the ball exactly where you want it. The graphite in the Tempest PolyCore helps reduce weight and dampen vibrations without affecting power.
Average Weight: 7.6 oz
Core: Polymer
Hitting Surface: Graphite
Grip Size: 4 1/4 in
Paddle Length: 15 7/8 in
Paddle Width: 8 in
Grip Length: 5 1/4 in