New pickleball paddles are being released with high-tech materials and innovation to produce the best paddles on the market. As pickleball grows, manufacturers release more advanced gear. Pickleball ball machines and ball picker-uppers are among the other advancements in pickleball court equipment.
Tennis ball throwing machines and other sports have been around for decades (the first baseball pitching machine was built in 1897 with gunpowder!). We are still in the relatively early stages of pickleball (invented in 1965) despite the fact that we are still in the early stages of the sport. New equipment is being launched specifically for pickleball.
Tennis balls and pickleball balls have roughly the same size, but pickleball balls are heavier and larger, so existing ball machines cannot handle them. The fact that pickleball will not work with tennis ball throwers has forced equipment manufacturers to either redesign or create a new model of ball launcher.
In the market today among Pickleball Tutor vs Lobster, there are the following machines: Simon X, Simon 2, Pickleball Tutor Spin & Tutor Plus, Pickle by Lobster,
Additionally, Playmate announced its plans to launch a pickleball machine in mid-2018. On their website, they neither display a retail price nor a way to actually purchase one. Demos are available at clubs, but no retail price is listed on their site.
After researching the topic extensively, we were surprised to find that there was no comparison table that clearly outlined the features of these machines anywhere, so we decided to come up with one ourselves to make it easier for our readers to make an informed decision.
You may enjoy reading
Whether you're looking for a Pickleball Tutor vs Lobster pickleball machine or simply need some advice, we're here to help. Our information is organized so that you can easily compare it. Also, we provide a few things to consider before you make a purchase. Review each machine in detail by scrolling down. 
Since pickleball ball machines are a much bigger purchase than paddles or pickleball bags, it makes sense that you would want as much information as possible to find the right one.
Chart Comparing Pickleball Machines

Feature
Simon X
Simon 2
Pickleball Tutor | Plus
Lobster Pickle

Speed (MPH)

5-70

10-60

10-60 | 10-65

10-60

Ball Capacity

120-180

160

125 | 110

135** (~100)

Shot Adjustable Arc

Arc- Yes

YES

YES

YES

Shot Intervals (Seconds)

1.5-10

1.5-10

1-10

2-12

Oscillation

Yes (Stealth)

Optional Add-On

Optional Add-On

YES

Spin Effect

Yes

NO

NO | YES

YES

Fast Charger

Yes

NO

NO

Optional

AC/DC Power

Yes

NO

Optional

Optional

Battery Life (Playtime in hours)

10-12 hours

6

3-4

2-4

Weight

65 lbs

32 lbs

22-34 (Varies by model)

35 lbs

Wheels

YES (Tri-Wheel System)

YES

YES (Since 2018)

YES

External Battery

NO

NO

Yes (6 hrs of play)

Optional

Wireless Remote

YES

YES

Add On

Add On

Parent Company Name

Big Whale Promo

Big Whale Promo

Sports Tutor

Lobster Sports

Years in Business

20+

20+

20+

40

Warranty

3 Years

3 Years

3 Years

2 Years

Price

Simon X
Simon 2
Tutor Spin | Tutor Plus
Lobster Pickle
*Speed:

The advertised speeds are listed here. The accuracy of these measurements has not been verified by radar. Several of our readers have complained about actual speeds being lower than advertised.

We've found the lobster holds about 100 balls without overflowing. The lobster advertises a capacity of 135 balls. There is a separate (lifetime) warranty on pitch/throw wheels on only the Simon machines (X and 2

).
Simon X Pickleball Machine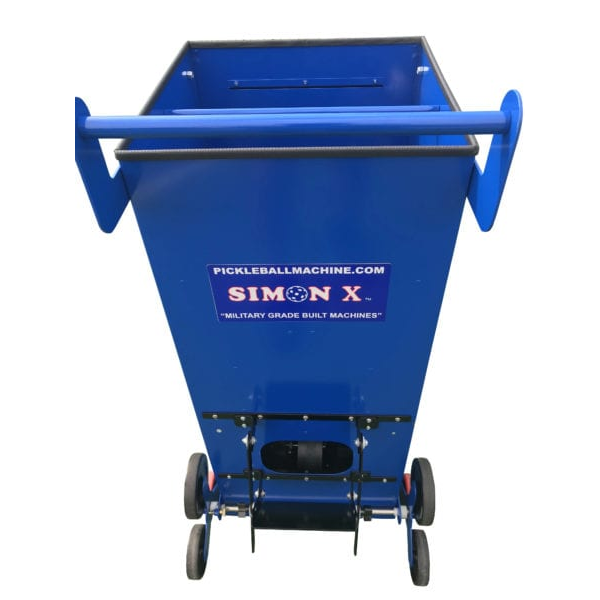 2019 is going to be a great year with the launch of the new Simon X machine.
There are no other machines that are built like a tank with features like the Simon X.  This machine has the highest speed on the market, reaching 70 MPH when it is in use, but it can also be dialed down to 5 MPH to provide the softest touch, so players can practice their soft game at multiple heights and angles while practicing the all-important dink shots. It is both the fastest and "slowest" at the same time, giving players a large range of practice speeds.  It's designed for any Pickleball Resort, club, teaching professional or serious player looking for a top-quality machine.
You may enjoy reading Pickleball vs Wiffle Ball
Despite its 65-pound weight, it can easily be lifted by two people, although some strength is required.  Two handle positions, one at the top and one at the bottom, make it easy to lift and grip. With a 10-12 hour battery and military-grade components, Simon X is a durable, military-grade machine.  Tri-Wheel wheels enhance X's mobility and allow it to climb steps with ease. We have never seen a machine like this before.
Based on its build quality, innovative design, and a lifetime warranty on the pitch/throw wheels, it gets our vote as the best overall machine.
Any brand of throwing machine will have these wheels, and they are likely to break. One of the only lifetime guarantees on the market is offered by Simon models.
There are a few disadvantages to this model, the main one being its weight. It's almost twice as heavy as the other options, so you may want to consider the lighter Simon 2 or another model.
The new Simon X is shown in this video.
Simon 2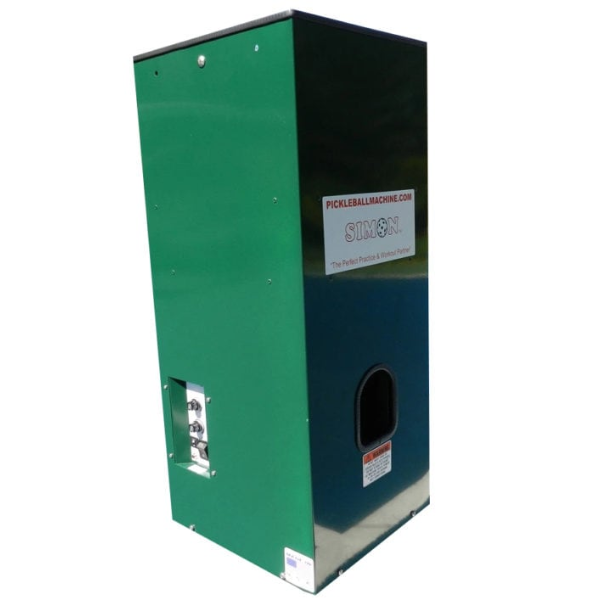 Among the first pickleball machines on the market, Simon manufactured the Simon Pickleball Machine. Pickleball Nationals in Buckeye, AZ, launched the Simon in November 2014.
In 2019, the Simon gained speed limits of 60 mph and oscillation was added as an option. In addition, customer customization is now available to add your own decals or logos.
Initial impressions: Made from steel and aluminum, the Simon 2 has a heavy build quality. The metal and dark green paint of this item scream durability, reminiscent of military equipment.
In terms of capacity and battery life, Simon 2 is the workhorse with the largest capacity (160 balls) and the longest battery life (6 hours). Aside from the ON/OFF switch, there are three knobs for controlling speed: a speed knob, a feed knob (for setting intervals between 1.5-10 seconds), and a reset button.
You may enjoy reading Best Carbon Fiber Pickleball Paddle
Portability: The Simon 2 weighs 32 pounds, which is about the same as the other two machines. There are more wheels on the Lobster model than on the Tutor, which makes it easier to move around the court — even though it's not as light and compact as the Tutor.
Speed: The Simon has a max speed of 60 MPH, which is similar to the rest of the machines.
As of March 2019, new circuit boards have been installed on all Simon machines, increasing their top speed to 60 mph.  With this new speed range, the two machines will run at the same speed as each other, which is 10-60 MPH.
Despite having a speed of 40 miles per hour, pre-2019 Simon machines provided an excellent opportunity for practicing your returns, especially controlling the ball and playing short game shots, with two accessories included: a lob ramp attachment (small metal chute) and a dink attachment.  Even competitive players can practice at 40 MPH, which is plenty of speed to practice.   
Oscillation: From March 2019, It is optional to oscillate "add on".  The oscillation platform is a standalone device that can power any Simon machine and is battery-powered.
Elevation: A new elevation adjustment system replaces Simon 2's old peg system for a more user-friendly system.  There is now one ramp with two settings for dinks and lobs/high volleys instead of two separate ramps for dinks and lobs). Propping it up or elevation pegs are not necessary. With the adjustable ramp, dinks and lobs are thrown perfectly.
Throw wheels: A ball-throwing machine cannot function without its two pitch/throw wheels that launch the ball into the court. The wheels will negatively impact performance and throwing consistency if they become out of balance or degraded.
You may enjoy reading Pickleball court colors
In the comments section at the end of the article, some readers have also mentioned this issue as the most common problem they encountered when buying a pickleball machine.  A malfunction of the wheels would require the entire machine to be repaired.
Unlike other models that use urethane rubber that tends to degrade easily, the Simon 2 has two military-grade pitch/throw wheels. In over 4 years that the Simon machines have been on the market, Mike, the owner of the company, has not needed to replace one wheel, and he backs the quality with a lifetime warranty!
Personalized/customization: Simon machines can have a full-color digital decal installed by any club, resort, or customer to give them their own unique look.
Warranty: Simon 2 is the only machine with a lifetime warranty on the throw wheels in addition to the 3-year warranty on the overall machine.
Battery: Simon 2 has the best battery autonomy, lasting 2-3 hours longer than the competition. 
The Pickleball Tutor Spin: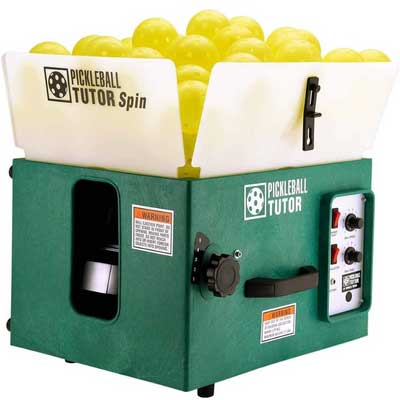 Pickleball throwing machines like this are commonly seen on the courts being used by coaches, clubs, and private lessons.  When trying to get the most from your investment, there are plenty of useful training videos and drills posted online by users. 
Initially Impression: A common sight on pickleball courts over the years is a Pickleball Tutor machine with many coaches and serious players using the machine. It has a rather boxy shape, but the Tutor Plus model offers a more ergonomic design, and both models now come equipped with wheels to make transportation easier.
Although it is not the most portable of all the machines, it is the lightest, folds out into a rectangular shape (about 20 inches long), and weighs only 22 pounds, making it versatile for most players.
It's possible the "Basic" model lacks some features since it doesn't come with oscillation, but it is optional. The basic model is more affordable for those who want a simple machine without all the bells and whistles.
The machine is customizable with extra features, including oscillation, electronic elevation, external battery pack, and remote control, for those who wish to add extra features. AC models are also available.
You may enjoy reading Pickleball Drop Shot Drills
Portability: At 22 pounds without any external battery pack or other accessories, the basic Tutor model is actually the lightest.  It's very portable due to its dimensions (12″ x 18″ x 20″).
Speed: Although all three machines have a minimum speed of 10 miles per hour, so the only difference in their top speed is on their high end and that difference is hardly noticeable since they are all within 5 miles per hour of one another (60 vs 65).
Are you planning to practice at maximum speed a lot? The (advertised) speed on all of these machines tops 50 mph, which we think is plenty of speed to practice even your hardest shots.
Spin: The current model has a spin feature, unlike the original Tutor. It is possible to upgrade to the newer Plus version which is compatible with it (see below).
Elevation: The basic model of the Tutor can be adjusted manually by turning a knob. An Electronic Elevation Add-on is available for purchase (+$100). Only oscillating machines are available with automatic elevation, so you will need to select the oscillating model (not the basic model) and then select the electronic elevation option.
Battery:  The standard battery provides 3-4 hours of playtime. A battery pack that gives an additional 6 hours of play is available as an option. Separately, you will need to purchase this. If you are planning to transport the machine frequently, you should also be aware that the external battery weighs in at 12 pounds.
As long as you are within cord reach of a power source, battery life is not an issue. There is also an AC version, making battery life moot.
Time Delay at Start-Up: Allows time for you to walk across the court before the first ball is released.
The Pickleball Tutor PLUS: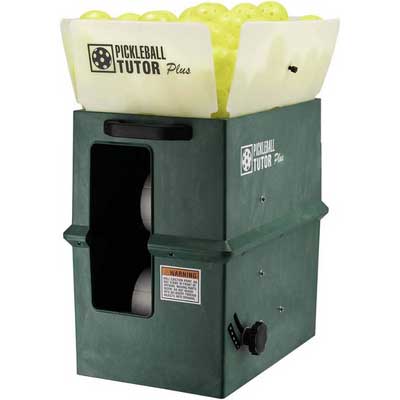 2019 saw the release of the Pickleball Tutor Plus, an improved version of the Tutor. 
In addition to the standard Tutor described above, this new machine has been improved.  We will outline the major upgrades and improvements below.
With Tutor Plus, you'll have access to a few new features. 
Among the most notable additions is the Spin setting, which allows you to practice both topspin and backspin. In addition, the machine now serves at 65 MPH, five MPH faster than it did previously. There are also the following features:
Oscillator with two lines: There is a unique setting on this machine (none other we've seen does this that allows you to shoot to two different court positions. This is great for practicing your forehand and backhand at the same time, or if you have two players practicing at the same time (i.e. a private lesson for two or a group lesson line drills).
You may enjoy reading How to Hit a Pickleball Harder?
Time Delay at Start-Up Allows you to cross the court before the machine starts shooting balls out (also included in the basic Tutor).
Electronic Elevation Control (EEC): Use this feature to change the trajectory of the ball with a switch (marked "Higher/Lower") on the control panel instead of manually adjusting the knob.
You can set the ball feed delay between shots from one second to ten seconds.
Lobster Pickle Pickleball Machine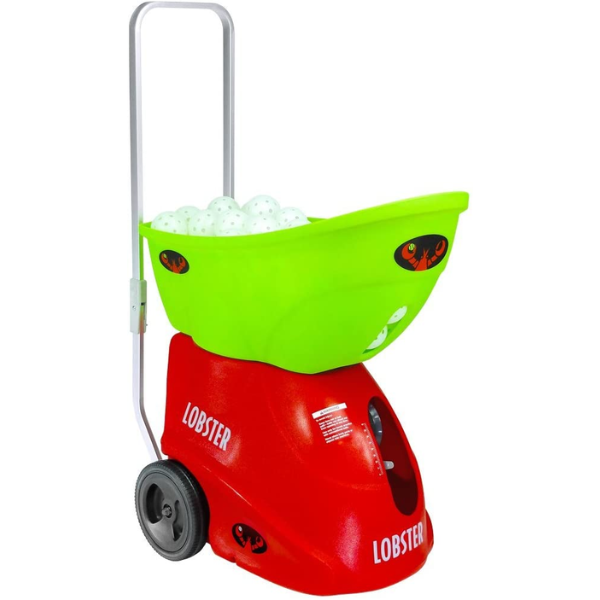 There are three pickleball machines on the market at the moment, and the Lobster "Pickle" is the most recent.
Initial impression: With a look at this machine, you can see that the company put a lot of time into thinking through all of the features and design components required for a very functional ball-throwing device.
It seems very similar to the other battery-powered tennis ball machines they offer (Elite and Grand models).
The pickle is built on eight-inch wheels and has an ergonomic handle so it can be rolled around the court even though it is heavier than its closest competitors. Among the machines currently available, this feature alone makes it the most portable.
Portability: Storage and transportation of the ball hopper are made easy by inverting it back on the machine. A major advantage of the product is its ease of transportation over its competitors.
With the new models of the Tutor, caster wheels and a carry handle are included. Furthermore, Pickle does not currently have a foldable carry cart like the regular Tutor, which gives it a lesser advantage when it comes to portability. 
However, the Simon 2's size and shape make it less convenient to use as compared to the Lobster, which has wheels.
Weight: 35 lbs

Wheels: Yes
Spin:  With a range of speeds between 10-60 MPH, the Pickle can be used to practice all sorts of shots.  In many places, speeding tickets would be issued for speeding on the highway. The slowest speeds are perfect for practicing dink shots and soft lobs. The fastest setting blasts shots at you that would get you a speeding ticket on any other highway!
Speed: This machine reaches 60 miles per hour at a speed of 5 mph (between 50 and 60 MPH).
A major benefit of the Lobster brand pickleball machine is the ability to practice your return at speeds of 10-20 MPH faster than any other pickleball ball launcher. As the sport of pickleball evolves, serves are becoming harder and faster (as we saw at the recent Minto US Open ).
In the Lobster Pickle machine, you can adjust the number of spin balls using a separate knob. As you can see in this picture (with the dial in a neutral/vertical position), this setting produces a flat delivery, with no discernible ball spin. Underspin and topspin are marked on the dial, and the dial has +/- 4 sets to add varying degrees of the desired spin.
This is definitely one of the most well-marketed features of the Pickle. This is the first tutor to include a setting for a spin, although it was the first to do so.  A player's ability to impart spin on their shots or handle returning shots with heavy spin is increasingly important in pickleball, as it is in speed.
You may enjoy reading What Is A Let In Pickleball?
Lobster sports' new spin shot machine offers drills for improving your spin shots skills. This training tool is definitely a cool tool for coaches and players. Good coaches can drill you with a spin on their shots.
A high volume of fast, well-placed, and consistently backspin or topspin practice shots in such rapid succession would be challenging even for many coaches. Your spin drills will be more accurate this way.
Elevation: The machine can be raised from 0 degrees to a maximum of 50 degrees. There are many ways to practice playing hard drives, getting back to the baseline after returning a serve, making high lob shots, making small smashes, or practicing soft dinks with this setup. Manually controlling the elevation is the only way to control it.
Battery: A fully charged battery takes between 12 and 24 hours to charge using the machine's basic battery charger. For faster charging, Lobster offers upgrades, like the Fast Charger, which reduces downtime to 6-18 hours, and the Premium Charger, which takes 1-3 hours.  
Ball Capacity: 135 pickleball are advertised. There are some readers who report that 135 balls wouldn't fit comfortably without falling out. However, realistically about 100 should fit without falling out comfortably.
Price: As of writing this, the Tutor is less expensive than the Tutor for the features it includes. *Although the Basic Tutor is the cheapest model, if you want similar functionality between the two machines you will need to add the oscillation add-on, which comes pre-installed on the Lobster Pickle.
Buyers Guide of Pickleball Tutor vs Lobster:
Considerations when buying a pickleball machine:
Ball Capacity: Players pay attention to ball capacity when selecting a game. How efficient the machine will be to play with depends on how many balls it can hold in its hopper. Picking up balls interrupts drills every time.
Even with a ball mower, picking up balls and refilling the machine during practice will consume time from your lesson.  In tests of Pickleball Tutor vs Lobster, the Lobster Pickle was able to handle 135 pickleball (the actual capacity is closer to 100) the Tutor can accommodate 120 balls (in tests, the true capacity is closer to 100) the Simon 2 can hold 160 balls (in tests, the true capacity is closer to 100)
You may enjoy reading Best Selkirk Pickleball Paddles
I think there is a limit to how many balls you really need in a machine, even though the difference between these 3 machines is relatively large (40 balls). There are still 120 balls in a row, and that's a lot!
Realistically, 100 balls seem like plenty to me. As soon as you have balls strewn around the court, you'll have to stop for the following reasons:
The more balls you have around your feet, the more likely you are to trip and stop.

It would be a good idea to give your arm a short rest at this point if you want or need a breather.

It may not be necessary for pickleball coaches to do over 100 shot drills. Breaks are necessary for corrections/instructions, and collecting the balls and refilling the hopper are natural parts of a lesson. A series of drills can be conducted with more than 100 shots.

A larger ball capacity will require a larger hopper (and therefore a larger machine). The ball capacity of all three machines seems to be about the same.  
Pitch/Throw Wheels: Ball throwing machines cannot function without their two pitch/throw wheels, which shoot the ball into the court. A faulty wheel or a wheel that has degraded will result in negative performance and inconsistency. A repair or replacement of this part can be costly as well.
Shot Adjustable Arc: Making adjustments to the shot selection is critical to improving your shooting. For hard serve returns, straight-line drives are recommended, while arcing drives for lobs and dinks are recommended. In addition to high lobs and overhead smash practice, having a higher arc capability is very useful.
Speed: All three of the ball machines we've examined on this list deliver soft lobs, dinks, and drops at a minimum of 10 MPH, so they're all about the same on the low end. The new machines being sold today have a max speed of 60 MPH, except for the Tutor Plus which has a max speed of 65 MPH. Older models had different maximum speeds but, as of 2019, all new machines have a max speed of 60 MPH.
There is no question that older, used machines from a few years ago may have a top speed of 40 MPH – that's still a decent top speed for practicing your serve returns and baseline drives – and for many players, that's enough speed for them to be effective.
It offers an extra punch to serious, competitive players or pickleball coaches who wish to take their practice to the next level.
Intervals between shots (seconds): The amount of time between shots. There can be a pause between shots of as little as 1 second and as long as 10 seconds (useful for coaching between shots and giving tips).
The pattern of oscillation: On the machines offering this, shots are unpredictable by using a random horizontal pattern.
Spin: At the moment, the Lobster Pickle is the only machine to offer backspin as well as topspin.
Level/Elevation Degrees: Increasing the height of dinks and lobs. In order to practice overhead shots and return high lobs, the maximum elevation would be needed.
You may enjoy reading Best Graphite Pickleball Paddles
Batteries and charging time: The charging time can be an important consideration when buying a battery-powered model, as the extra hours it takes to charge could limit the amount of time it can be used on the court on a daily basis (coaching, busy clubs) or require the purchase of additional external batteries.
AC/DC power: With this option, you can play the machine continuously as long as you're within reach of a power source (extension cord).
Play While Charging: The battery cannot be charged while the machine is in use, so this option is not available on most machines.
Remote Control:  The machine is much more convenient when it has a remote control. Coaches or friends can pause the machine for you when you're drilling or taking turns. A remote can save a lot of time when you are practicing alone, standing on one baseline with the machine on the other.  
When you have a remote, you can turn off the machine without having to go back to the machine when you are with others. By not having to walk back and forth, pickleball coaches can provide more efficient lessons. Also, keeping the drill open for quick coaching tips or modifications (adjusting cones, targets, etc.) is an advantage.
The hopper can be refilled by hitting all the balls in it. Despite the machines' small capacity, even the smallest hopper can hold over 125 pickleball. Most players will experience fatigue or at least want to pause the machine after hitting that many balls in a row.  Obviously, if you do not have a remote control, you will have to walk about the net and back to the machine as the machine continues to spit balls out while you walk back and forth- so it is an inefficient way of practicing.
Cost: Any buying decision is obviously influenced by the cost. These machines are not just about the base price; they also have "add-ons" that may be needed. You may not need an external battery pack with the Simon 2, for example, because its battery life is double that of the others. Oscillation is included with the Lobster machine, whereas the others would require an additional option. Despite the add-ons, for a machine of this kind, the price is pretty competitive, even including the add-ons. They are within 10% of each other in price, so there is no major price difference.
You may enjoy reading Best Gamma Pickleball Paddles
Renting vs Buying a Pickleball Machine:
Rental rates:  There are plenty of tennis ball machines to rent, but pickleball machines are scarce. Even tennis ball machines can be rented on websites for less than $25/day if rented per week, and even less per day if rented daily. I can rent machines for $10/hour at my local tennis club if I only want to practice for a few minutes.
Pickleball machine rentals are likely to be more expensive based on supply and demand since there are fewer of them around and demand is rising.
 The pickleball machines we rent are about double what we see at pickleball clubs in our area. These pickleball machines can be rented for $75/day, or about $150 for the weekend (pick-up on Thursday night and return on Monday morning).
Are there pickleball machines for rent at your local pickleball club…or how much do they charge?  Comment below if you have!
With the current prices of pickleball machines, you'd need to rent a ball thrower for 10 weekends (or 45 days) before you'd break even. If you used one weekend a month for a year, you would have paid the same for the ball thrower. When shopping, this is something to keep in mind.
Final Thoughts on
Pickleball Tutor vs Lobster
I spent way too much time researching this! Due to changes to the machines since the article was published, we've updated it several times. 
Our site exists to provide you with the information you need to make informed decisions when purchasing pickleball equipment, as buying one of these machines is probably the biggest buying decision a pickleball player will make (aside from building a home court). 
All the information we could find was sifted through, follow-up questions were sent to all three companies, individual manuals were read from cover to cover, and Youtube videos were watched. 
A pickleball ball throwing machine section would not be complete without a mention of this article, which we've been putting off due to the amount of research required.
You may enjoy reading Onix Z5 Graphite Pickleball Paddle Review