There isn't much equipment required for pickleball. In just a few games, you'll understand the pickleball lingo and understand the rules of the game. The most important reason pickleball has become one of the fastest-growing sports in the country is that it is a lot of fun and good exercise.
A pickleball net, a ball, and a paddle are all you need to play. You can set up a pickleball court anywhere, whether in your backyard, a park, or a recreation center, as long as you have a portable pickleball net.
With so many pickleball equipment options on the market these days, choosing the right portable pickleball net may prove difficult. By creating this buying guide, we eliminated the guesswork of choosing the right portable pickleball net for you. You can read on for more information about the best pickleball nets of 2022, both indoors and outdoors.
Top 8 Best Pickleball Nets (Outdoor & Indoor Use)
1. Pickle-Ball Inc 3.0 Portable Pickleball Net System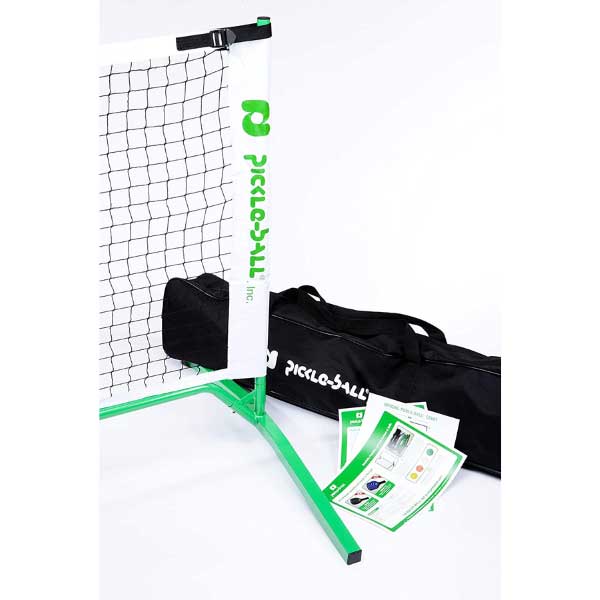 In terms of pickleball nets, the 3.0 Portable Pickleball Net System is the best pickleball net that can be used both indoors and outdoors. With this net set, you can focus on your pickleball game due to its sturdy design and ease of assembly. 
There is a center stabilizer on this portable pickleball net that ensures that it does not tip over or fall over. A number system makes it easy to assemble and disassemble the net in under 10 minutes. In order to prevent sagging, the net tension can also be adjusted from both ends. 
A hollow steel pickleball net system, the 3.0 Portable Pickleball Net System weighs only 22 pounds. In addition to powder coating the frame, the frame is also resistant to wear and tear due to outdoor usage. A player who gets too close to the net may trip over the post bases on the pickleball court. 
USAPA regulations require a net to be 22 feet wide and 22 feet high. With a roomy carrying case, it has a clean, slick appearance. 
Priced at a mid-range level, this net is a good value. Especially if you are planning to play regularly, its high quality makes it well worth the money. 
2. Oncourt Offcourt PickleNet Deluxe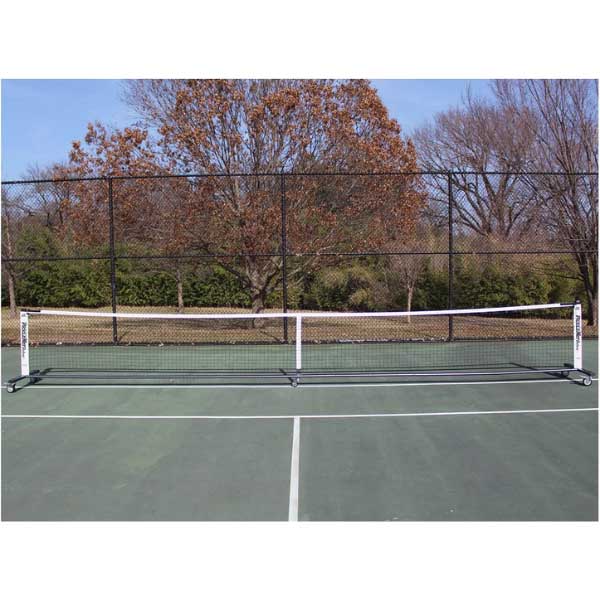 Oncourt Offcourt PickleNet Deluxe is a durable pickleball net system that is one of the best pickleball nets on the market. Heavy-duty construction ensures this net's stability and its ability to withstand daily abuse. In addition to the Classic Picklenet Pickleball Net, PickleNet Deluxe also includes PickleNet Ultra.
Compared to the Classic Picklenet Pickleball Net, the Oncourt Offcourt PickleNet Deluxe is more durable. With the PickleNet Deluxe, you don't have to worry about replacing the oval tubing frame after just one season of use. In addition to protecting the frame from nicks and scratches, its textured surface also enhances its durability. 
PickleNet's Oncourt Offcourt PickleNet pickleball net is a little heavier than most portable nets, weighing 56 pounds and not one you'll want to carry around everywhere. When assembled, the net is easy to move around because of the locking wheels. Recreational facilities and community centers are great places to use this feature.
Putting together the PickleNet Deluxe takes just a few minutes and is very easy. The tension of the net can be adjusted on each end, and a center strap prevents it from sagging. 
In addition to being 22 feet wide, PickleNet pickleball nets have 36-inch sidelines and 34-inch centers. They comply with all USAPA portable pickleball net regulations. This product comes with a carrying case that serves as both a storage bag and a carrying case. One of the best pickleball nets available, the PickleNet Deluxe is one of the most expensive models on the market, but if you are serious about pickleball and looking for a high-quality net, especially for frequent indoor use, then this is a great option.
3. Pickle-Ball Inc SwiftNet 2.1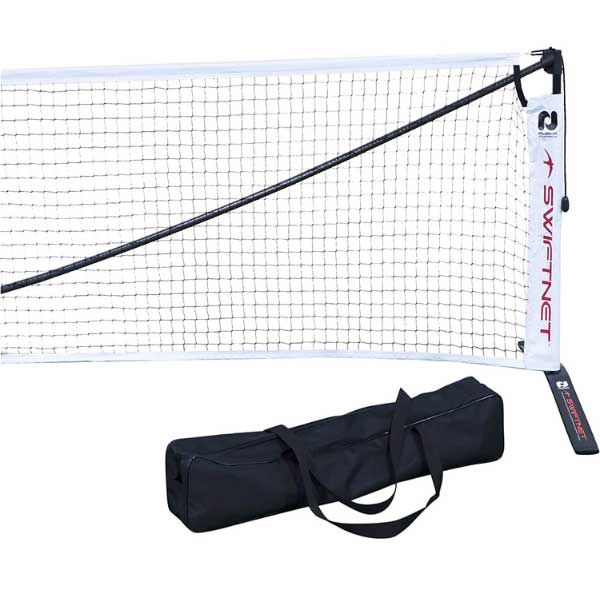 Pickleball portable net system SwiftNet 2.1 is the most advanced and forward-looking system on the market. Additionally, this net weighs just 14 pounds, making it one of the lightest on the market! The Best Pickleball net set that is lightweight and easy to transport is highly portable. 
The SwiftNet® 2.1 is constructed of recycled aerospace carbon fiber instead of powder-coated steel, as is the case with most other nets. You can trust aerospace carbon fiber to support your outdoor and indoor games because it's durable enough to build planes. 
With its oval tubing and bowed center support frame, the SwiftNet 2.1 pickleball net has a unique design that differs from traditional nets that feature straight supports. You're bound to get comments on how awesome the net looks, since this design keeps it stable and prevents it from sagging.
Additionally, the post bases of this net are significantly smaller than other models, reducing the risk of players tripping over them. All USAPA portable pickleball net requirements are met, including a 22-foot wide net, 36-inch sidelines, and 34-inch center.
In spite of its complex design, this pickleball net should be able to be assembled in no more than five minutes. A carrying case and storage bag are included with the net. On our list, this is the most expensive net. It is worth the price, especially if you are a regular pickleball player if you want a really unique, durable, and high-quality net. 
4. Franklin Sports Pickleball Net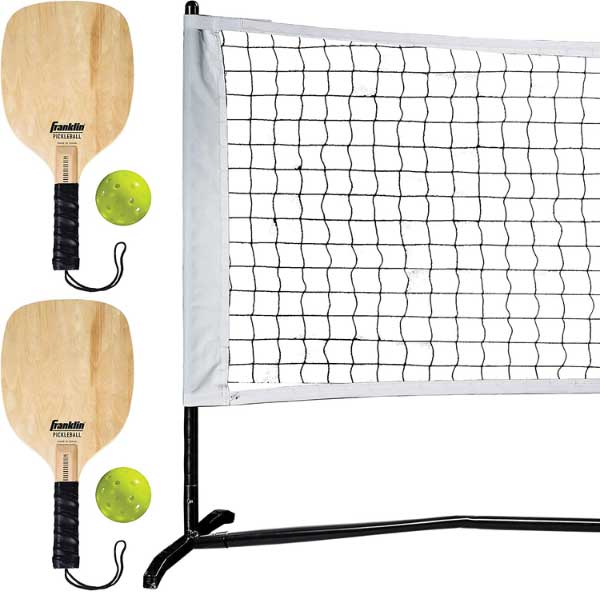 A great pickleball net that costs less than its midrange competitors, Franklin Sports' Pickleball Net is one of the best entry-level pickleball nets. This pickleball net is a basic design, but Franklin Sports' high quality guarantees its reliability and quality. 
The Franklin Sports Pickleball Net does not require tools to assemble, but some users report difficulty assembling the metal frame. Putting it together may take a bit longer than putting together a mid-range or premium pickleball net. 
USAPA regulation height is maintained across the entire net, which is 22 feet wide. Drooping is prevented by tension straps on the ends and maintained by a center support system. Once the net is assembled, you can move and adjust it much easier with a model with wheels. It is also possible to purchase a ball holder that hooks on the net separately.
Powder-coated steel frames are heavy-duty and weather-resistant. There is a nice carrying case included with the net, making it convenient to carry and store. The net weighs approximately 23 pounds.
5. Rally Portable Light Pickleball Net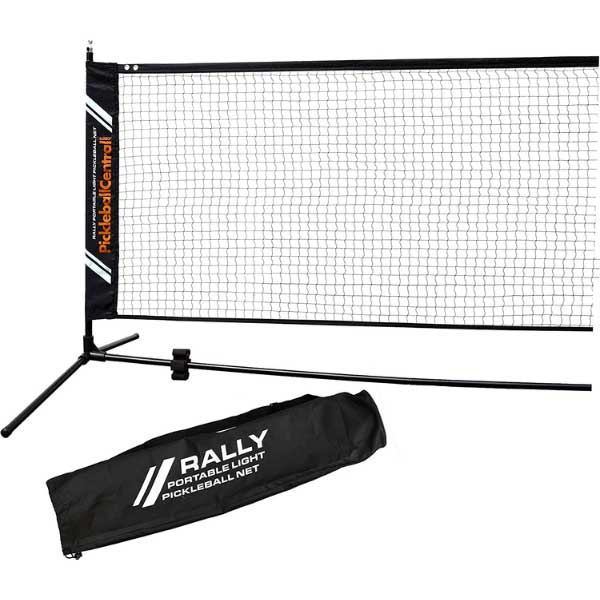 As another lightweight pickleball net, the Rally Portable Light Pickleball Net weighs only 13.5 pounds. It's also very easy to carry. Although it's cheaper than SwiftNet 2.1, this is not just a cheaper alternative. In order to lower the weight of the Rally Portable Light Pickleball Net, cuts are made on the size. USAPA regulations are not met due to the net's 20 foot rather than 22 foot width. 
In spite of the fact that the net meets height regulations, there is no center rod, so you cannot adjust the center height to ensure that it is 34 inches high. Furthermore, the net cannot be tensioned to prevent sagging. 
All of the pieces of the net are connected with shock cords, the same technology used in tents, making it easy to assemble. Storage is also made easy with the net's carrying case. Due to the lack of powder coating, the frame is not weatherproof despite being constructed from enhanced steel. If exposed to moisture for an extended period, the net can rust. Do not store it outdoors for prolonged periods. 
For beginners looking for an entry-level outdoor pickleball net, the price tag of this net is probably one of its most appealing features. As players progress, they will eventually need a better pickleball net, and if they buy one of the nicer models right away, it will save them money in the long run. 
6. Aoneky Portable Outdoor Pickleball Net System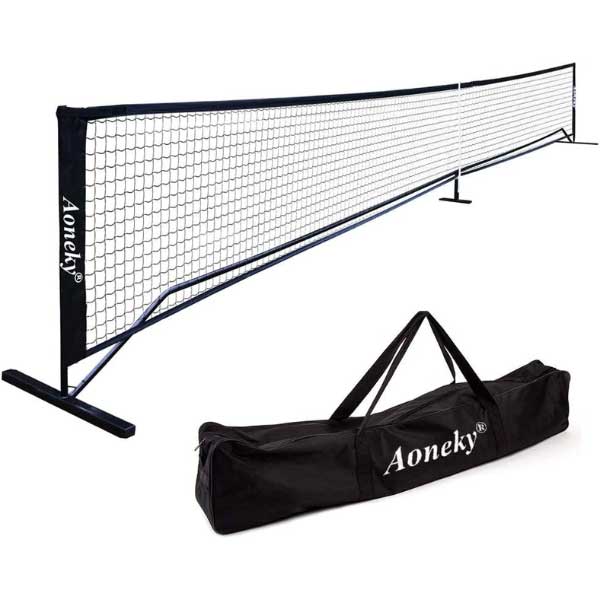 One of the lower-priced entry-level portable pickleball nets is the Aoneky Portable Pickleball Net System. It is a good starter option for beginners with its simple design and basic construction. 
There are 22 pounds of weight to the Aoneky Portable Pickleball Net System, as with the 30 Portable Pickleball Net System. With numbered metal frame pieces and a carrying case, assembly is relatively simple and quick. 
USAPA regulation widths and heights are found on both ends of the Portable Pickleball Net System. In order to maintain the 34-inch height, the company uses a fiberglass rod, but the company doesn't specifically guarantee it. The poles at both ends are tensioned to prevent sagging. 
Steel is used for the frame, but it isn't weatherproof. It may get worn and damaged if you transport this portable net frequently or use it outside. While the quality of the net is lower than average, it is still stable and has a strong center base that ensures stability even with strong winds. 
7. Falconz Regulation Size Pickleball Net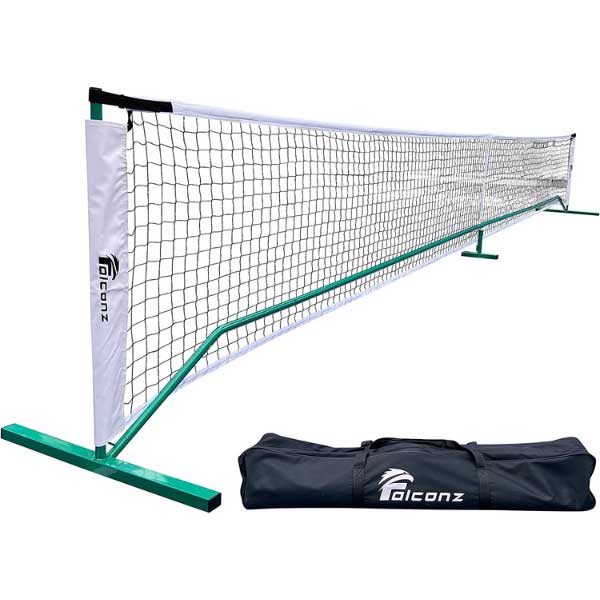 Another affordable, entry-level pickleball net is the Falconz Regulation Size Pickleball Net. It stands out visually among monochromatic competitors because of its teal frame and white netting. It weighs just under 20 pounds, which is fairly light for a net of this size. Transport and storage are made easy with the included carry bag.
Assembling this net is quick and easy thanks to its interlocking frame and numbered pieces. In order to maintain the required center height on the portable net, a fiberglass rod is inserted in the center. 
It may be less durable than higher-end nets without Velcro straps, but the Velcro straps help maintain net tension. Although Falconz does not specify whether the Regulation Size Pickleball Net is weatherproof, it is made from steel, so it is durable and strong. 
8. USA Pickleball Portable Net System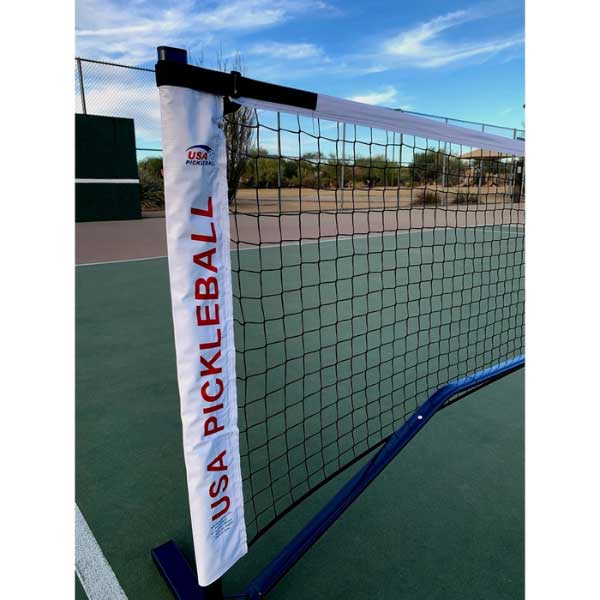 You can buy the USAPA Pickleball Portable Net System if you find finding a net that meets USAPA's regulations difficult. The USAPA net is a solid, affordable system that offers a wide range of features. 
Despite not having all the bells and whistles of some more expensive models, the USA Pickleball Portable Net System is durable and sturdy. Powder-coated steel and oval tubing are used in its construction. In addition to tension straps on each post, the net's bottom is elastic to help prevent sagging. Setting up the net takes only a few minutes, and it is easy to assemble. 
Blue frames and red logos against a white background give USAPA's net system a visually pleasing aesthetic. A carry case is included with the net to make transporting and storing it easier. 
A Buyer's Guide to Portable Pickleball Net System
When choosing a pickleball net, you should take several factors into consideration, such as its size, weight, design, and material.
Price 
Pickleball net systems generally start at $100, and prices increase depending on quality and design. The mid-range nets cost between $150 and $200, while the higher-end nets cost over $300. 
USAPA Regulation Size
The USA Pickleball Association (USAPA) sets the regulations for the sport. A pickleball net must meet the following dimensions according to USAPA regulations:  
Between the inside of one and the other post of the pickleball net, it should measure 22 feet wide. A maximum of three inches should be the diameter of the posts. 

There should be 36 inches of net height at the sidelines and 34 inches of net height in the middle of the net. It is possible to regulate the height of the middle of the net with a strap or a rod in the center. 

Two inches of white tape should be taped along the top edge of the net. 
The USAPA regulation size is not always present in cheap portable pickleball nets. In most cases, they are advertised as multifunctional nets that can be used for tennis, badminton, and pickleball, or as half-court nets that can be used for practice only. 
Pay attention to the dimensions listed in the product description if you want a pickleball net that meets USAPA regulations. You should check the dimensions before purchasing a net or make sure the description specifies that it meets USAPA regulations. Under $100, there are some pickleball nets claiming to be USAPA regulation size. Typically, however, they do not meet the required center measurement of 34 inches because they are off-brand products.  
Weight  
There is a great deal of variation in the weight of pickleball nets depending on the material they are made from. From 14 pounds to over 50 pounds, pickleball nets can vary in weight significantly. 
When choosing a pickleball net, pay attention to its weight. Putting the net in your car, loading it, and hauling it from one place to another represents a lot of work. Consider picking a pickleball net that includes a complimentary carrying case.
Ideally, pickleball nets should be light enough to be transported and carried easily. The process of setting up a game will be more difficult and less enjoyable if the net is bulky or heavy. Weather-resistant nets must, however, be of heavy-duty construction. 
Design 
Pickleball nets are generally designed in a similar way. A crossbar keeps the system upright. Two posts are usually placed at either end of the system. The numbering of parts makes assembly easier for some companies. 
Some nets have ball holders attached to their poles. Make sure the nets you buy don't require any tools to assemble. 
It is possible for the net's legs and post bases to differ, and some nets may have a central post base and some may not. In the case of a heavy unit, a central post base can provide stability. Legs that are too protruding can cause tripping hazards during play, so find ones that do not protrude too much. 
The net should also be kept taut with a tension strap system. Unless each pole is secured with tension straps, the net can droop, which can disrupt the game. The height at the center of the net should be adjusted and maintained by a strap in the middle. 
The net can be easily moved around once it is assembled with the help of wheels. In addition to requiring two people to adjust, nets without wheels are more difficult to move after they have been set up.
Materials 
Steel is the most common material used in net systems on the market. Look for coated and textured systems – most mid-range and higher-end nets have these features. You don't have to replace the frame often because the coating protects it from the elements and wear and tear. When the weather is bad, don't store your net outside to increase its lifespan. 
The SwiftNet 2.1 is a recycled material net and frame that is eco-friendly. Pickle-Ball Inc. is a company that manufactures its equipment in the U.S. if you prefer shopping locally. 
Frequently Asked Questions 
You should be able to narrow down your options after reading our top pickleball nets buying guide. Should you still have trouble making up your mind, the following answers to some frequently asked questions about portable pickleball nets may be of assistance. 
Is it possible to use a tennis net instead of a pickleball net? 
There is a slight difference in the dimensions of a pickleball net and a tennis net. Furthermore, pickleball courts differ considerably from tennis courts in terms of their layout. During your learning phase, a tennis net will suffice as a practice tool for serving and hitting the ball. You will eventually need a pickleball regulation size net and a real pickleball court if you want to improve your skills and play regularly. 
Do I need a portable net? Why should I buy one?
In recent years, pickleball has become increasingly popular. Unfortunately, pickleball courts haven't kept up with demand, so there may not be enough indoor and outdoor courts in your area. You will not always find slots available when you want to play if courts are available where you want to play. 
With a net, you won't have to worry about logistics and can play whenever you want. Pickleball courts can be set up quickly and easily in a driveway, park, or community center. 
Is there a standard pickleball net size?
Pickleball nets must be at least 21 feet and 9 inches long, according to USAPA regulations. It must be suspended above the court and at least 30 inches tall. Sidelines must have a net top 36 inches above the ground, while centers must have one 34 inches high.
The distance between the two net posts should be 22 feet.
Conclusion
As pickleball becomes more popular, the variety of pickleball nets will likely continue to grow. People looking for portable pickleball net systems are primarily concerned about price. Playing pickleball regularly and improving your skills requires balancing price considerations with quality and durability when choosing a system.
You can get a quality pickleball net for a reasonable price when you choose one from our list of the best pickleball nets. In our conclusion, the best pickleball nets this year were the 3.0 Portable Pickleball Net System, PickleNet Deluxe, and SwiftNet 2.1. Even though the price for these three nets is higher than that of the competition, we believe they are worth the investment because of their superior design and durability.
We have five great affordable alternatives to our top three pickleball nets if you can't afford our top three pickleball nets. Our pickleball net reviews guarantee that you'll save time and hassle so you can concentrate on playing.
In addition to your net purchase, do you need paddles or balls? Save money by checking out the Best Pickleball Paddles
.