The most important aspect of learning pickleball is finding the right shoes.  A court shoe is literally available in hundreds of styles.  There are some tennis shoes that work perfectly for pickleball, as well as some pickleball shoes that are designed specifically for the sport.
How can I find the most comfortable pickleball shoes?  Are there any that are better than the rest?  In order to answer that question, I checked out every pickleball shoe I could find, tried them on, researched them, and analyzed them.  My recommendation for the K-Swiss Express Light follows all of that.  You can wear it with wide feet thanks to its lightweight material and spacious toe box!
You may enjoy reading How to Choose The Best Padel Shoes
In this article, I'm going to examine Best Shoes For Pickleball, in hopes that it will give you some guidance in choosing your next pair of great pickleball shoes.
How To Choose Best Pickleball Shoes?
First and foremost, I am a huge fan of racket sports and my entire family plays pickleball.  The shoes I recommend in this article have been used by people ranging in age from 7 years old to 73 years old.  
We have bought, worn, and tested the shoes I recommend here to make sure they're right for you.  I won't recommend a shoe if I don't like it after wearing it.  It's as simple as that.
In order to give you the most accurate information when it comes to picking the right pickleball shoe for you, I feel it is necessary to use this method.
You may enjoy reading Wilson Tour Pro Pickleball Paddle Review
Editor's Note:  The information in this article has been updated many times over the years as new footwear becomes available.  Keep scrolling down and you will find shoes that I have recommended in years past.  My best of the list still includes some shoes, but others have fallen off.  As a little bit of an archiving approach to it, I've kept all my old favorites.
#1 – Best Shoe For Pickleball in 2022
K-Swiss Express Light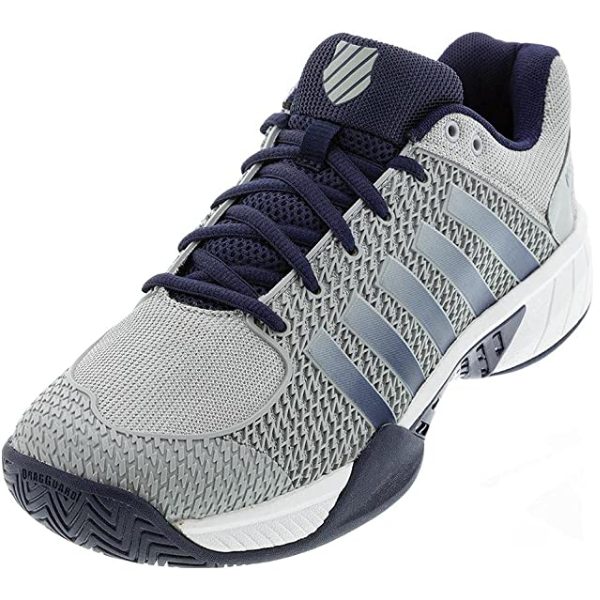 In an attempt to differentiate themselves from big tennis brands, K-Swiss created a dedicated pickleball shoe.  The one they've made is really good as well.
Having worn the Express Light extensively, it has become my favorite pickleball shoe!  Whenever I recommend a pickleball game to a beginner, this is the one I choose.
I prefer the Express Light to the Wilson Rush Pro 3.0s (#2 on my list) due to its overall comfort.  Particularly in the toe box.
In my opinion, the Express light's comfort and roomy feel are what caught my attention.  My overall comfort of the shoe just improved and improved over time after a brief break-in period, which isn't uncommon for many court shoes.
After switching out my socks for thicker ones, and adjusting my shoe a little, I didn't experience any heel slip.
When I came too hard stops, the shoe did not jam my toes and I liked how it felt on my wide feet.  Because of its DuraWrap technology, it feels sturdy the whole time and is wide-foot friendly.
DuraWrap technology combines a breathable mesh lining with a durable rubber lining to add a protective layer all around the shoe. 
Keeping the shoe light and breathable while implementing this technology in a stylish design is an engineering marvel from K-Swiss.
You may enjoy reading Is Pickleball Good Exercise Or Good Workout?
Despite its flaws, it's a good start.  There is no shoe that is. My foot did feel lighter after wearing this shoe since it has the word "light" in its name.  It would be nice if it felt lighter and airier if I had one small complaint. 
My list includes lighter shoes than this one, and it's not much lighter than the other shoes.
The shoe is my top pickleball shoe right now due to its affordability (under $100), excellent comfort, and roomy design.
#2 – My Runner Up For Best Pickleball Shoe And The Most Durable Pickleball Shoe
The Wilson Rush Pro 3.0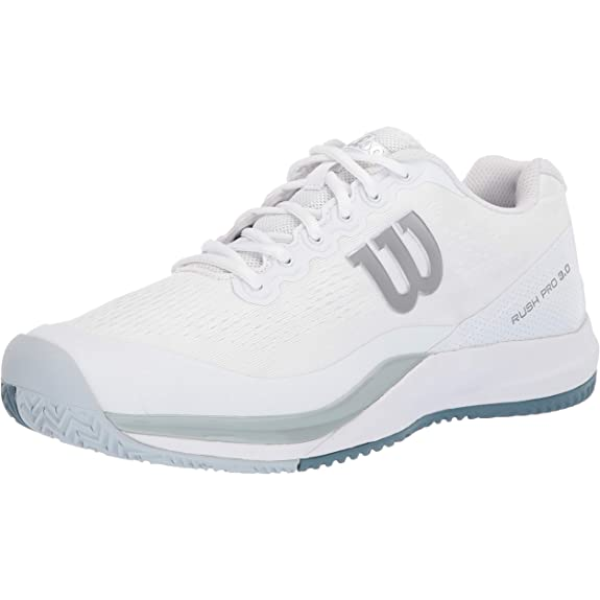 I've worn the Wilson Rush Pro 3.0 on outdoor pickleball courts several times, and it's the most durable shoes I have ever worn!
Rush Pro's durability has always been legendary, but its latest version, the 3.0, adds even more stability as well as a lighter, more comfortable feel.
Because Wilson engineered this court shoe to be stable and durable, the Rush Pro 3.0 really stands out.  The shoe isn't technically a pickleball shoe, but it's highly recommended if you play pickleball mostly outside in Florida or Arizona!
It is claimed that the advanced 4D chassis Wilson has incorporated is responsible for the product's stability and durability.  As a result, this shoe technology is designed to provide a great grip during takeoff as well as exceptional stopping power.
As for how I felt after wearing it, I can tell you that I felt it immediately.  Wilson hit the mark when they incorporated this traction technology, which adds a "sticky" feel to the grip and traction.
As I stepped on it, I felt strong and tough, as well as super plush.  This shoe felt more comfortable than I expected, knowing it was meant to be extra rugged and durable.
Thank you for that pleasant surprise.  It never felt like I was walking on an indestructible tank, and I actually found it to be fairly light.  I was surprised at how light it was.
Does it weigh as much as the K-Swiss above?  No. However, it remains very comfortable.  
In terms of ventilation, the uppers, including the vamp, are decently breathable but don't expect the shoe to breathe like a featherweight shoe, such as the Nike Vapor X.
As it's designed to be extra tough, some compromises have been made in the "breathability" department.
A six-month outsole warranty backs the shoe's strength in traction and durability.  In other words, Wilson will replace your shoes if the outsole tears in 6 months!
The only thing I would change is the comfort of the toe box.  Though it's soft and plush, I felt like there was a lack of space. It was a little difficult for my feet to stop and start when cutting and stopping because there was a little jam at the top of the shoe.
My toes would have felt less suffocated if the toe box was a little less thick like a pillow.
#3 The Best Indoor Pickleball Shoe
Asics Gel Rocket 9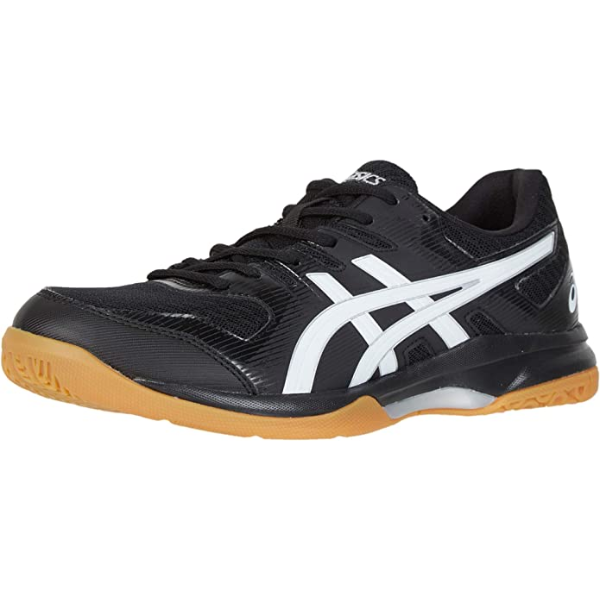 In the past few years, I have been a fan of the Asics Gel Rocket series.  Previously, I included it on my "best-of" list when it reached its seventh version. It's now possible to play pickleball on a gym floor or recreation center floor in the 9th version of what I call the Best Indoor Pickleball Shoe.  
Is there anything special about the Gel Rocket when it comes to indoor pickleball courts?  Rubber has everything to do with it. 
This rubber is designed for indoor courts like basketball and volleyball, so it has some added bounce.  The Gel Rocket 9 can technically be classified as a volleyball shoe.
Due to the fact that indoor pickleball courts are almost identical, it's an excellent shoe for indoor pickleball.
Due to Asics' reputation for packing their shoes with the latest shoe technology, the Gel Rocket 9 performs so well.
For example, Asics incorporated reinforcements in the forefoot (the end of the shoe where you push off), which improves comfort and reduces shock to your feet.
You may enjoy reading Pickleball Terms and Definitions
This is where Asics' patented Trussic System comes into play.  Stability and durability are added to the shoe through a sophisticated shank connecting the forefoot, midfoot, and heel.
In spite of the fancy marketing terms, the Trussic System is one of my favorite Asics features.  There is no doubt that these shoes will last for a long time.
We have also included an EVA midsole, which provides additional cushioning and a rebound effect when cutting and running.  
I know my brother loves this shoe because he has played with it for years.  Having played in an indoor league for three years, he chose it because it is relatively inexpensive.  
Is there a need to buy a separate pair of pickleball shoes if you want to play on outdoor courts?
The Gel Rocket 9 has been used by my brother on outdoor courts that have a rougher surface than traditional pickleball/tennis courts.  He had a great experience with the Gel Rocket 9!
Therefore, you shouldn't be concerned about performance.  On an outdoor court, however, the rubber would burn through faster.
It might be a good idea to have two pairs of shoes if you're starting to play outdoors more often.  The Gel Rocket 9 is perfect for indoor pickleball.  There is one pair for indoor play and one for outdoor play, so both pairs have longevity.  
My recommendation is to start with this shoe if you primarily play indoors.
#4 My Top Budget-Friendly Shoe For Pickleball
New Balance 806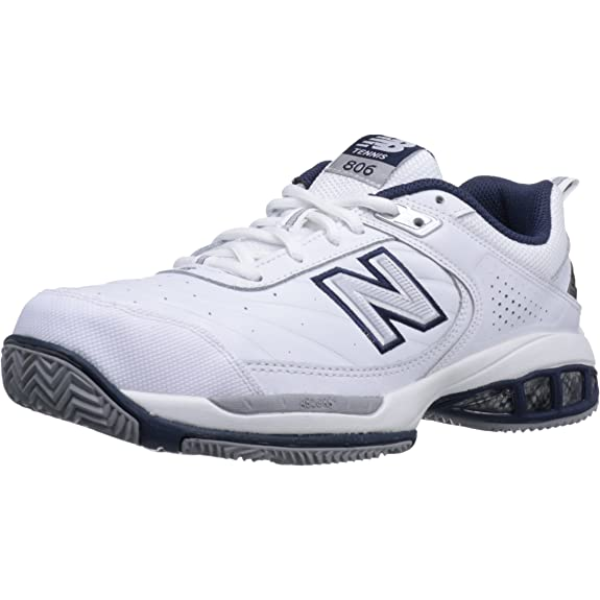 On my list of budget-friendly pickleball shoes, the New Balance MC806 stands out for its sturdy, durable, long-lasting and affordable design.  
The New Balance MC806s have been worn by various members of my family for years because of the firm arch support they provide.
Those with wider feet will also find them very comfortable.
You may enjoy reading How To Add Texture To Pickleball Paddle?
This shoe has exceptional durability and a polished, classic look thanks to the synthetic leather that covers its outer lining.
The lifespan of a leather shoe is going to be longer than that of a mesh shoe, which is lighter than leather.
The MC806, however, is less breathable and prevents airflow for your feet because it has more leather.  It is possible to develop stinky sock syndrome if you wear stinky socks.
Does that hold true for the New Balance MC806s as well?  
No, for the most part. 
Despite the leather, these shoes stay relatively dry, unless you wear two layers of socks.  
New Balance's Lightning Dry technology helps disperse moisture out of the shoe, keeping your foot dry.  The inner lining is responsible for all of this.
A number of other shoe technologies are also included, including Abzorb, C-Cap, and Rollbar.
As a result, you will experience superior comfort, greater stability when cutting, and additional toe guard protection when stretching towards an out-of-reach shot.
Over the years, critics have criticized the MC806 for being very generic in appearance.  The flavor is fairly bland as well. This latest model is a little different from previous ones. 
A slick window-like design and extra flare around the heel allow us to see a little bit of the heel cushioning.  
However, it is not significant.
I would make New Balance's giant "N" on the side of the shoe smaller if I were a brand manager for the MC806s.  
Nevertheless, these are minor cosmetic complaints about a shoe that won't compete with bright neon sneakers from Nike and Head.  
For those who don't need eye-catching bells and whistles, this shoe is designed to provide inexpensive, durable wear.
With the New Balance MC806, you'll get all that and more.
Pickleball Shoe Related Questions:
How Should You Wear Pickleball Shoes?
Pickleball shoes are best suited for court play. Tennis shoes, like the kind you wear. In pickleball, court shoes are ideal due to their tread pattern.  
There is a specific tread pattern on court shoes that allows them to not only move forwards and backwards but also laterally or sideways.
Partial or Modified Herringbone Tread Patterns are what you want on a good pair of court shoes.  In order to move and cut side to side safely, stable, and effectively, this pattern design is on the bottom of the outsole.
Is there a difference between a partial herringbone tread pattern and a full herringbone tread pattern?
In most pickleball shoes or court shoes, the outsole has a partial or modified herringbone pattern.  However, you may see a tread pattern called "Full Herringbone". Tennis shoes designed specifically for clay courts utilize this less common tread pattern.
For pickleball, it goes without saying you should avoid court shoes that feature a full herringbone tread pattern.  No worries, the shoe description will clearly state that it is a clay court shoe.
It is not uncommon for major shoe brands to offer their signature shoes in two styles.  A version for outdoor use or for use on all surfaces with a modified herringbone tread pattern. Another version has a full herringbone pattern designed specifically for clay courts.  
There is no doubt in your mind that this is a clay court shoe.  Continue looking for another pair with a similar tread pattern when you see that.
Is it possible to play pickleball in tennis shoes?
Yes, of course!  Court shoes are ideal for pickleball, and tennis shoes are court shoes!  You can start playing pickleball with just about any pair of tennis shoes.
A good pair of tennis shoes will work just fine on your local tennis facility's pickleball court, whether it is an outdoor tennis court with pickleball lines laid out or a tennis court converted to a pickleball court.  
Tennis courts are tennis courts, so it doesn't matter!
Because the court is the same whether it's indoors or outdoors, you can wear the shoes you'd wear to a tennis facility.  
Is it possible to play pickleball while wearing running shoes?
The tread pattern on the Left = Running Shoe.  Right = Court Shoe
No!  Neither running shoes nor cross trainers are recommended for pickleball. If you want to play pickleball, you should only wear court shoes.
Running shoes were not the right footwear for some friendly "driveway pickleball", even in a non-competitive setting.  
I began to feel pain in my Achilles heel after playing for 30 minutes.  There have been numerous reports of pickleball players tearing their Achilles heels while wearing running shoes.
The tread pattern of running shoes is specifically designed for one purpose…running.  This is important because the tread pattern is only intended to propel you forward.  As their tread pattern indicates, they are solely intended for forwarding motion.
It is difficult for running shoes to handle side-to-side movements.  
Serious injuries are possible as well.
You may enjoy reading Pickleball Hand Signals
What's The Difference Between Indoor And Outdoor Pickleball Shoes?
There is probably no better question than this one concerning pickleball shoes. It gets a little muddy when you dig into the available information.  
The two types of courts used for pickleball cause it to become muddy.  Pickleball courts are divided into two types.
Here's how it works. 
In a moment, we'll get a little technical.
In addition to indoor pickleball courts, there are outdoor pickleball courts as well.  
There is no difference between an outdoor tennis court and an indoor tennis court.  It has the same rough texture. The same applies to tennis shoes and outdoor court shoes.  Nothing to worry about.
When pickleball is played indoors, such as at a YMCA or a recreation center, things get muddy.  A basketball court is now essentially the playing field for this game.
This court is not similar to any outdoor court in terms of texture and consistency.  That's obvious.
In that case, an indoor "gym" style pickleball court will be a better fit for a court shoe like the Asics Gel Rocket 9 (technically a volleyball shoe).
What does it all mean?  Yes, somewhat.  The issue isn't a deal breaker or a game changer, however.
Whether you play indoors or outdoors, all of the court shoes I listed will work great.
To give you more helpful information, I'm getting technical about court surfaces.  
I'd suggest something like the Gel Rocket 9 if you play exclusively indoors on a gym floor as I do at my local Rec Center.  The shoes below will work great for both indoor and outdoor pickleball players like you!
Despite the different types of courts we've played on, all the shoes I recommend here are great!  
You may enjoy reading Pickleball Popularity Statistics and Demographics
Proper Footwear: Why Is It Important?
We stressed the need for a good pair of dedicated pickleball shoes in our article Common Pickleball Injuries and How to Avoid Them.
Pickleball beginners should avoid wearing ordinary gym shoes or running shoes when stepping onto the court. In order to improve your game, you must use quality equipment, but staying safe and avoiding injuries are equally important.
Finding the best pickleball shoes can make a big difference when it comes to preventing debilitating setbacks.
Pickleball Shoe Anatomy
Court shoes should have a lining pattern on the outsole to ensure lateral durability, as I mentioned above.  
It is also important that the ankle support in good court shoes is strong so that players do not roll their ankles while playing.
When volley play back and forth gets heated, they need a stiff toe box to accommodate toe drag.  
You should also be able to bend the shoe while standing so that the toe joint is also flexible.  It's important to choose court shoes with a lot of "bend" around the laces, as stiff shoes can be difficult to wear.  
It's all about comfort at the end of the day. Both the insole and midsole are directly responsible for the comfort of your court shoes.
Your arch will be supported by the insole while your ankles and knees will be cushioned by the midsole. It is best to choose a midsole that provides you with as much support as possible so that your joints will be less prone to wear and tear.
We've compiled a list of our favorite court shoes below, but these same shoes can also be used for pickleball as shown below.
Changing pickleball shoes every 60 hours is recommended by experts. Every three to four months, you might need to rotate in a new pair depending on how much you play.  
Comfort is typically compromised first by worn-out insoles.  In order for the rubber sole (or outsole) to last as long as possible, it is designed to be durable.  
You may want to consider getting a new pair of shoes if the inner part of the shoe is beginning to show signs of wear.  
There are also separate pickleball shoes for indoor and outdoor courts recommended by pickleball pros.
There are two types of pickleball shoes, one for indoor play and one for outdoor play, according to experts. You should replace your pickleball shoes every 60 hours of play.
The fact that you can play pickleball all year long is one of the reasons why it has become so popular.  
It is more common to play on indoor pickleball courts if you live in cold weather states such as Michigan, Ohio, or Wisconsin.  
Indoor pickleball courts and outdoor pickleball courts are available in Arizona and Florida, respectively.  
It will depend on whether you play pickleball most of the time outside in the sun or inside at a club or recreation facility when choosing the best pair of pickleball shoes.
You may enjoy reading How Much Do Pro Pickleball Players Make?
Best Shoes For Pickleball in 2022 – Final Thoughts
My final words are to thank you for taking the time to read my breakdown of the most comfortable pickleball shoes in 2022.  If you have any questions, please feel free to contact me.
Why do you love the shoes you are currently wearing?
There will be some changes to this list in the end.  During the next couple of weeks, I'll be reviewing more Nike and Asics shoes, and if they dethrone this post, I'll update it accordingly.  
Are you looking into pickleball shoes and would like me to review them?  If you would like me to review them, please let me know. 
You may enjoy reading Pickleball Drills for Beginners