There is no doubt that Pickleball is the fastest-growing sport in the United States. What is its exact growth rate? What are the pickleball demographics? How many pickleball players are there?
We will answer all these questions in this post, as well as share statistics and demographics about pickleball. The infographic simplifies the confusing data by visualizing it in an easy-to-understand format. if you want to become a pickleball player you can read the guide here.
So, let's begin with the infographic.
Pickleball Infographic
Check out the infographic below on the popularity and statistics of pickleball.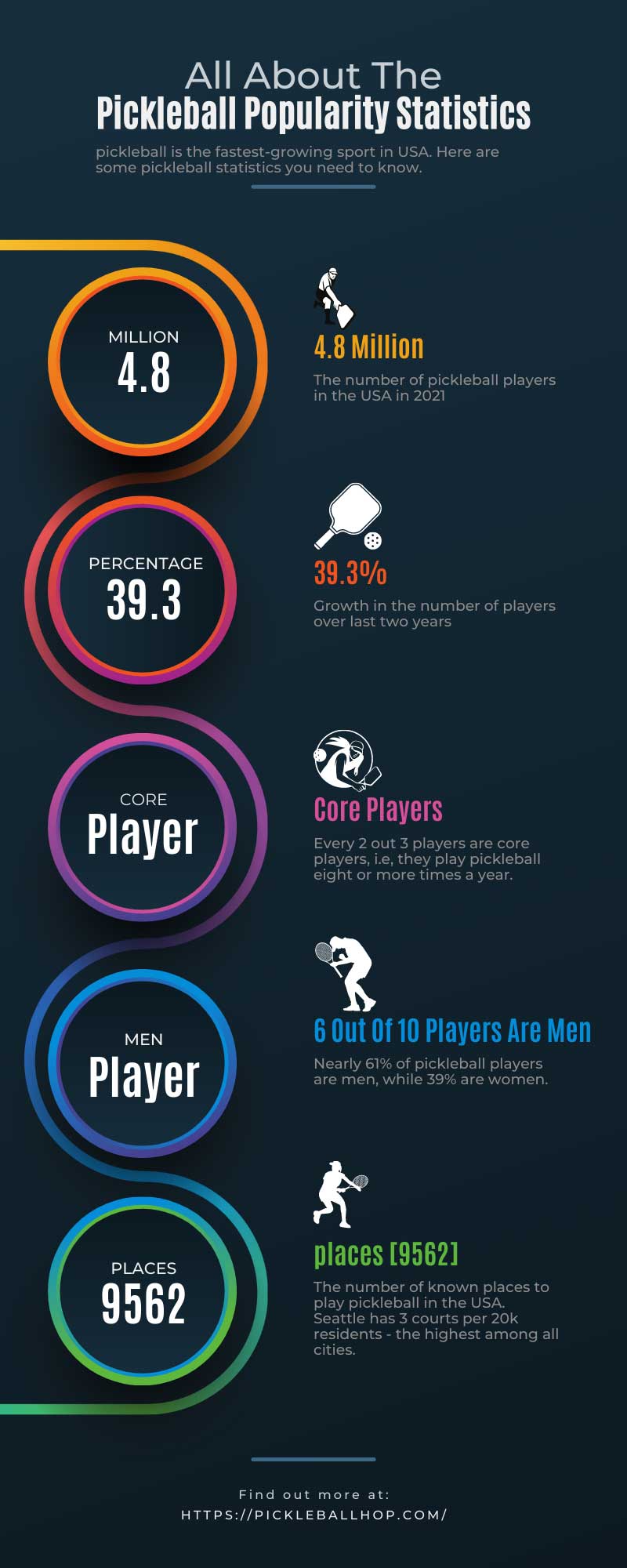 Here are a few statistics from the infographic that relate to Pickleball in the USA: 4.8 million players, 39.3% growth rate. Two out of three pickleball players play more than eight times a year, and six out of ten are men.
Pickleball Popularity Statistics
Pickleball's popularity is ever-rising, as shown by the following statistics.
The number of players of pickleball in the United States is 4.8 million.

For the two-year period, pickleball players increased by 39.3%.

In the last seven years (2014-21), pickleball has nearly doubled in popularity.

Two out of three pickleball players are core players, meaning they play more than eight times a year. The addictive nature of pickleball is evident here!
Pickleball Demographics
Compared to 2020, pickleball players in 2021 are on average 38.1 years old. The growing popularity of pickleball among youth can be seen in this statistic.

A core player is an average of 47.5 years old, and a casual player is an average of 33.6 years old.

There are 33% of players over 65 in the core group.

The highest proportion of players are between the ages of 18 and 34. However, casual players (33.9% of the total number of players) are also the most prevalent in this group of players.

Around 1 million pickleball players live in the south-Atlantic region. Last year, the mid-Atlantic region showed the highest growth rate (50%) of all regions.

There are approximately 1.2 million college graduates playing pickleball. Pickleball is played by approximately 25% of the population.
Growth of Pickleball VS Tennis
Tennis' growth is often compared to pickleball's due to the similarity between the two sports. Comparing pickleball and tennis growth is shown below.
Since the start of the current decade (2019-21), tennis has grown by 27.9%, while pickleball has grown by 39.3%. It's important to note that tennis has grown much faster in the past two years than in the previous decade.
Approximately 22 million Americans play tennis, while 4.8 million play pickleball in the USA.
Over 30,000 pickleball courts are found in the USA, compared to around 250,000 tennis courts. Pickleball can actually be played on a tennis court, which is a good thing.
Pickleball is growing faster than tennis in the USA, despite tennis being much more popular. Consequently, pickleball may overtake tennis in the near future, but that wouldn't happen for a long time.
Also read: Pickleball vs. Paddle Tennis
Pickleball Courts and Location Facts
Pickleball is played in 9,524 places in the United States.

In Seattle, there are three courts per 20,000 residents, which is the highest ratio among all cities.

The pickleball capital of the world is Naples, Florida.

Washington state has adopted pickleball as its official sport.

Gov. Jay Inslee signed the bill

on the 28th of March 2022.
Final Thoughts
Pickleball popularity statistics, growth rates, and demographics were discussed above. In spite of its exploding popularity over the last few years, tennis still has a long way to go to compete with it.
The statistics indicate that pickleball is not only for seniors, as younger people are playing the game as well. Due to its addictive nature, pickleball will surely expand worldwide as it becomes more popular.
We can still expect pickleball to grow in popularity with its current growth rate and projections.
Frequently Asked Questions (FAQs)
Here are the answers to some frequently asked questions.
How old are pickleball players on average?
In 2020, pickleball players will be 41 years old, compared to 38.1 years in 2018. Also among the younger population, pickleball is becoming more popular.
What is the number of pickleball players in the United States?
According to the United States Pickleball Association, 4.8 million people played pickleball in 2021. The number of pickleball players in the U.S. has increased by about 0.6 million since 2020.